Adult Education Programs
At Richmond Community College, it's our mission to provide student of all ages and in all life stages the educational resources they need to get ahead.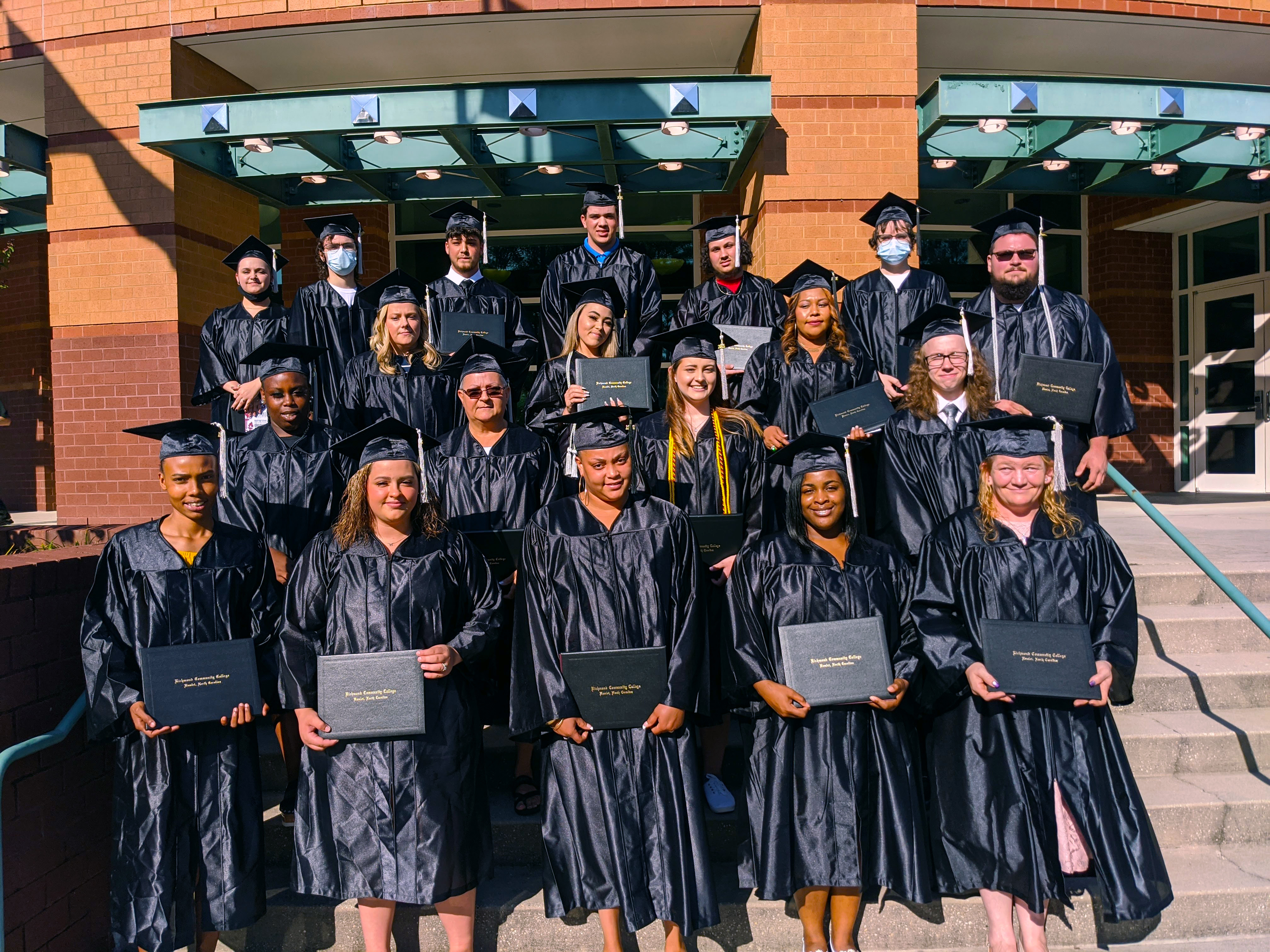 If you're an adult who would like to finish your high school education or just review the basics, our College and Career Readiness has programs to fit your needs.
Adult High School Diploma Program
At our campuses in Hamlet and Laurinburg, Richmond Community College offers an Adult High School diploma program for students who:
Attend and complete an assessment/orientation session.
Score a minimum of 8.9 on the assessment test.
Are 16 or 17 years old and have submitted additional forms.
Provide an official sealed transcript from the last high school they attended.
Twenty-two (22) credits are required to earn the AHS Diploma. Required courses for RichmondCC's Adult High School Diploma program are:
English (4 units)
Science (3 units)
Social Studies (4 units)
Math (4 units)
Health/PE (1 unit)
Electives (6 units)
AHS diploma graduates receive their Adult High School diploma from Richmond or Scotland County Board of Education in conjunction with Richmond Community College. Call (910) 410-1970 for more information.
---
What is the High School Equivalency Diploma (HSE) Program?
The High School Equivalency (HSE) Diploma Program is designed to help the adult earn the equivalent of a high school diploma. The student studies subjects in the five areas of writing, reading, mathematics, social studies and science. There is no charge to enroll in the HSE Diploma program. Orientation class is required prior to enrollment.
RichmondCC primarily provides testing for two of the HSE tests: the GED and HiSet.
---
Adult Basic Education
RichmondCC also offers an Adult Basic Education (ABE) program for adults who have been out of school for a number of years and need a review of the basics, including reading, math, English and other subjects. All adult education classes in Richmond and Scotland counties are open enrollment and self-paced. Throughout the adult education course, there will be periodic assessments to determine your progress. When your goal is reached in reading, math, and language skills, you may move to a High School Equivalency (HSE) class or an Adult High School (AHS) diploma class.
---
Online Classes Are Available
The College and Career Readiness Program offers High School Equivalency (HSE) and Adult High School (AHS) diploma classes via the Internet for students who are unable to attend traditional, regularly scheduled classes due to work schedules, health, or personal preference.
To enroll in HSE online classes, adults must attend a face-to-face orientation session and must be assessed to determine the proper academic level of materials to begin working in. Follow-up testing is required on site periodically. For AHS diploma online classes, students must score 8.6 or higher in reading/math TABE assessment test and provide an official high school transcript from the last school attended. The transcript will be evaluated to determine the student's course of study. These classes are free of charge and are available 24/7.
---
English as a Second Language (ESL)
English as a Second Language is a community college program designed for non-English speaking adults. Students will learn to read, write and speak English in order to be successful in the home, community and workplace. Students must be 18 years old to enroll.
---
Underage Requirements
RichmondCC does admit students under the age of 18 into College and Career Readiness classes. However, a student must be at least 16 years old to enroll. Underage students will need to be released from the last school attended or have been out of school for six months to enroll in the College and Career Readiness classes (ABE, AHS, HSE). A Referral for Alternative Education Form (or a letter of release) from the last school attended will meet this requirement. The parent or guardian of the underage student will need to complete and have notarized an enrollment packet for admission. Underage students wishing to take the HSE exam must also have a notarized petition signed by parent or guardian prior to scheduling testing. Underage students will be eligible for a driver's eligibility permit in the state of North Carolina after six months of satisfactory progress and attendance.
Class Sites
Adult Basic Education, High School Equivalency and Adult High School diploma classes are available in Laurinburg, Rockingham, Ellerbe and Hamlet. If your church or community center would like to start a class at your location, call (910) 410-1970.
Graduation
A graduation ceremony is held in June of each year at the Cole Auditorium. All AHS/HSE graduates are eligible to participate in a graduation sponsored by RichmondCC. There will be a graduation fee for graduates participating in the graduation ceremonies. The High School Equivalency diploma is issued by the North Carolina State Board of Community Colleges and the Adult High School diploma is issued by the governing County Board of Education in conjuction with Richmond Community College.
For more information, call Accountability Specialist Terry Rosberg at (910) 410-1779 or throsberg@richmondcc.edu.
---
For More Information
Nicole Worley
Dean of Adult Education
ndworley@richmondcc.edu
(910) 410-1863