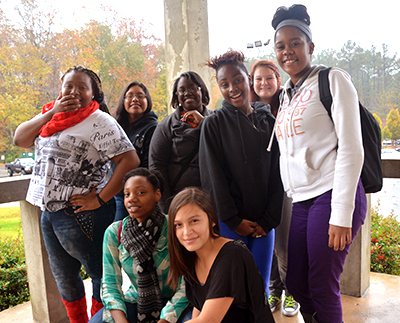 Student Life at Richmond Community College
We understand that a student's college experience is much more than just what programs he or she studies or courses he or she takes –– student life plays a big part in one's education.
At Richmond Community College, we offer plenty of opportunities for our students to get involved on campus. Whether you're interested in joining a club or student organization, or making new friends, we can provide you with opportunities to get the most out of your time at RichmondCC.
Join One of Our Clubs or Student Organizations
Advisor: Chris Gardner, csgardner@richmondcc.edu, (910) 410-1731
Student Government Association (SGA) was organized and chartered in 1967 and is responsible for governing students, assisting in the execution of institutional policies and maintaining an appropriate image of RCC in the community. Every student is a member of SGA and is welcome to get involved if he or she wants to be a part of any campus events and activities, or have a voice in college policies. Being a part of SGA is an educational experience and a great way to learn leadership and management skills. Scholarships are available for all officers.
Ambassadors
Advisor: Don Smeigh, drsmeigh@richmondcc.edu, (910) 410-1832
Student ambassador represent the college at different functions and help with recruiting efforts. A scholarship is awarded to each ambassador. The amount of the scholarship is dependent upon the number of hours worked and is paid eight (8) times during the academic year. Students must have at least a 2.5 GPA, and complete a total of 24 credit hours by the end of their first semester as an Ambassador. Applicants are self-nominated with the support of an RCC faculty or staff member.
Business Club
Advisor: Kim Parsons, knparsons@richmondcc.edu, (910) 410-1898
The purpose of the Business and Technologies Club is to create an environment that promotes the discovery of business both conceptually and practically in order to bridge the gap between education and real world applications. It provides a common gathering place for broad community interaction, for social and business meetings, additional teaching and reinforcing of business skills needed for students' success both in the community and future business endeavors.
Campus Crusade for Christ
Advisor: Donna Tedder, dbtedder@richmondcc.edu, (910) 410-1850
Campus Crusade for Christ provides students with an opportunity to explore practical biblical issues relevant to college-aged students. Students and staff who have a desire to explore their personal spiritual development in a contemporary biblical worldview are encouraged to attend a meeting. Activities and events include, but are not limited to, video-based topical studies and group discussions.
Criminal Justice Club
Advisor: Tracey Etheridge, tcetheridge@richmondcc.edu, (910) 410-1728
The Criminal Justice Club is primarily designed for students who are interested in a career in criminal justice. Past activities of the club include sponsoring field trips to prisons, police departments and law enforcement agencies; the engagement of on-campus speakers; and arranging for police demonstrations with drug/bomb-sniffing dogs and DUI driving simulations. Emphasis is on educating potential criminal justice professionals on the realities of the work and providing opportunities for exposure to others who share an enthusiasm for the field.
Future Leaders of Early Childhood (FLEC)
Advisor: Jennifer Murray, jcmurray@richmondcc.edu, (910) 410-1931
The FLEC club is designed to encourage students in the curriculum to discover new ways to educate today's children.
HOSA – Future Health Professionals
Advisor: Robyn Davis, rvdavis@richmondcc.edu, (910) 410-1906
HOSA - Future Health Professionals, formerly known as Health Occupations Students of America (HOSA), is a national career and technical student organization. The purpose of HOSA-Future Health Professionals is to develop leadership and technical skill competencies through a program of motivation, awareness and recognition, which is an integral part of the Health Science Education instructional program. Any student who is interested in Health Science or working in the healthcare field is encouraged to join.
HVAC Club
Advisor: Marcus X, mnx@richmondcc.edu, (910) 410-1846
The HVAC Club is comprised of students in the Air Conditioning, Heating and Refrigeration Technology Program. Club members practice their craft to become better technicians by providing community service in an HVAC capacity. They also take part in other projects that serve the community.
Leadership and Mentoring Program (LAMP)
Advisor: Chris Gardner, csgardner@richmondcc.edu, (910) 410-1731
The Leadership and Mentoring Program provides academic support, professional development, motivation and guidance to students. The goal of LAMP is to increase academic performance, student satisfaction, retention rates and college graduation rates of students. Students who participate in LAMP have access to peer tutoring, college tours, personalized academic advising, financial literacy opportunities and other activities designed to help students improve their leadership and mentoring skills. Any Richmond Community College student can apply to be a member of the LAMP program. The application process involves completing an application, attending three meetings and signing the LAMP pledge. All interested students should contact advisor Christopher Gardner.
National Society of Leadership and Success
The National Society of Leadership and Success was founded in 2001 with the sole purpose of creating lasting positive change. Beginning with a handful of chapters and no membership component, the Society now reaches more than 130,000 students around the world. The Society encourages community action, volunteerism, personal growth and strong leadership from its chapters and members around the world.
Phi Theta Kappa Honor Society
Advisor: Elgin Emanuel, elemanuel@richmondcc.edu, (910) 410-1935
Phi Theta Kappa acknowledges students who work hard at keeping a high standard GPA. Students are invited to join based on their GPA. This club provides great honor and opportunities to establish a variety of scholarships.