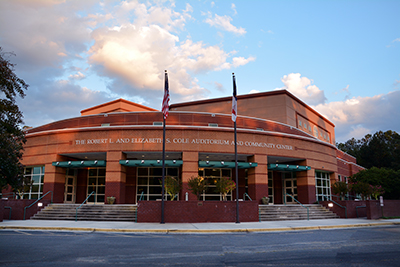 The Cole Auditorium
Established in 1999, the Robert L. and Elizabeth S. Cole Auditorium and Community Center is an entertainment hub located on the campus of Richmond Community College in Hamlet. The facility features a 1,000-seat auditorium, dressing rooms, kitchen area, banquet rooms and a spacious lobby with a beautiful view of the college campus.
The Cole Auditorium hosts multiple large-scale touring productions and nationally known acts throughout the year, providing a perfect date night or a family outing without having to travel to a big city. The Cole also serves as an excellent venue for special occasions and events or meeting place for your organization or business. Rent the Cole!
Inquiries about tickets for Cole Auditorium-sponsored events may be made online, in person at the Box Office, by telephone or by email.
Cole Box Office
The Cole Auditorium Box Office is located in the office wing of the facility. As you are facing the front of the facility from the parking lot, the Box Office will be directly inside of the door to your right.
Online
Vist our online web portal to purchase tickets. You are required to create an account to log into the portal. Technical help with your account is available during normal office hours by calling 910-410-1691. Online sales are subject to a small per-ticket service fee and can paid for by Visa, MasterCard or Discover.
In Person
Information about the Cole Auditorium, as well as tickets, can be obtained by visiting the Box Office. The Box Office is open Monday through Thursday from 8 a.m. until 5 p.m. and Friday 8 a.m. until 2:30 p.m. The facility is staffed during lunch but closed on the same holidays as the college. On the day of performances, the Box Office opens at least two hours prior to performance time.
Physical Address
1042 W. Hamlet Ave.
Hamlet, NC 28345
By Telephone
Tickets may be purchased by phone at (910) 410-1691 during regular Box Office hours. After hours, feel free to leave a message. Tickets ordered by phone will be mailed out until five business days prior to the show to ensure arrival. After that time all tickets will be held for pick-up at Will Call. VISA, MasterCard, and Discover are accepted by phone.
By Email
Email us at coleaud@richmondcc.edu for information about tickets, pricing and upcoming performances.
By Mail
RichmondCC/Cole Box Office
P.O. Box 1189
Hamlet, NC 28345
All ticket sales are final. The Cole Auditorium Box Office is not able to issue refunds.
Resources
Facility Technical Specifications (Tech Rider)
Give Back!
You can support the the programming at the Cole Auditorium by giving to the RCC Foundation.