Fidelity Bank Classic Rock 'N Country Series
Discover the Arts at Richmond Community College's Cole Auditorium
The Robert L. and Elizabeth S. Cole Auditorium and Community Center was established in 1999 to provide the citizens of Richmond and Scotland counties entertainment options, along with an excellent banquet and meeting location.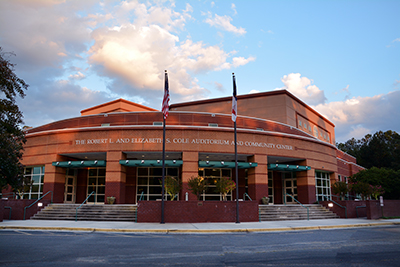 The Hamlet facility features a 1,000-seat auditorium and a spacious lobby area with a beautiful view of the RCC campus.
On the Cole Auditorium calendar below, you'll find plenty of professional touring productions held as part of the DeWitt Performing Arts Series. These performances are perfect for a date night out or a family activity to expand your horizons and support the performing arts in North Carolina and nationwide. You can also support the the programming at the Cole by giving to the RCC Foundation.
Cole Auditorium Box Office
The Cole Auditorium Box Office is located in the office wing of the facility. As you are facing the front of the facility from the parking lot, the Box Office will be directly inside of the door to your right. Inquiries about tickets for Cole Auditorium-sponsored events may be made in person at the Box Office, by telephone or by email.
In Person:
Information about the Cole Auditorium, as well as tickets, can be obtained by visiting the Box Office. The Box Office is open Monday through Thursday from 8 a.m. until 5 p.m. and Friday 8 a.m. until 2:30 p.m. (Our summer schedule is Monday through Thursday from 7:30 a.m. until 6:00 p.m. These hours are effective each year from the Monday before Memorial Day until the last day of July) The facility is staffed during lunch but closed on the same holidays as the college. On the day of performances, the Box Office opens at least two hours prior to performance time.
Physical Address
1042 W. Hamlet Ave.
Hamlet, NC 28345
By Telephone
Tickets may be purchased by phone at (910) 410-1691 during regular Box Office hours. After hours, feel free to leave a message. Tickets ordered by phone will be mailed out until five business days prior to the show to ensure arrival. After that time all tickets will be held for pick-up at Will Call. VISA, MasterCard, and Discover are accepted by phone.
By Email
Email us at coleaud@richmondcc.edu for information about tickets, pricing and upcoming performances.
By Mail
RichmondCC/Cole Box Office
P.O. Box 1189
Hamlet, NC 28345
All ticket sales are final. The Cole Auditorium Box Office is not able to issue refunds.
Resources
DeWitt Series/Major Public Events Calendar
Facility Technical Specification (Tech Rider)