NCCS Presidents Visits RichmondCC on 'Great 58' Tour
May 27, 2021 - North Carolina Community College System President Thomas Stith visited Richmond Community College on Monday as part of his tour of "The Great 58." Stith took office on Jan. 11 of this year and is visiting all 58 community colleges in N.C.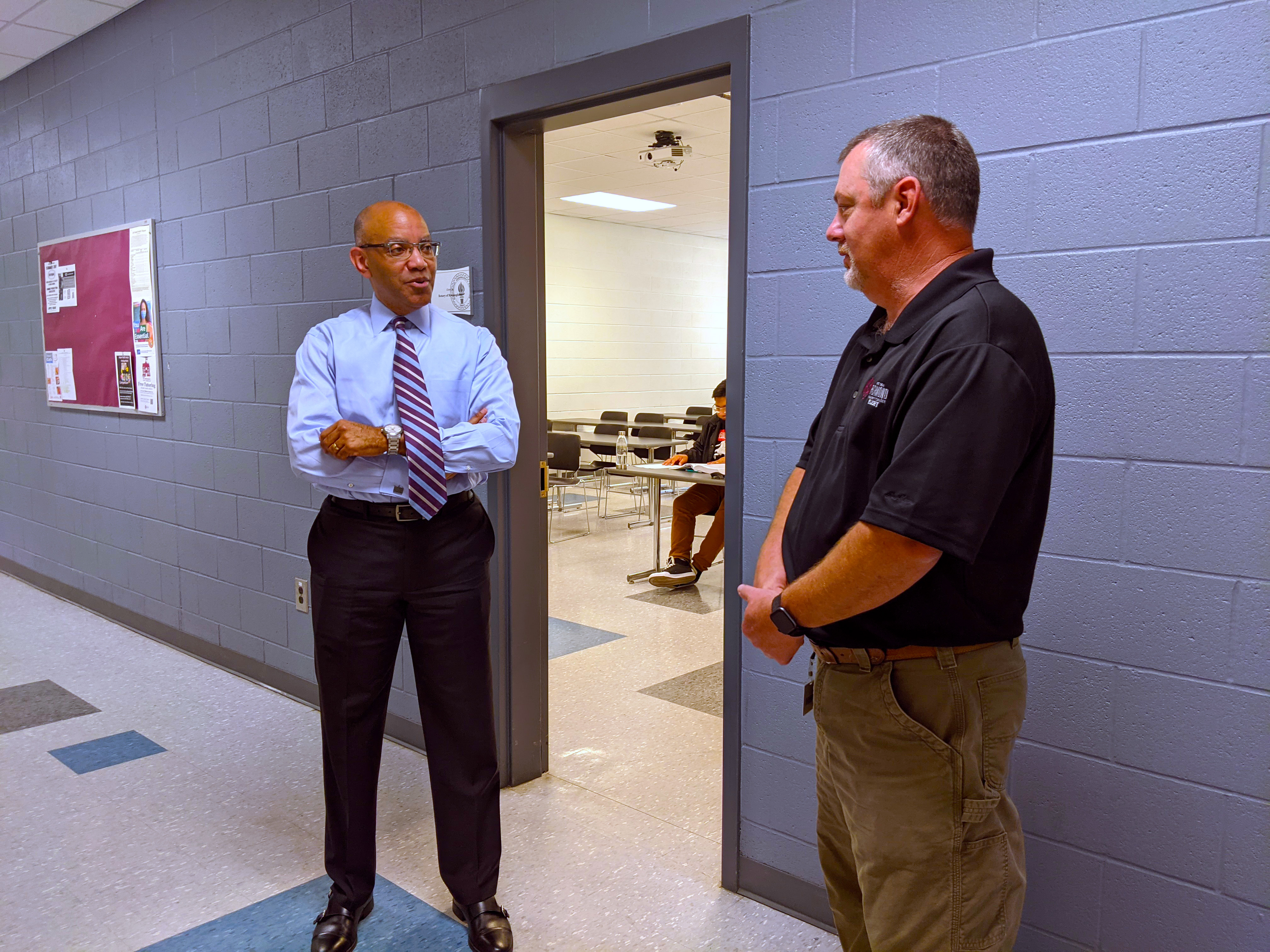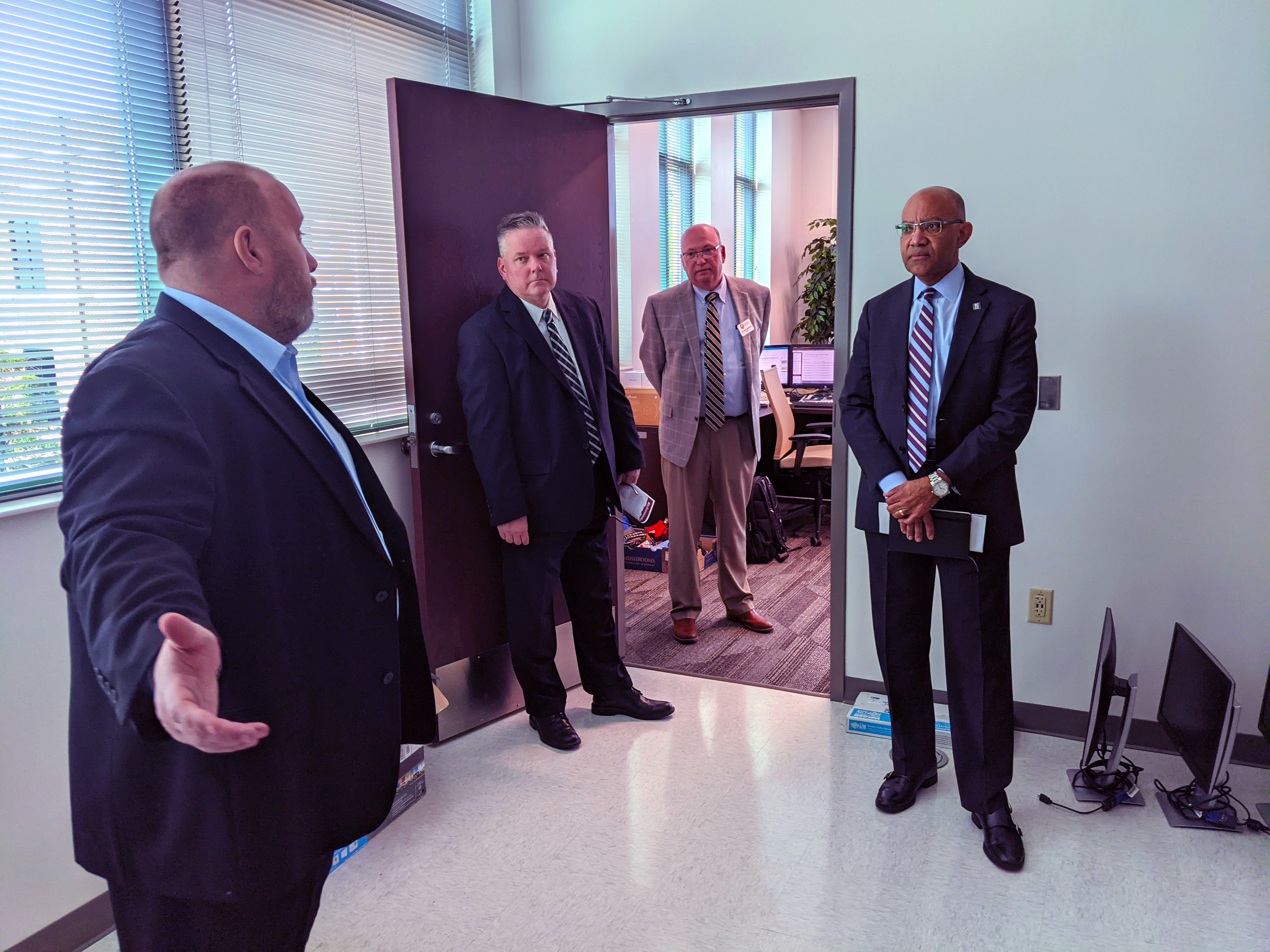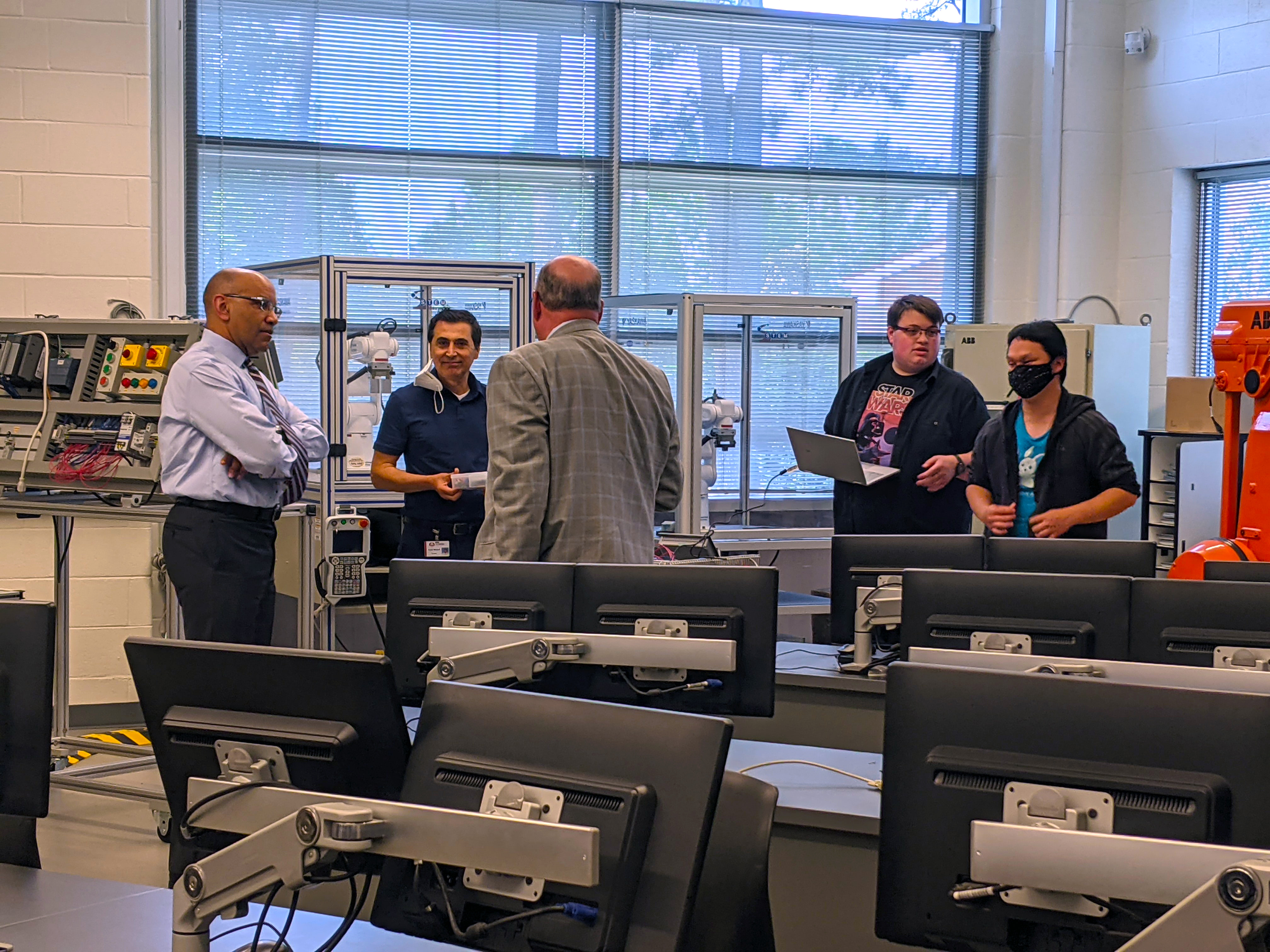 "North Carolina's system of 'The Great 58' community colleges is a treasure that every North Carolinian needs to know about. Richmond Community College in particular is a hub to its community for workforce and economic development, which is a reflection of the community's faith and investment in the college," Stith said. "Strong partnerships with the community provide great opportunities for the college to provide cultural enrichment and an enhanced quality of life for its community."
Stith started his tour of RichmondCC at the new Kenneth and Claudia Robinette Building housing the Leon Levine School of Business & Information Technology in downtown Rockingham. Stith met with Dr. Dale McInnis, president of RichmondCC, and Cybersecurity instructor Brian Goodman to learn about the cybersecurity program that trains technicians to protect digital infrastructure from outside intrusion. RichmondCC offers this program at the Rockingham facility and at Richmond Senior High School as a dual enrollment pathway. It is also offered 100 percent online.
At the Robinette Building, Stith was also given an overview of the newly revamped Pharmacy Technician program that has both classroom space and a hands-on clinical area that simulates the working environment of a pharmacy tech.
"We just hired a program coordinator for the Pharmacy Technician program and are excited about offering this highly desirable career training," said McInnis.
The next stop was to the Electric Lineworker Yard on the Hamlet Campus. Unlike many lineworker programs across the state and country, RichmondCC offers this training in an intense 15-week format.
"Employers in the utility industry need a skilled workforce with quality hands-on training," said McInnis. "We are able to offer this program in May, September and January, and on average, we graduate 60 lineworkers per year."
Just down the hill from the Lineworker Yard is the Electric Utility Substation & Relay Technology program that houses its own substation. McInnis explained to Stith the difference between the two power industry programs.
"Some careers only require short-term training, while others need more. The Electric Utility Substation & Relay Technology program provides our students with advanced training designed to maintain the critical infrastructure of the power grid," McInnis explained. "Graduates of this program are sought out by employers from all over the country because you can't get this specialized training anywhere else."
McInnis and Stith made their way to the adjacent John E. Forte Building to learn about the Mechanical Engineering, Computer-Integrated Machining, Welding and Mechatronics programs. He met with students working on an autonomous guided vehicle in the Mechatronics lab who explained how the different components work together to produce the automation.
The last part of Stith's visit was lunch at the RichmondCC Café. During lunch, he and McInnis discussed NCCCS initiatives, legislative strategies and the newly announced Longleaf Commitment. This new initiative from the Governor's Office is a grant for graduating North Carolina high school seniors who will be attending a North Carolina community college this fall. The grant is intended to help low and middle income families afford college tuition and fees. To be eligible for the grant, students must complete the Free Application for Federal Student Aid (FAFSA), apply for admission at a N.C. community college and complete the residency determination.
This new initiative is designed to put more students on a pathway to a two-year degree and improve transfer opportunities. More information about the Longleaf Commitment, contact RichmondCC's Financial Aid Office at (910) 410-1726.
For assistance in completing the application or registering for summer or fall classes at RichmondCC. contact Student Services at (910) 410-1700 or visit the Hamlet or Scotland County Campus.