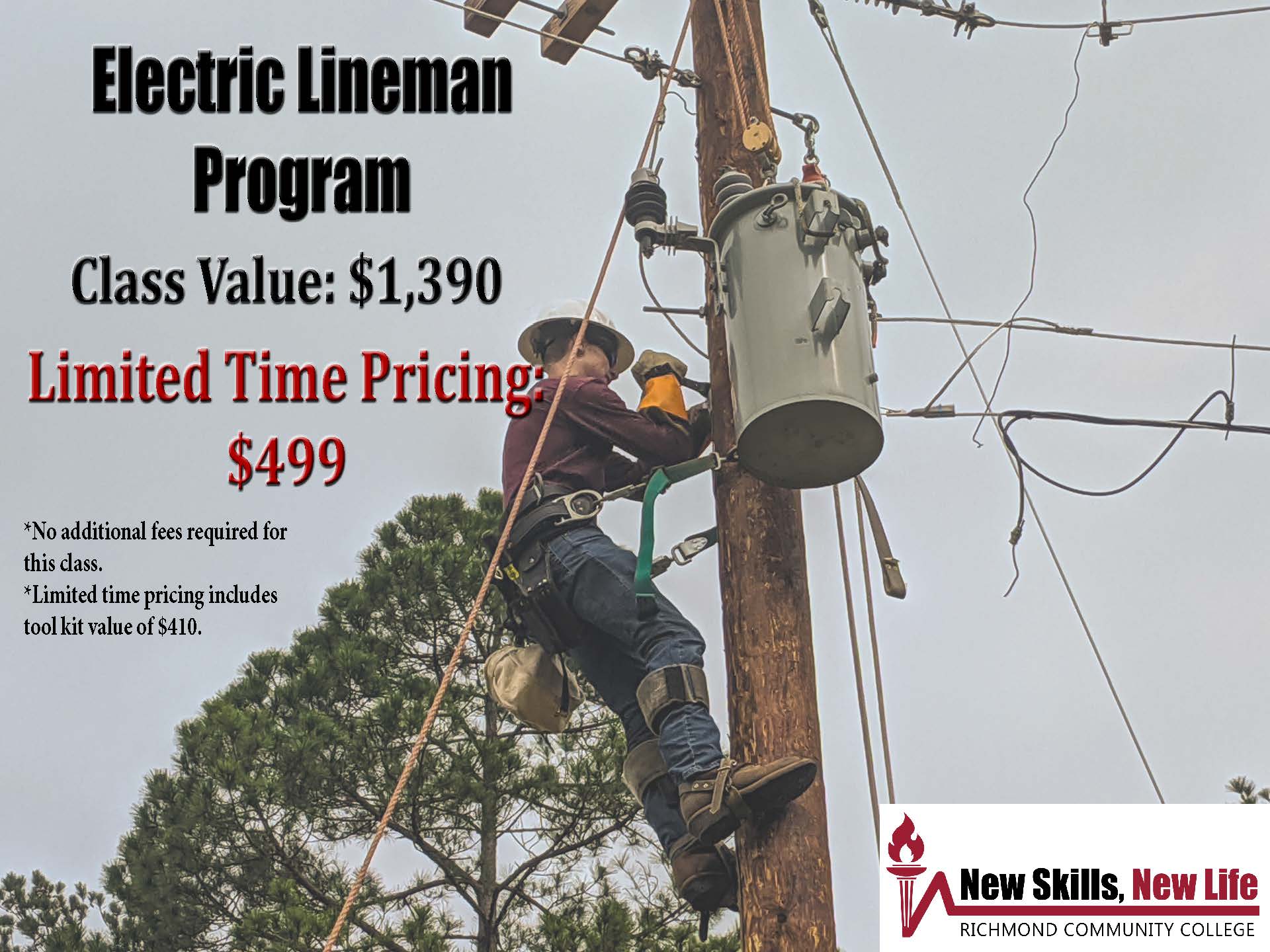 The Electric Lineworker program prepares individuals to work as linemen in the preparation and repair of electrical utility service.
Course topics include basic elements of electricity, overhead pole and electrical line constructions, safety codes and applications, electric system, transformer and meter installations, and explorations of underground electrical distribution.
Upcoming Classes
September 7 - December 17, 2021 FULL
January 10 - April 12, 2022
Class meets Monday through Thursday from 8:30 a.m. to 4:30 p.m. and in the Lineman Yard on the Hamlet Campus. Starting in 2022, this class will also meet on Fridays from 8:30 a.m. to 12:30 p.m.
Course Requirements:
Must be 18 years or older
Copy of high school diploma or high school equivalency
Copy of current DOT physical and drug screen
Copy of unrestricted driver's license
Copy of driving record (does not need to be official driving record, visit NCDOT.gov to order a copy online.)
TABE Reading score at 9.0 or higher or transcript for 2-year degree or higher
Certifications You Will Earn:
Any student who successfully completes this course will obtain the following:
OSHA 10 Certification
CPR Certification
CDL Learner's Permit
811 Certification​
Course Fees:
$1,390 (includes boots, tuition, ​hard hat, glasses, tool kit, and certification cards)
***In order to be registered for the class, payment must be made in full and all documents must be submitted.
Complete the application to receive the New Skills, New Life pricing here: Application
Complete the application to register for this class here: Application
Scholarship Funds Available
Funds are available through the 2nd Chance Scholarship to help students with the costs of the course. The 2nd Chance scholarship is for students taking classes through the Workforce & Economic Development division.
*WIOA sponsorship accepted.