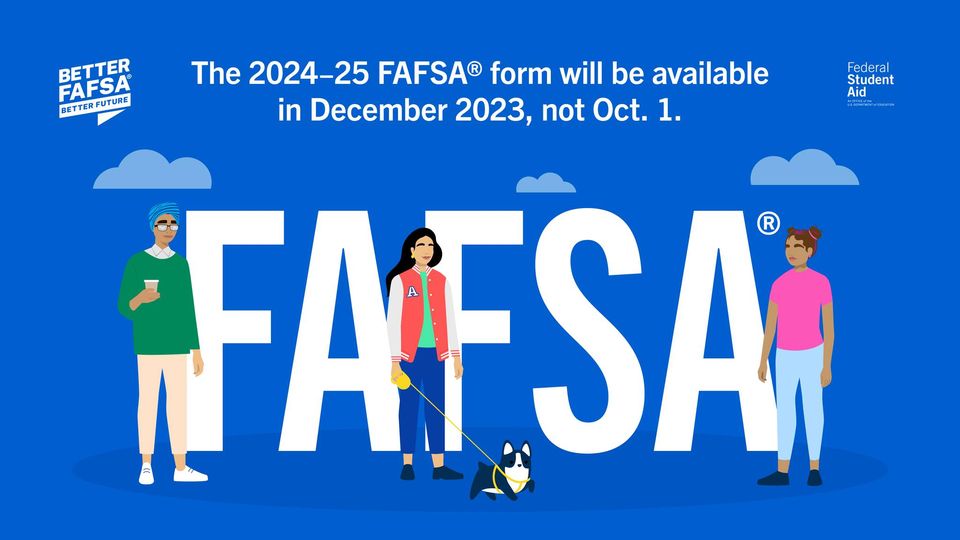 There are major changes and improvements coming to the 2024-25 Free Application for Federal Student Aid (FAFSA®) form. As a result, the new form will be available by December 31, 2023, not Oct. 1. The FAFSA® experience is changing, so make sure you're in the know.
What to Expect
Some of the biggest changes to the online FAFSA form for 2024-25 are the ability to access the status of your FAFSA form in your StudentAid.gov account and the ability to have your FAFSA information sent to up to 20 colleges, career schools, or trade schools.
There's also a new term, "contributor," being introduced on the 2024-25 FAFSA form. We'll go into more detail on what that means in our "Who is a Contributor on the 2024-25 FAFSA® Form" video (to be released soon). A contributor is anyone required to provide a signature on a student's FAFSA form as well as consent and approval to have their federal tax information transferred directly into the FAFSA form. Contributors may include the student, their spouse, a biological or adoptive parent, or a stepparent. Each contributor must have their own StudentAid.gov account to access the online FAFSA form.
What Can I Do Now to Prepare?
Have your 2022 tax documents ready to go in December!
New Terms to Know
These new terms are used throughout the 2024/2025 FAFSA:
Contributor – any individual required to provide consent and approval for federal tax information (FTI) along with their signature on the FAFSA form, including the student; the student's spouse; a biological or adoptive parent; or the parent's spouse (stepparent)
Direct Data Exchange (DDX) – System used to transfer individuals tax information to determine federal aid eligibility (replaces what used to be the IRS data retrieval tool DRT).
Student Aid Index (SAI) – A calculation based on the Free Application for Federal Student Aid (FAFSA) that allows us to determine how much need-based financial aid you are eligible for. It provides schools with a picture of your family's financial strength. Replaced what used to be known as Expected Family Contribution (EFC).
FAFSA Submission Summary – Output document providing a summary of data input on the FAFSA form received after completing FAFSA application (replaces what used to be known as the student aid report (SAR)).
For More Information
Learn more about FAFSA updates coming soon: https://StudentAid.gov/decemberfafsa
Learn more about the FAFSA process at https://StudentAid.gov.
Start your FAFSA form at https://fafsa.gov