Pre-Employment Training
A number of pre-employment training courses are available through the Human Resources Development Program.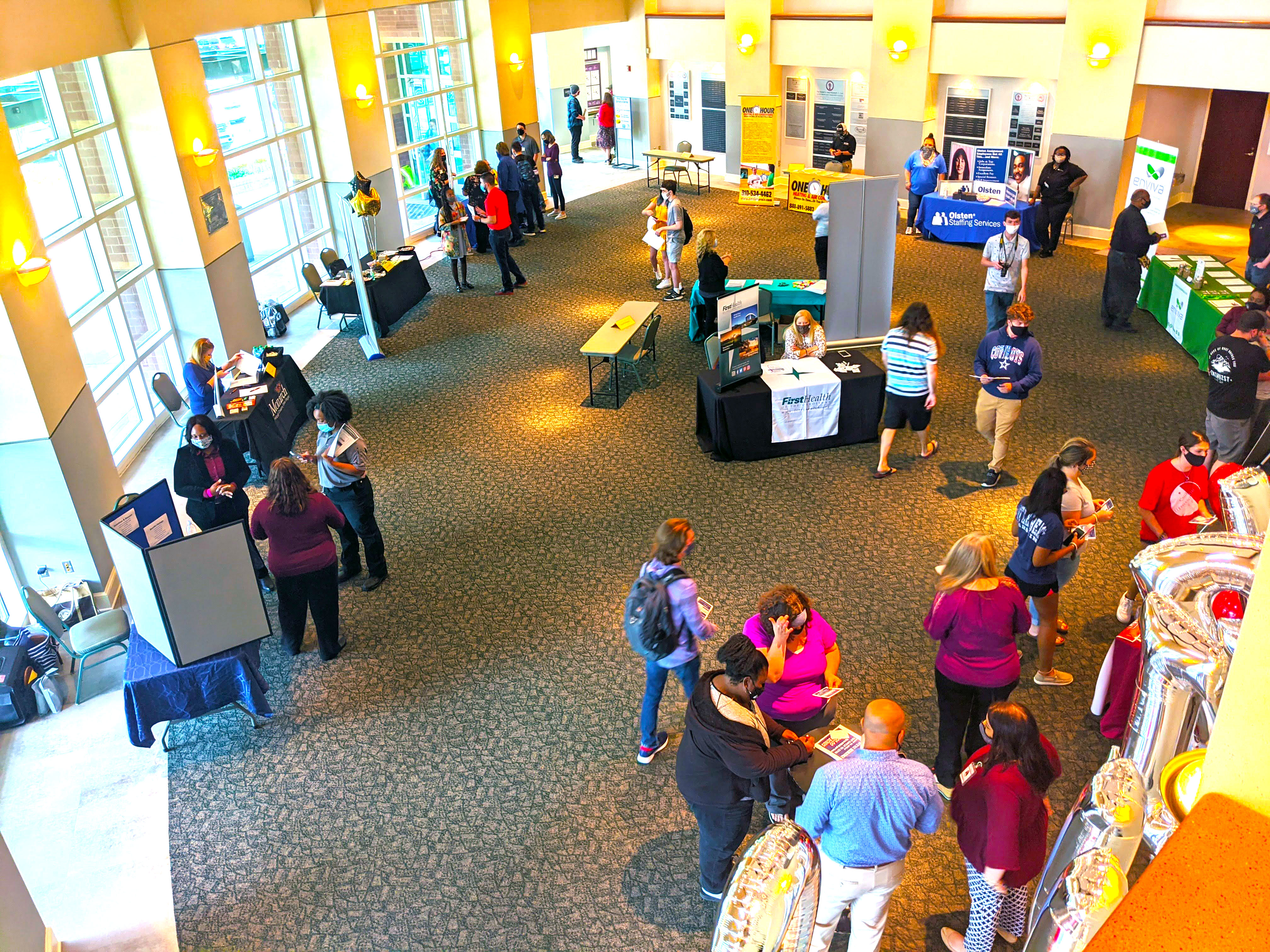 These classes are specifically designed to enhance the skill levels of persons who are unemployed, underemployed and those facing an impending layoff. The core curriculum focuses on the development of essential skills for the workplace. The courses we offer include Career Planning and Employability Skills, Basic Keyboarding and Computer Applications. In addition you learn to set goals and explore careers. Resume writing, interviewing techniques, and job search skills are emphasized. Job placement and self-sufficiency is the ultimate goal of this program. Training for the Career Readiness Certification is also available through the HRD Program.
Employability Lab – Learn how to assess skills and limitations, develop a positive self-concept, develop basic employability skills, develop communication and problem solving skills, and expose yourself to technology used in the workplace. This open lab allows students to attend any offerings of the class as they desire.
Introduction to Computers – Become computer literate in this "start from the beginning" basics class.
Pre-Employment Skills – Several companies have partnered with RichmondCC and are now requiring every individual to complete this class before applying to their business. This course provides employability skills training for unemployed and underemployed adults. The curriculum framework is based upon the companies' occupation and addresses career exploration, job seeking and keeping strategies, entry-level skill awareness and development, and training success strategies including note-taking, test-taking strategies, reducing test anxiety, and preparing for certification exams and placement tests.
To register for Pre-Employment Skills, call (910) 410-1844 for assistance.
For more information about Pre-Employment Training call (910) 410-1700 or (910) 410-1831.
National Career Readiness Certificate (NCRC)
National Career Readiness Certificate (NCRC) is a work credential that promotes skills and career development for individuals and verifies to employers anywhere in the United States that you possess basic workplace skills and employability skills in Applied Mathematics, Reading for Information, and Locating Information. The NCRC is based on the ACT WorkKeys system, an industry-driven system of profiling, assessment and instructional support.
WorkKeys
WorkKeys is a job skills assessment system that helps employers select, hire, train, develop, and retain a high-performance workforce.
| | Require or Prefer WorkKeys |
| --- | --- |
| Cascades | Hellmann |
| Campbell Soup | Service Thread |
| Big Rock Sports | Plastek |
| Goods | Kordsa |
| RichmondCC | Railroad Friction |
| Perdue | FCC |
The purpose of the WorkKeys exam is to measure your abilities and skills so that you (and potentially your employer) can see where your strengths and weaknesses are in a variety of professional areas. WorkKeys is designed to be applicable across many career fields and are used by many companies when making hiring choices.
National Certification
When you complete WorkKeys tests, you receive a National Career Readiness Certificate that verifies for employers that you have skills in all three of these areas:
Applied Math (Applying mathematical reasoning to work-related problems) = 55 minutes
Graphic Literacy (Understanding and applying information that is presented graphically) = 55 minutes
Workplace Documents (Reading and using work-related texts or documents) = 55 minutes
RichmondCC provides free WorkKeys prep classes that prepare you to take the WorkKeys exam. If you have lost your job or are facing a plant closing, now is the time to begin preparing for the exam and the opportunity to add the NCRC to your resume. WorkKeys Assessments are $15 each. To schedule an appointment to take the WorkKeys exam, please contact:
Nikki Page
Career Readiness Certificate Coordinator/Test Administrator
Workforce and Economic Development
(910) 410-1844
naharris@richmondcc.edu