Benefits
Employee Benefits at RichmondCC
Below you'll find a list of all of the benefits that RCC offers our full-time employees. Refer to the original plan documents for complete plan information.
Retirement System
(877) 627-3287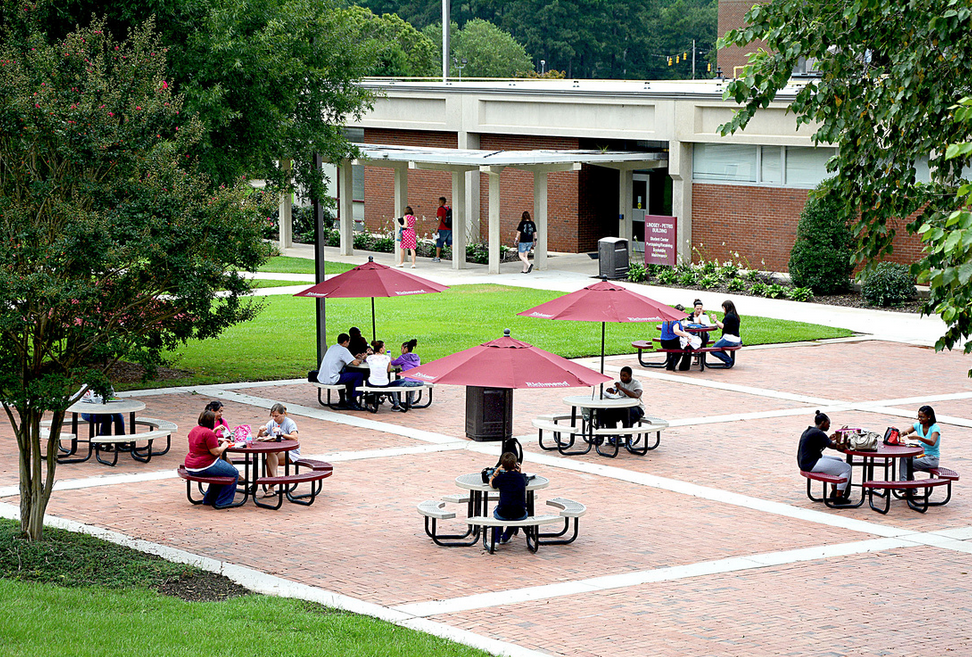 A pre-tax deduction of 6% of gross pay is automatically deducted from your paycheck and deposited into your Retirement System account. The plan also includes a death benefit and short-term disability plan after one year of service, and a long-term disability plan after five years of service.
Supplemental Retirement
www.retirement.prudential.com/cws/ncplans
(866) 627-5267
The State of NC 401(k) plan is administered by Prudential Retirement. This plan offers the traditional pre-tax option, as well as a post-tax Roth option, for employees to be able to invest funds. Online access to your personal account is available from the link above so that you can view and change investments, change deferral amounts and perform other general account maintenance.
Medical Insurance
www.statehealthplan.state.nc.us
https://nc.secure-enroll.com/go/ncshp
(888) 234-2416
The State Health Plan is administered by Blue Cross Blue Shield. It is a PPO plan with a Basic (70/30) and a Standard (80/20) plan. An employee's premium for individual coverage is reduced with the completion of a wellness task. Dependent coverage is available on both plans at the employee's expense. Online viewing of claims and coverage information is available to make finding your explanations of benefits a breeze.
Dental Insurance – Reliance Standard
www.rsli.com
(800) 497-7044
Richmond Community College offers an employee paid plan that provides employees with exam coverage every six months at no cost. It also covers basic and major services at an 80% and 50% cost sharing respectively and members are able to roll over any unused calendar maximum, up to $2,500.
Vision Insurance - Ameritas Vision
https://www.ameritas.com/sign-in/
(800) 659-2223
Ameritas administers Richmond Community College's vision plan. A hardware and exam plan is available and a network of doctors is utilized with this plan. Check out the website for a listing of participating doctors and a summary of the coverage.
Term Life Insurance - UNUM
www.unum.com
(800) 421-0344
UNUM provides a term life insurance option with a guarantee issue amount of up to $100,000 if it is elected when first eligible and guarantee issue of $25,000 for spouse and $10,000 for dependent children. Rates are based upon age and the amount of coverage that is elected.
Colonial Supplemental Coverage
www.coloniallife.com
(800) 325-4368
Colonial provides an array of additional coverage options for employees to choose from in order to meet their individual needs.
An Accident and Sickness Disability Income Plan provides coverage for an employee for accidents, disability from work and for surgery.
An Accident Plan is also available for employees who may not need as comprehensive a plan as what is listed above, or if the employee wants to cover a spouse and/or children.
A Cancer Response Insurance Policy is available and provides an annual payment for having a cancer screening. It also provides coverage, in addition to the health plan, for various cancer treatments, associated travel and various expenses should you be diagnosed with cancer.
An Intensive Care Plan provides additional coverage for individuals who are confined to an ICU.
A Medical Bridge Plan provides additional payment for hospital admission or outpatient surgery.
Term Life and Universal Life Policies are available.
Medical and Dependent Care Flexible Spending Account - Ameriflex
https://participant.myameriflex.com/#/login
(888) 868-3539
AmeriFlex administers these FSAs for RCC. Employees are able to set aside funds on a pre-tax basis to pay for qualified medical expenses and medications, as well as for day care expenses. A convenient credit card is available to make claim filing easy.
Employee Assistance Program - McLaughlin Young
mygroup.com
(800) 633-3353
Employees and their dependents are automatically eligible for this service which is paid for by RichmondCC. The EAP is designed to help employees with personal and job-related problems. Short-term counseling is available, as well as a web-based self-help and training center. Employee's spouse and children are also covered. Everything is 100% confidential.
Call-A-Doctor Plus
(800) 835-2362
Each permanent employee and their dependents are eligible for Call-A-Doctor Plus (also known as Tele-doc). This service is paid by RichmondCC so it is free for employees. As a registered member, you'll be able to talk to a licensed physician (by phone or video) who can diagnose and treat many common non-emergency medical issues and prescribe medicine, all without having to take time away from your busy schedule to wait at the doctor's office.
Holidays
The holidays that are observed are: New Year's Day, Martin Luther King, Jr. Day, Good Friday, Memorial Day, Independence Day, Labor Day, Veteran's Day, Thanksgiving day and the following Friday, and Christmas Break.
Annual & Sick Leave
Full-time Staff employees earn eight hours of sick leave a month and annual leave on a monthly basis based upon the length of service shown in the table below.
| | |
| --- | --- |
| Less than 5 years | 9 hrs & 20 mins |
| 5-9 years | 11 hrs & 20 mins |
| 10-14 years | 13 hrs & 20 mins |
| 15-19 years | 15 hrs & 20 mins |
| 20 years or more | 17 hrs & 20 mins |
Full-time Faculty do not earn annual leave put have personal days available.
Part-time permanent employees earn leave on a pro-rata basis.
Free Tuition
Each full-time permanent employee is granted one tuition-free class per semester at Richmond Community College with prior approval of their supervisor.
Richmond Community College has been serving students from all walks of life for 50 years with a variety of educational resources, including associate degrees, college readiness programs, adult education and more in Hamlet and Laurinburg, NC.