RichmondCC Nursing Graduate and Small Business Owner Made Her Dream a Reality
October 13, 2020 – Levy Steele of Hamlet has always been passionate about helping people and had a dream of becoming a nurse. In 2016, she turned that passion and dream into a career and earned her Associate Degree in Nursing (ADN) from Richmond Community College.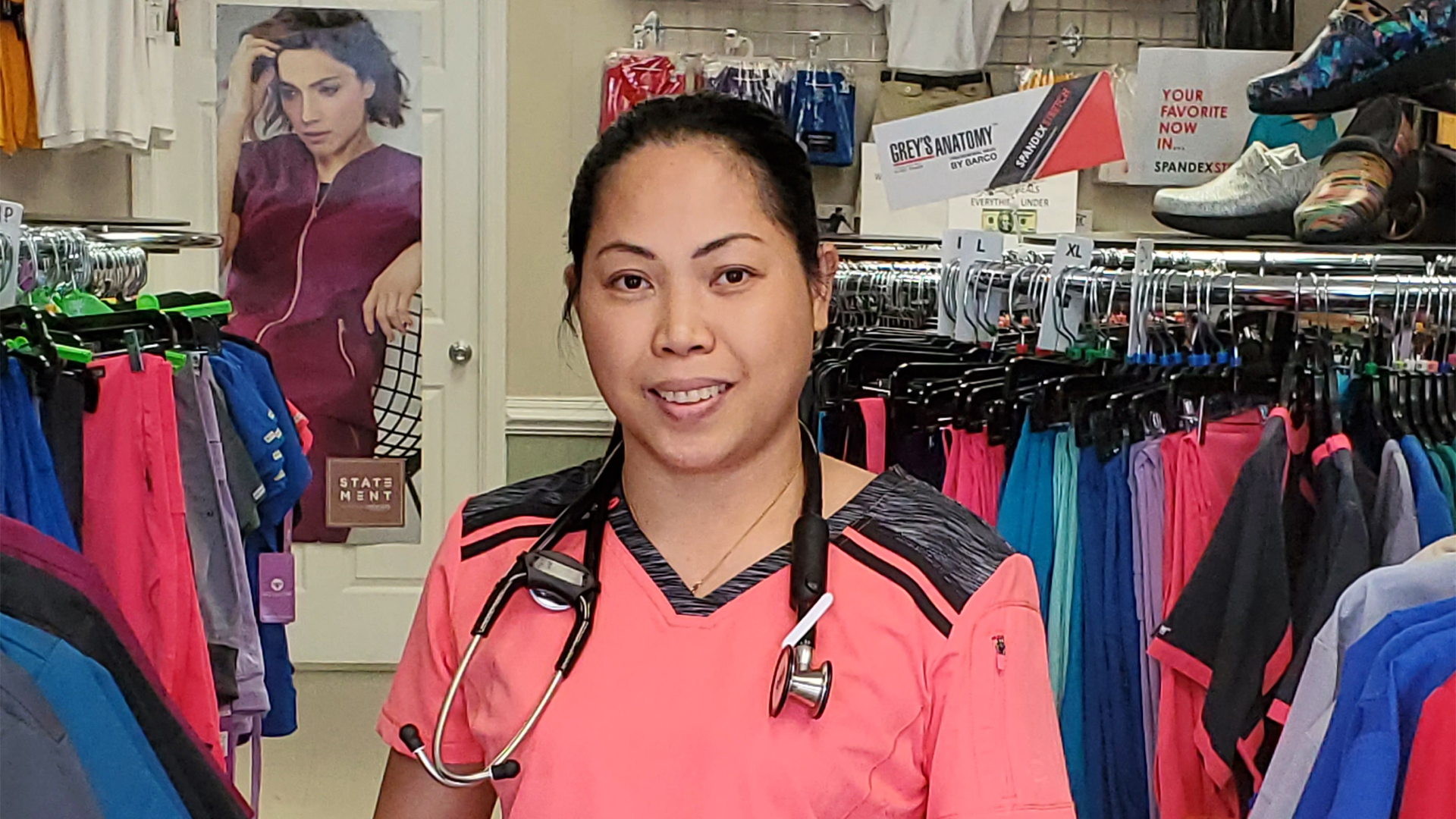 Steele did not let adversity stand in the way of her dreams. She came to the United States from the Philippines. Since English was not her first language, she struggled with her accent and had a difficult time getting people to understand her. Although this was a barrier, she never lacked support from her family, friends and RichmondCC.
"I am a mom and a wife. I attempted to juggle everything together. My instructors, friends, classmates and family are very understanding and supportive. No one ever judged me due to my language barrier. They always made sure that I fully understood everything and accepted who I was," Steele said.
Currently, Steele is employed with FirstHealth Moore Regional Hospital as a registered nurse in the Cardiothoracic Intensive Care Unit. She is part of a team that takes care of patients with diseases affecting the chest, including the heart, blood vessels, lungs and esophagus. She is also a small business owner. Steele and her husband, a retired army veteran, own Steele Uniforms, LLC in Rockingham. Their business specializes in medical and school uniforms, as well as shoes and other accessories.
She chose to attend RichmondCC because of its location near her business, and she was very pleased with the positive feedback she received when she would ask about the College and the programs it offers.
"RichmondCC offers a wide variety of career fields and options for those looking for a career and not just a job. It gave me a solid foundation for my career path and what I wanted to achieve," she said.
While a nursing student, Steele was encouraged to apply for scholarships as part of her financial aid package. As a result, she was the recipient of the President's Scholarship, Susie B. Powers Scholarship and the RichmondCC Working Scholarship offered through the RichmondCC Foundation.
"I had many educators who went above and beyond their normal duties to help me attain my goal of becoming a nurse. RichmondCC supported and guided me through this career path to develop the skills I needed and expand my knowledge in the nursing field. Without their support and education, I wouldn't be as successful as I am today," she said.
Steel's goal was to go beyond an associate degree in nursing. She recently earned a Bachelor of Science in Nursing from Fayetteville State University. She took advantage of the $10K Degree Pathway Partnership between RichmondCC and FSU.
This pathway enables RichmondCC associate degree recipients to complete one of the 10 online bachelor degree programs offered at FSU for a maximum "out-of-pocket" cost of $10,000. The 10 degree options are Nursing (RN to BSN), Accounting, Birth to Kindergarten, Business Administration, Criminal Justice, Fire and Emergency Services Administration, Intelligence Studies, Professional Studies, Psychology or Sociology.
For more information about transfer programs such as the FSU's $10,000 Degree Pathway Partnership, contact Director of Career & Transfer Patsy Stanley at (910) 410-1830 or email pjstanley@richmondcc.edu. For more information about the nursing or other health programs offered at RichmondCC, contact Dean of Allied Health and Human Services Janet Sims at (910) 410-1889 or email jmsims@richmondcc.edu, or contact Student Services at (910) 410-1700.