Technical Support for Online Students
We understand that going from a face-to-face class to an online format can be challenging. Our staff is here to help you if you are facing technical problems.
Moodle
Moodle is the learning platform RichmondCC uses for its online classes. For assistance with Moodle, an online course or student e-mail, please contact Katelynn Arner at (910) 410-1761 or kdarner@richmondcc.edu.
Computer Labs
For those of you who don't have access to a computer and/or Internet at home, we are opening computer labs in the Conder Building on the Hamlet Campus and the Covington Street Building on the Scotland County Campus on Wednesdays from 8:30 a.m. to 4 p.m. This service begins Wednesday, March 25.
To access these labs, you must:
Be a RichmondCC student. No other students allowed. (Children are not allowed to accompany you into these computer labs.)
Have your RichmondCC student ID at all times.
Submit to having your temperature taken at the door of each building. It MUST be under 100.4. This is a non-invasive procedure.
Begin any proctored tests BEFORE 3 p.m.
WiFi
Student-use WiFi will be available starting Monday, March 30, in the parking lots of the Cole Auditorium in Hamlet and Morgan Center in Laurinburg. WiFi will be limited to school-related activities.
Access to Skype
You have access to Skype for business if you wish to use it for instant messaging or video conferencing. Below are the steps required to install the app for use on your personal computer. If you have a college issued device it should already be installed and you simply need to search for Skype for business. Please note there are two versions of Skype, you need to use the one labeled Skype for business or it will not connect to the RichmondCC provided service.
Step 1: Log into Office365 and click the Install Office tab on the right side of the screen. In the drop down menu that opens click on Other install options.

Step 2: Click on View apps & devices.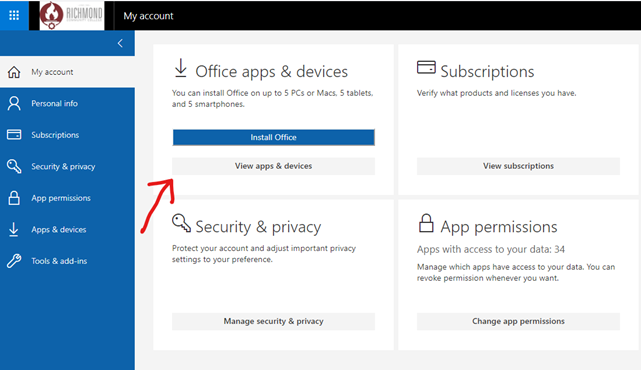 Step 3: Click Install Skype and follow the on screen instructions.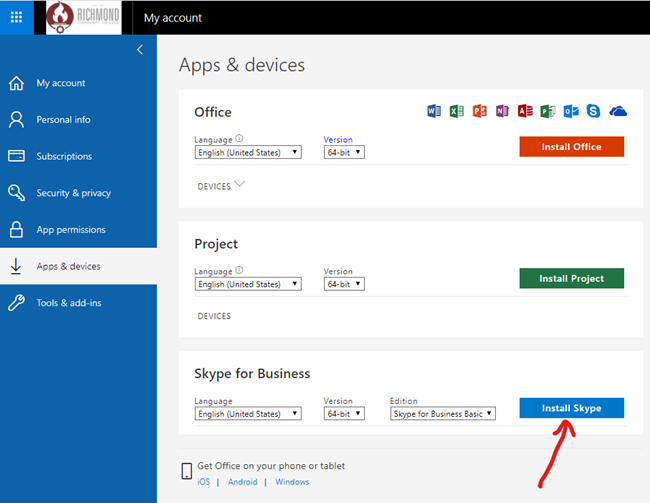 Scanning Documents with Your Phone
If you need to scan in work to submit to Moodle, there are many free apps you can download on your phone. Here are two options as well.
iPhone - Notes App: iPhone users can go to "Notes" and click on the camera button. It will offer options including "Scan Documents." Lay out the pages you want to scan and "scan" them all with your phone. It will automatically save them as a single PDF file.
iPhone, Android, etc. - OneDrive App: The OneDrive app for your phone will allow you to do the same thing. Click the camera button shown in the first image below. After you scan the first page, click the "add new button" shown in the second image to add another page. All pages will be saved in a single PDF file. This app then allows you to save the PDF straight into your OneDrive account for easy access and organization.
Help Desk
As always, our IT department is available to assist you with technical issues concerning your student email or school related software. You can email us at rcchelpdesk@richmondcc.edu. If you still need assistance or you would prefer to speak to someone from our IT department, call (910) 410-1701. Or visit the Help Desk.
IT Office Hours: Monday - Thursday 8 a.m. to 5 p.m. | Friday 8 a.m. to 2:30 p.m.