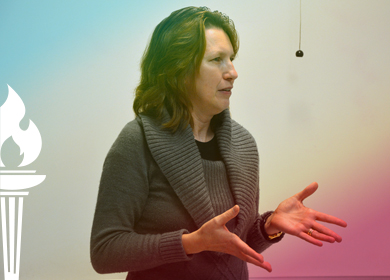 When Dr. Sandra Holley of Charlotte finished her doctorate in accounting in May, she started making phone calls to people she wanted to thank for helping her get to this point in her life. One of her first calls was to Dr. Devon Hall, her former business instructor at Richmond Community College.
"I told Dr. Hall I wouldn't have gotten here without Richmond Community College," said Holley, who is an accounting professor at Pfeiffer University. "He said, 'You need to come talk to my students.'"
So Holley returned to RichmondCC to share her success story with students in the business and accounting programs and also provide some advice about advancing their credentials and education.
"I moved from Kentucky to Laurinburg when I was 18," Holley said. "I went to work on a hog farm soon after graduating high school."
Knowing that was not the job she wanted for the rest of her life, she decided to go to college, and RichmondCC was close and affordable.
In 1998, she started in the nursing program at RichmondCC, but quickly realized that wasn't the right career for her. She then switched to the Business Administration program and began dabbling in accounting after taking an assessment test that indicated she was more suited for that career.
Right before Holley graduated in 2000, Hall helped her get an internship with Butler Manufacturing.
"What started as a six-week gig turned into a two-year gig," Holley said.
Holley said she really enjoyed working for the company and wanted to apply for a cost accounting position that was available, but it required a four-year degree, so she went back to school to earn a bachelor's degree from St. Andrews University. Even though she finished her bachelor's in record time thanks to almost all of her credits transferring from RichmondCC, the company instituted a hiring freeze, and she found herself without a job.
Holley moved to Charlotte and starting working for a children's home as a staff accountant. She also decided to further her education and began working on her master's degree through the University of Phoenix.
Holley later became a controller for a construction company and took some other various accounting jobs before the job market tanked in 2008. Once again, she found herself without a job.
"I had to make a decision: either default on my student loans or go back to school. So I started on my Ph.D. through Capella University, another online university," she said.
After many twists and turns in her life, Holley feels she has hit the jackpot working as an instructor at Pfeiffer University.
"It's not work if you love what you're doing," she said.
She said she enjoys teaching because it allows her to share not only knowledge from a book, but also knowledge she has gained from all the different jobs she's had.
A mother of three children with her husband, Brian, Holley is a huge proponent of the community college, which she said is a place to discover yourself and figure out what you want to do in life.
"Out of all of my educational experiences with the different universities, Richmond Community College was the best experience for me," she said. "Capella was the hardest, but RCC was the best. The attention you receive from the instructors here is so great."
"I remember Sandra as a very tenacious student when she was here," business instructor Alan Questell said. "She was a single mother at the time, with all the challenges that brings, but very determined to make a better life for her family and herself. I'm glad that she remembers her time here at RichmondCC fondly."
Hall, who is now Dean of Applied Sciences & Engineering for RichmondCC, was glad to have Holley come back to visit RichmondCC and be an example for his students of what can be achieved with a two-year business degree.
"Dr. Holley went from being a 20-year-old working on a hog farm to a professor at an esteemed university," Hall said. "I am proud that Richmond Community College played such a key role in her life and that getting her in the Business Administration program was a catalyst for her success."
Learn more about the Business Administration or Accounting programs at RichmondCC, or contact Dr. Hall at (910) 410-1912 or dghall@richmondcc.edu.