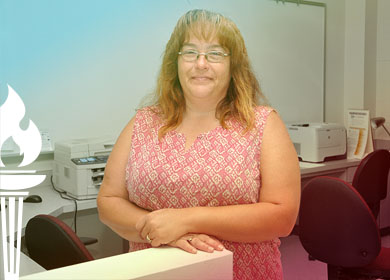 RCC Graduate Finds Niche in Healthcare Information Technology
When Ramona Laxton of Ellerbe began exploring jobs in the healthcare field, she knew she didn't want to do anything that involved seeing other people's blood.
That's why Ramona signed up for a new program being offered by Richmond Community College (RCC) called Health Information Technology, which would prepare her for a career in the administrative side of healthcare.
"I enjoyed going through the Health Information Technology program," Ramona said. "You learn how to handle a lot of sensitive information dealing with insurance, medical coding and different types of registries. You learn every aspect there is to working behind the scenes in a medical office."
Graduating RCC in May, Ramona is among the first class to complete the program. She is a data technician for FirstHealth Moore Regional Hospital in Pinehurst.
Education Is Key
Ramona is no stranger to Richmond Community College. She earned an associate degree in accounting from RCC in 2005. In 2011, she decided to come back to RCC to earn another college degree that would complement her accounting degree and help her find steady employment.
"Richmond Community College was convenient because it was close to home, but I also liked the RCC atmosphere," Ramona said. "I liked the campus and my instructors, who were always supportive and willing to help."
Ramona had worked in the billing department for several manufacturing companies, and she wanted to continue using her accounting skills. She considered enrolling in RCC's Medical Assisting program, which prepares multi-skilled healthcare professionals to perform administrative, clinical and laboratory procedures. However, a career counselor advised her to enter RCC's newly created Health Information Technology (HIT) program.
A Vital Role in Healthcare
"Health Information Technology is a good way to get involved in healthcare if you're not cut out for the blood and guts that comes with one-on-one patient care," RCC instructor Gay Rhyne said. "Due to constant changes in billing requirements for government programs such as Medicaid or Medicare, the health information technology professional plays a vital role in healthcare to make sure the provider gets paid."
According to the U.S. Bureau of Labor and Statistics, as hospitals continue to digitize patient records, there will be an increasing demand for medical professionals who know how to transfer data between different computer systems. Hospitals will be requiring the assistance from individuals who understand computer coding and know how to transfer digital files.
Finding A Niche
At RCC, the two-year HIT program includes three semesters of clinical rounds, which allows students to experience working in a variety of healthcare offices.
"The HIT program is challenging. You have to work hard and study hard, but it will benefit you in the end," Ramona said, who credits RCC for providing her with the education to become a well-rounded employee.
Now that she has found her niche in the healthcare field, Ramona would eventually like to work her way up to a management position.
"I have the education, thanks to RCC," Ramona said. "Now I need to work for a while and gain experience to build a successful career in healthcare."