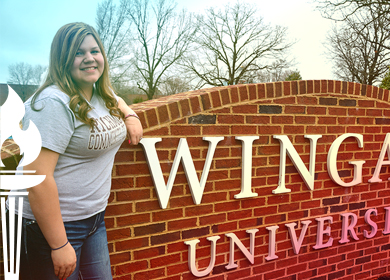 Wingate Nursing Student Made College Affordable by Starting Early
Going to college is not cheap. Just ask Wingate University student Lisa Hogan, who is currently holding down three jobs to pay her way through school.
Hogan, however, did not pay for the first two years of her college education because she completed them as an Early College student.
A partnership between Richmond and Scotland County schools and Richmond Community College, Early College is a five-year dual enrollment program that allows high school students to earn a high school diploma and an associate degree. Students enter the program as ninth-graders.
Most students complete their high school diploma in four years and an associate degree from RCC in their fifth year, but Hogan graduated from the Early College program in four years.
"I took a heavy load each semester and also went to school through a summer semester, so in four years, I was walking across the stage at RCC to accept an Associate in Science degree," Hogan said.
Hogan graduated magna cum laude from RCC in May 2013. Because of her top-notch grades and SAT scores, she also received a scholarship to Wingate University.
"Thanks to Kary Edmondson, who at the time was the liaison between the Early College program and RCC, we started talking when I was a junior in the program about transfer opportunities and how my college credits would transfer to a four-year university," Hogan said.
Students who complete their first two years at RCC can transfer to a four-year institution and graduate with a bachelor's degree within two and a half years, depending on their major.
Hogan transferred to Wingate in fall 2013, taking 40 credits with her on her college transcript. She entered as a pre-veterinary major but has since changed her major to nursing.
"Coming in with as many credits as I did, I was considered a senior after my first year at Wingate, which allowed me to live in the more prestigious housing on campus due to my rank, regardless of how much younger I was compared to other seniors," Hogan said.
Making new friends and getting involved with campus activities, Hogan immediately felt accepted at her new school. She is currently the treasurer of the Wingate Student Nurses Association (WSNA).
"Lisa was a great student at RCC and a very hard worker," Edmondson said. "She has worked equally as hard at Wingate to get in to the nursing program, while also working many hours at several jobs to put herself through school."
Currently, Hogan is a student worker in the President's Office at Wingate, a scribe for the Anson County Emergency Department and a cashier at Bojangles. She intends to stay in school until she completes her doctorate in nursing from the University of North Carolina-Chapel Hill to become a nurse practitioner.
"I would not have been able to afford a four-year university had I not enrolled in the Early College program," Hogan said. "Also taking college classes at RCC while still in high school made me more mature and more responsible for myself.
"RCC is a great starting point. It is an affordable college with a wonderful learning environment that focuses on your needs to reach your goals," Hogan said. "My advice for other students is persevere, speak up, spend time with your professors and get involved. It's a great way to meet people while building an impressive resume."