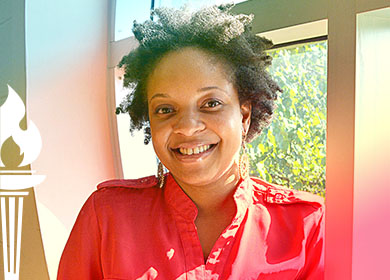 Zandra Lashawn Clark was raised by her grandmother who was a no-nonsense woman living on a fixed income in public housing. Fannie Mae Bloomfield wasn't going to let socio-economic obstacles prevent her granddaughter from succeeding. She pushed Clark to stay in school, work hard, have faith and aim for something better than the environment in which they were living.
A 2002 graduate of Richmond Community College, Clark is a claims representative for the Rockingham Social Security Administration with 15 plus years in federal service. Because she stayed in school and pursued a college education, she has a rewarding career that has allowed her to not only better her life but also give back to her grandmother.
'Stay in School'
Clark was a senior at Richmond Senior High School when she was selected to participate in a co-op program offered by the Rockingham Social Security Administration (SSA) in conjunction with the high school. The SSA was seeking local students with high grade-point averages to employ as office assistants.
"Another unique requirement of the co-op program was students not only needed to have good grades but also to come from a low-income household," Clark said.
Clark worked as a clerical assistant for the Social Security Office in downtown Rockingham through her senior year. After graduating high school in 1999, Clark wanted to remain in the SSA program, but she had to "Stay in School," which was the name of the program as it applied to college students. If she enrolled in college, she could continue working for the SSA while furthering her education.
"I knew I wanted to attend a college that was close to my place of employment, my home, as well as one that would allow me to study business," Clark said. "Being a native of Richmond County, I always knew that we had a great community college, so choosing Richmond Community College was not a hard decision. When you walk onto campus, it doesn't feel overwhelming or intimidating. RCC has a very warm, comfortable environment."
Tools for Life
Clark wanted to become an entrepreneur, but after doing some research with the help of RCC's career counselors, she decided to enter the Business Administration program.
"Business administration is a broad field, so I knew I would not be limited to one genre of work and that I could work in both the public and private sectors," Clark said. "It also equipped me with tools for my personal life. After a few business courses, I was able to help my grandmother establish her first bank account and help her maintain it."
At RCC, Clark also learned how to balance work and her studies at a college level. She was taking a full load of classes, working 20 hours a week at the Social Security Office and having to maintain a 3.0 GPA to stay in the program.
"It was a balancing act. I had to figure out when I was going to complete a 15-page research paper, do all my homework and go to work," Clark said.
Clark's determination and focus on making a better life for herself did not go unnoticed by her instructors. Devon Hall, chair of RCC's Business Technologies Department, encouraged her to also grow culturally and arranged a 12-day tour of London, Paris, Switzerland, Austria and Germany through EF Tours for of a group of RCC business students, which included Clark.
"Zandra was a very serious student who applied herself academically, and she was also not afraid to try new things and travel to different places," Hall said.
From College to Work
After graduating from RCC with an Associate in Business Administration, Clark transferred to the University of North Carolina-Pembroke. In two years, she had a Bachelor of Science in business administration with a concentration in marketing.
By 2005, Clark was a permanent employee of the Social Security Administration. As a social insurance specialist, also known as a claims representative, she works with individuals filing for SSI Disability and Social Security Disability programs.
"I specialize in helping disabled children and adults, so there is a real sense that I am helping someone in need," Clark said. "I have been able to reach out and meet people from different walks of life. Because of my background and the environment that I was raised in, I feel like I relate well to people and can empathize with the challenges they face."
Clark would like to further her career with the SSA and become a public affairs specialist who educates the public and raises awareness about SSA's programs and benefits.
"I enjoy serving the public and letting people know what may be available to them if they are faced with a life-changing event," Clark said.
Clark is married to James Clark, who also works for the SSA. They have two children, her stepson, Jordan, and their daughter, De'vareaux.
First Generation College Graduate
Clark, the daughter of Dorothy Jean Bloomfield, is the first in her family to go to college. When Clark joined the SSA co-op program in high school, she had no idea that it would propel her so far in life. It provided her a job and put her on the path to a college education.
At RCC, she found a support system that gave her the resources to succeed academically. In her personal life, she had her grandmother, as well as many other family and friends, cheering her on.
"My late grandmother played a vital role in my success," Clark said. "I witnessed firsthand the struggles of an elderly woman raising a young girl in public housing. The strong will and determination my grandmother instilled in me allowed me to overcome the challenges that I faced. Her wisdom and her virtue influenced me greatly and have carried me to where I am today."