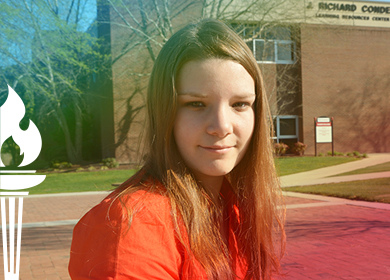 Sandra Huneycutt of Rockingham went from being a high school dropout to a college student with a 4.0 grade-point average thanks to Richmond Community College's Adult High School Program.
When she was 16 years old, Huneycutt dropped out of high school in order to help take care of her aging parents. She was not proud of being a dropout, but she also had not considered going back to school until she talked to an old high school friend who was halfway through earning a bachelor's degree. Her friend encouraged her to think about her future when she would no longer have her parents to rely on financially.
"I've seen how my parents have struggled through life," Huneycutt said. "My mom has a GED, but my dad is a high school dropout, and it's always been tough for them. I decided I didn't want that for myself. I decided I was going to break the mold, so to speak."
Huneycutt enrolled in the Adult High School program at RCC in the summer of 2012. Her attendance and outstanding academic performance made her a candidate for the Basic Skills Plus program.
"The Basic Skills Plus program affords students the opportunity to earn up to 12 college credits while earning an adult high school equivalency," said Education Services Coordinator Mary Ingram. "I conduct classroom presentations about this program and interview students individually to discuss why they feel they will make a good candidate for the program. We also discuss challenges that would prevent them from being successful and how they feel they will overcome these challenges."
The Basic Skills Plus program provides career pathways into healthcare and business. Huneycutt began taking preparatory classes to enroll in the certified nursing assistant program thinking it would be help her in caring for her parents. However, the Office Administration pathway aligned more with her career goals.
"Sandra's face lit up as she discovered the possibilities of the Office Administration career pathway option," Ingram said. "We discussed distractions and barriers and how she would juggle her time for her Adult High School academic requirements, parents' needs and college success. She assured me she would be able to manage her time for this wonderful opportunity."
In the fall of 2012, Huneycutt began preparing for college curriculum courses while still working toward her high school diploma. In spring 2013, she began taking college courses that would be applied to an associate degree. By the time she completed the Basic Skills Plus program the following fall semester, she had her GED and a 4.0 in her college classes.
"I recommend this program to anyone who wants to make a better life for themselves," Huneycutt said. "Society has this mentality that if you drop out of school, you should drop out of life. But if you have the right people behind you cheering you on and a program like Basic Skills Plus to prepare you for the challenges ahead, anything is possible."
Huneycutt's long-term goals include finishing her associate degree at RCC and transferring to the University of North Carolina-Pembroke, where she will pursue a bachelor's degree in physics. She foresees a career working with energy, specifically alternative and renewable energy sources.
"I am also considering coming back to RCC to be a GED or Basic Skills Plus instructor. Not only would this help me earn money so I can ultimately get a master's degree, but also I would like the opportunity to tell students, 'I know where you are coming from. I have been there, and you can change your life for the better. I am proof of that.'"