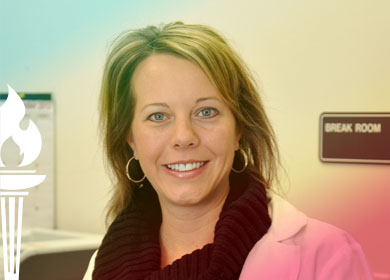 Mandy Martin has always harbored a sense of care and concern for others, so she knew even before graduating high school that she wanted to become a nurse.
Today, Martin is a nurse practitioner with FirstHealth Family Care Center in Seven Lakes and holds the weighty responsibility of being the primary care provider for many of her patients. She is an adult and gerontological nurse practitioner so her patients are ages 13 and older.
Her journey in building this lofty career in nursing started at Richmond Community College.
Making Choices
"I choose RCC because at the time it was close to home," Martin said. "It fit my plan of getting my two-year associate degree and transferring to a four-year university. However, once I got enrolled in RCC's registered nursing program, I decided that I would continue my education locally."
In 1999, Martin graduated from RCC with an Associate Degree in Nursing and Associate in Arts degree. She went to work at the former Hamlet Hospital (now Sandhills Regional) as a nurse on the medical/surgical floor. In 2001, she began working for Richmond County Hospice, but a year later, she returned to the hospital setting and worked in the intensive care unit of the former Richmond Memorial Hospital (now FirstHealth Richmond Memorial). It was during this time she decided to pursue her bachelor's degree at the University of North Carolina-Pembroke while working full time.
Education to become a nurse practitioner requires advanced coursework and clinical rotations beyond that required of a registered nurse.
In May 2004, Martin graduated from the UNC-P with a Bachelor of Science in Nursing. In December 2007, she earned a Master of Science in Nursing/Adult and Gerontological Nurse Practitioners from University of North Carolina-Greensboro.
"I took the long road, but it worked for me and allowed me to work and go to school and complete both my undergraduate and graduate education as I gained clinical knowledge along the way," Martin said.
Highly Skilled Nurses
Nurse practitioners are advanced practice registered nurses who provide care to patients throughout their lifespan, from premature newborns to the elderly.
"Working as a nurse practitioner, I get to follow through with a patient and see outcomes whether good or bad," Martin said. "You really have a extended relationship with your patients, and I like to follow them to see the progress of their health."
Nurse practitioners perform comprehensive and focused physical examinations; diagnose and treat common acute illnesses and injuries; provide immunizations; manage high blood pressure, diabetes, depression and other chronic health problems; order and interpret diagnostic tests such as X-rays and EKGs, as well as laboratory tests; prescribe medications and therapies; perform procedures; and educate and counsel patients and their families regarding healthy lifestyles and health care options.
Nurse practitioners can prescribe medications, including controlled substances, in all 50 states. In 26 states, nurse practitioners have authority to practice independently.
According to U.S. Bureau of Labor Statistics, the median salary for nurse practitioners, depending on location and specialization, is $89,960 a year.
Rewarding Career
"We see it all in primary care, so you have to have a broad knowledge of various health problems," Martin said. "Nursing and being a nurse practitioner has affected my life tremendously. I could not imagine doing anything else other than caring for others."
Martin and her husband, Darrin, live in Seven Lakes with their two children, Cody, 5, and Drew, 3.
Martin is thankful for the start she got at RCC. Not only was the College conveniently located and affordable, she received quality instruction from her teachers in the close-knit learning environment at RCC.
"My undergraduate and graduate programs prepared me for me current role as a nurse practitioner, but if I had not earned my associate degree from RCC, I would not be where I am today," she said.