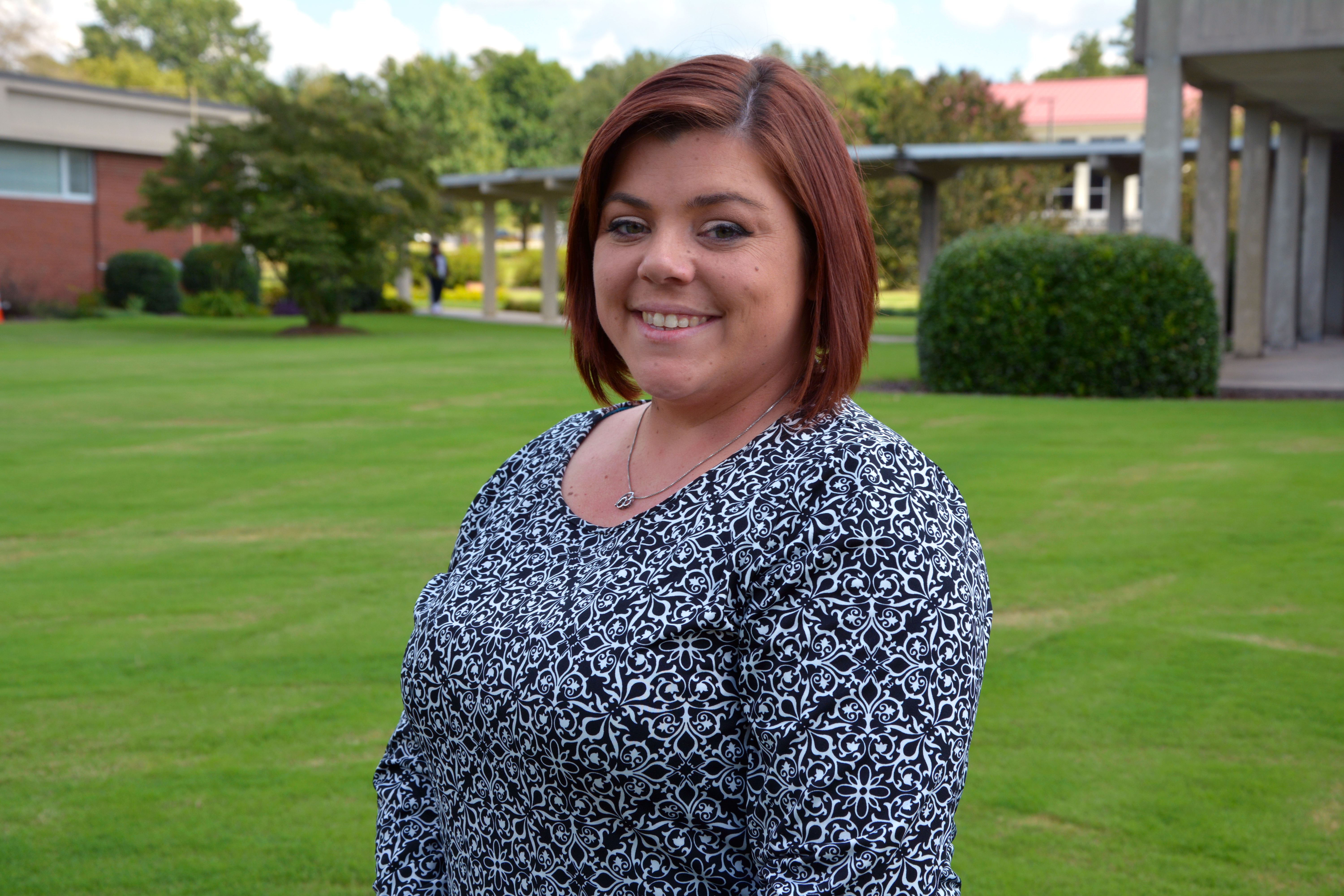 October 19, 2018 – Within two years of earning her associate degree in Healthcare Management Technology from Richmond Community College, Miranda Winburn landed a job as the director of medical records for Sandhills Alternative Academy. In fact, she didn't seek out the job; the job found her!
A 2016 graduate of RichmondCC, Winburn was working at Scotland Memorial Hospital when the human resources director from Sandhills Alternative Academy called her to asked if she'd like to come work for the mental health agency. Winburn had already built up a solid reputation for her knowledge of healthcare from working as a pre-registration counselor for mammograms and in surgical services at the hospital, plus working at doctor's office while in college.
"I worked a full 40-plus hours a week for a urogynecologist office in Hamlet while attending college. It was the best of both worlds because I was learning my new skill set and applying the knowledge I gained in class to my daily work regimen," said Winburn of Laurinburg. "Even though it was stressful at times being both a full-time employee and a full-time student, it gave me a hands-on approach, which allowed me to appreciate and fully understand what I was being taught."
Ultimately, Winburn said, having the knowledge and skills she learned in the degree program at RichmondCC set her apart once she got into the workforce.
About the College Program
The Healthcare Management Technology program at RichmondCC is designed to prepare students for employment in healthcare business and financial operations. Students will gain a comprehensive understanding of the application of management principles to the healthcare environment.
The curriculum places emphasis on planning, organizing, directing and controlling tasks related to healthcare organizational objectives, including the legal and ethical environment. Emphasis is placed on the development of effective communication, managerial and supervisory skills.
In the final semester of the program, students take part in work-based learning, which allows them to work in a physician's office or hospital so they can put into practice the theories they learned in the classroom. Winburn worked in the emergency room at Scotland Memorial Hospital during her work-based learning and quickly learned managerial skills in a high pace, high stress environment.
"When I completed my Healthcare Management Technology degree, I had gained the basic knowledge of medical code of ethics, management, HIPPA compliance, insurance and various other subjects that gave me that extra leverage when applying for a position," Winburn said. "It really does look better for you as a candidate when you can demonstrate that you understand these aspects in the healthcare field, and you are more likely to be selected for a job due to this."
Life-changing Moments
A former dual enrollment student, Winburn graduated early from Scotland High School in 2008 and enrolled in the Associate in Arts university transfer program at RichmondCC. After earning her associate degree, she transferred to the University of North Carolina-Pembroke to study Spanish. Her career plan was to become a translator in the medical field, because she has always had an interest in healthcare.
However, a 20-foot fall from a ladder onto concrete derailed her plans, and she had to drop out of school. Eventually, she was able to work again, and she decided to come back to RichmondCC to explore her options. She knew at RichmondCC she would find the help that she needed to get her life back on track.
"I had instructors and advisors who were there to help whenever I had questions, and the overall culture of RichmondCC is one of helpfulness, diversity and the want to see students succeed," Winburn said. "Let's face it, we may make the grades, but without compassionate instructors who have a willingness to share their understanding of a subject, it's a lot harder to be successful."
A Supportive Environment
Winburn described one of her instructors, who also served as her advisor, Dr. Devon Hall, as the "fuel to get your engine going."
"He would make you want to dive deeper into a subject until you understood it completely. He really wants all his students to succeed and will try to push you even when you don't want to push yourself," she said.
She said Jeanne Ray Hardee, a nursing instructor, made class entertaining.
"Yes, you still learned everything on the syllabus, but her approach would always get us to laugh and enjoy coming to her class — even when the class was something, at first glance, you would assume to be a bore," Winburn said.
Hardee described Winburn as a "teacher's dream come true" because she was such a hard working student, a sentiment shared by another instructor, Matilda Davis, who taught Winburn in an accounting class.
"I remember Miranda being the leader in her accounting class for a study group. She was always willing to lead, encourage and help her fellow classmates," Davis said.
This culture of compassion and encouragement from instructors is also shared among students at RichmondCC, Winburn said.
"Some of my classmates and I would meet at least once a week in a study room at the library to help each other out. That's another important aspect that we, as students, wanted each other to succeed and would help each other as much as we could," Winburn said.
While attending RichmondCC, Winburn received financial aid, which paid for most of her tuition and books, and she also took advantage of the tutors in the Academic Success Center when she needed help with some of her more challenging classes.
"I believe all these elements made me a better and more focused student because I didn't have to stress over high tuition rates and I had a great support system with the amenities offered, as well as from my instructors and fellow classmates," Winburn said.
Why Healthcare Management?
The focus of the healthcare field is helping people, but there is a business side of this industry that must be sustained and managed. This is where Winburn found her niche.
"Healthcare management is great for people, like myself, who want to go into the healthcare field but don't want to take on the clinical side of it," Winburn said. "It's a really great alternative because you're still getting to work hand in hand with clinicians. I learned so much from working side by side with clinicians and nurses."
The field is also very versatile, as Winburn discovered. In just two years, she has worked in a doctor's office, a hospital and now a private agency.
In addition, healthcare managers may work in pharmaceutical companies, health insurance companies, consulting firms and other related organizations.
The demand for these positions also appears to be growing. According to the U.S. Bureau of Labor Statistics, employment of medical and health services managers is projected to grow 20 percent from 2016 to 2026, much faster than the average (7 percent) for all occupations.
Affordable, Convenient and Caring
Winburn chose to come to RichmondCC for many of the standard reasons that people enroll in a community college — affordability, flexibility and location, but what she also found was a culture of caring and support.
"The instructors care about the impact they have on your life, and they are there every step of the way for you," Winburn said.
She also said the support from the College doesn't stop when you graduate.
"If you decide to continue your education afterwards, they're willing to help you find a university that best fits your needs, and they host career fairs to help students and nonstudents find employment. It's not a college where you're just a number in a row of chairs. RichmondCC sees you, the student, and your potential to become something great," Winburn said.
Registration for Spring 'Has Sprung'
Registration is now open for Spring Semester 2019. New and current students can begin scheduling their spring classes. Currently enrolled students at RichmondCC, must see their advisor to schedule their classes for next semester. Anyone who is not currently enrolled and would like to start taking classes this spring, now is the time to complete a free admissions application and plan a meeting with a counselor. To schedule a meeting or for more information, call (910) 410-1730.