This 17-week program gives students essential skills required for entry-level employment as law enforcement officers with state, county, or municipal government, or with private enterprises. The program uses mandated topics and methods of instruction from the N.C. Criminal Justice Training and Standards Commission. General subjects include, but are not limited to, criminal, juvenile, civil, traffic and alcoholic beverage laws; investigative, patrol, custody, and court procedures; emergency responses; and ethics and community relations.
Application packets are available from the receptionist in the Lee Building on the Hamlet Campus or the Honeycutt Center at the Scotland County Campus. Completed packets must be returned by June 30 to be considered for this class.
Upcoming Classes
Jan. 15, 2024 - May 15, 2024
Class will meet Monday through Friday from 8:30 a.m. to 5:30 p.m. The class will meet on selected Saturdays with various class times.
To Sign Up
Complete the application and bring to either the Hamlet Campus or Scotland County Campus to register for the class. Application deadline is Jan. 3, 2024.
Course Costs
Registration Fee: $180 (waived with sponsorship letter from approved law enforcement agency)
BLET Handbooks: $1,020
PT Uniform: $300
BLET Lab Fees: $150
Insurance: $13
Gym Membership (PT): $100
Student Fee: $45
Costs are approximate figures. Financial assistance may be available.
For More Information
Keith Thomas
Director of Law Enforcement Training
Richmond Community College
(910) 410-1707 | wkthomas@richmondcc.edu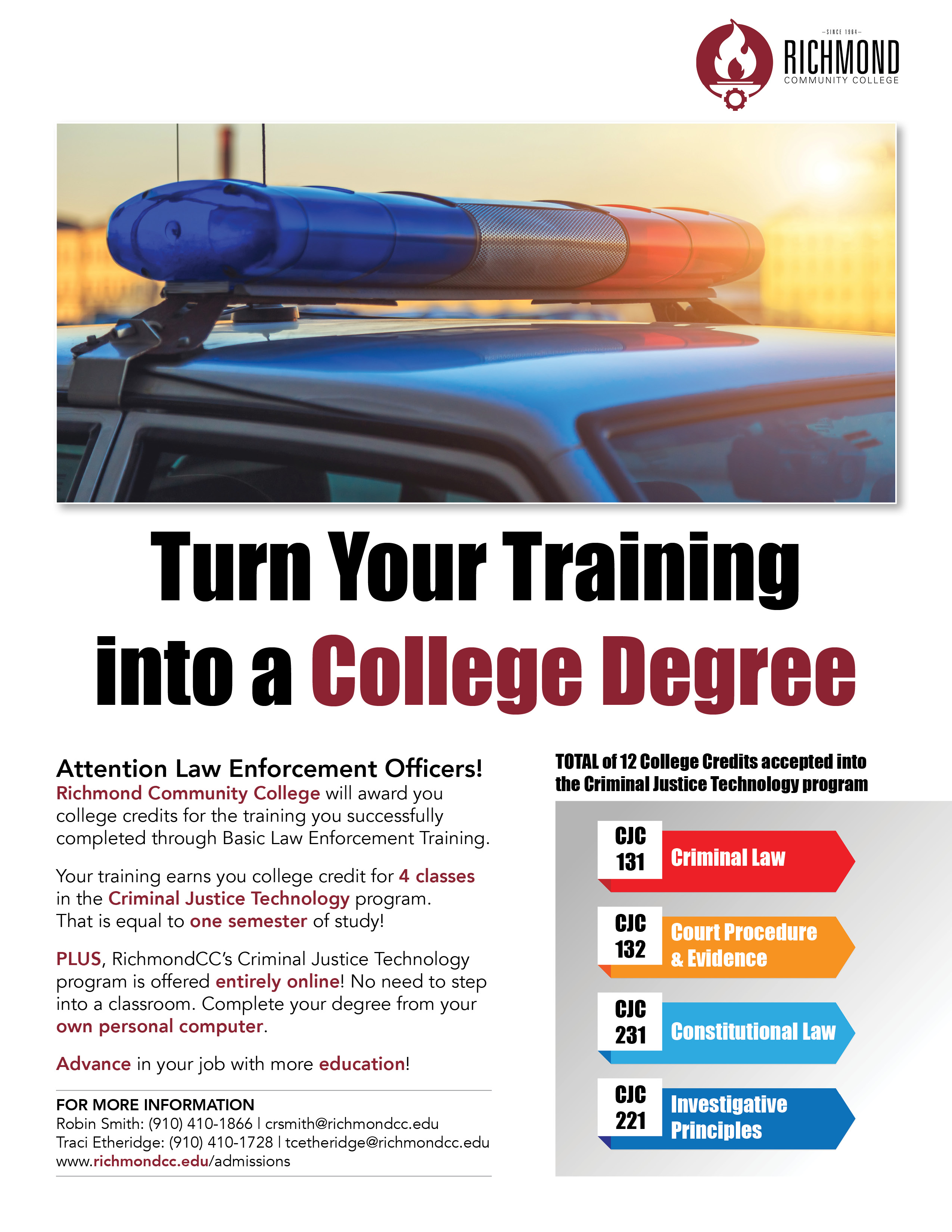 Turn Your Training into a College Degree
RichmondCC will award 13 college credit hours in the Criminal Justice program to students who successfully complete BLET. This is equal to one semester of the associate degree program.