RichmondCC Student Gains Valuable Skills for Career in IT
Smith Resigns Campus Job Position to Go Work for Burlington Industries
March 23, 2018 – Richmond Community College student Christian Smith of Rockingham is graduating in May with an Associate in Information Technology with a concentration in Cyber Security, but he already has a job working in his field of study. Smith was hired in February by Burlington Industries for a data entry position.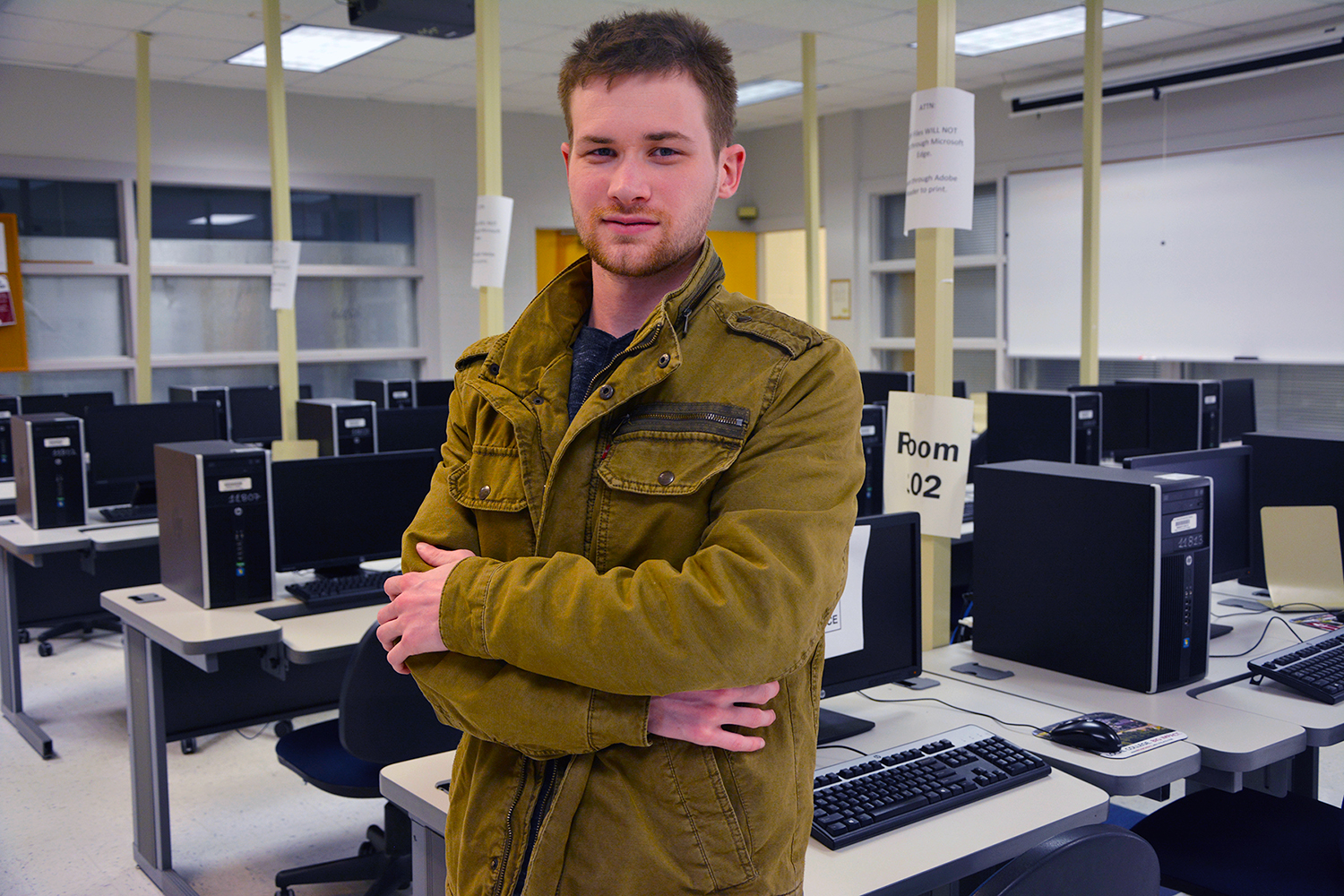 Working a campus job for the Information Technology Department was a key factor for Smith getting the job at Burlington. As a Help Desk technician for the College, he quickly learned that it required good communication skills to assist both students and staff. He also learned good organizational skills that aided him in meeting deadlines and managing his time. Smith said the most important experience came from the actual IT-related work.
"The entire staff in the IT department has been essential to my education at RichmondCC," Smith said. "Working alongside IT professionals has given me invaluable hands-on experience, and it has been its own educational journey."
Campus Job = Real World Experience
Smith applied for the campus job with IT through the Career and Transfer Center and then interviewed for the position.
"We have designed our campus jobs to be just like real world jobs, giving our students the experience of the expectations of a real world employer," Career and Transfer Center Director Patsy Stanley said. "Students have to apply and then go through the interview process. Those who get campus jobs are expected to show up on time, dress professionally, communicate well and complete the job duties as assigned by their supervisor. These are paying jobs, so we take them very seriously, and so do our students."
Chief Information Officer for the College, Lee Montrose, said Smith is the fourth student worker for the IT Department who has used the experience to advance to a career in the IT field.
"I've got a great problem here in the IT Department," Montrose said. "We train our student workers for the skills they will need to enter the workforce and they keep finding jobs, so I have to train new student workers."
Coming Back for A New Career
This was Smith's second time choosing to attend RichmondCC. He was also a student back in 2009-2012, but he came back looking to gain the skills to make a career change.
"I enjoyed my time here back then, so I decided to come back because I wanted to go into a new career field. I found the community college to be both affordable and more convenient than a university," he said.
Smith enjoys being on campus and being in the classroom with his classmates and instructors. He said the atmosphere on campus is relaxing, and he often spends more time at the College doing his homework rather than at home.
Smith said attending RichmondCC has been a great experience, and it has helped him build a better life. He has met many friendly and helpful people, both students and teachers. If he was ever struggling in class or with an assignment, he knew he could rely on his classmates and instructors to help him.
"The instructors of the IT courses at RichmondCC are not only highly knowledgeable in their field, but they also possess the essential teaching skills to pass that knowledge on to their students," he said.
Working Scholarship Makes Completion Possible
Smith was concerned about paying for college his second time around, since he was no longer eligible for the Pell grant, but then he received the Working Scholarship, which is awarded to working students who are not eligible for federal financial assistance. He said he is grateful to have received this scholarship, because without it he may not have been able to afford to complete his degree.
Smith said he would recommend RichmondCC to others because he thinks some people underestimate the value of the community college. He said it is a reliable and affordable gateway to a college education.
"Whether it is to transfer to a university or acquire a two-year degree, I believe RichmondCC is a great place for students to start or expand their education," he said.
Register Now for Summer Semester
RichmondCC is now registering students for the Summer Semester. If you are interested in a career in Information Technology, you can start working on your degree this summer. Visit www.richmondcc.edu/admissions to learn more, or call (910) 410-1730.