RichmondCC Signs on to BraveStep Program with UNCP
April 2, 2019 –– Richmond Community College has officially joined The University of North Carolina at Pembroke in its BraveStep program, creating a co-admission pathway for prospective UNCP transfer students.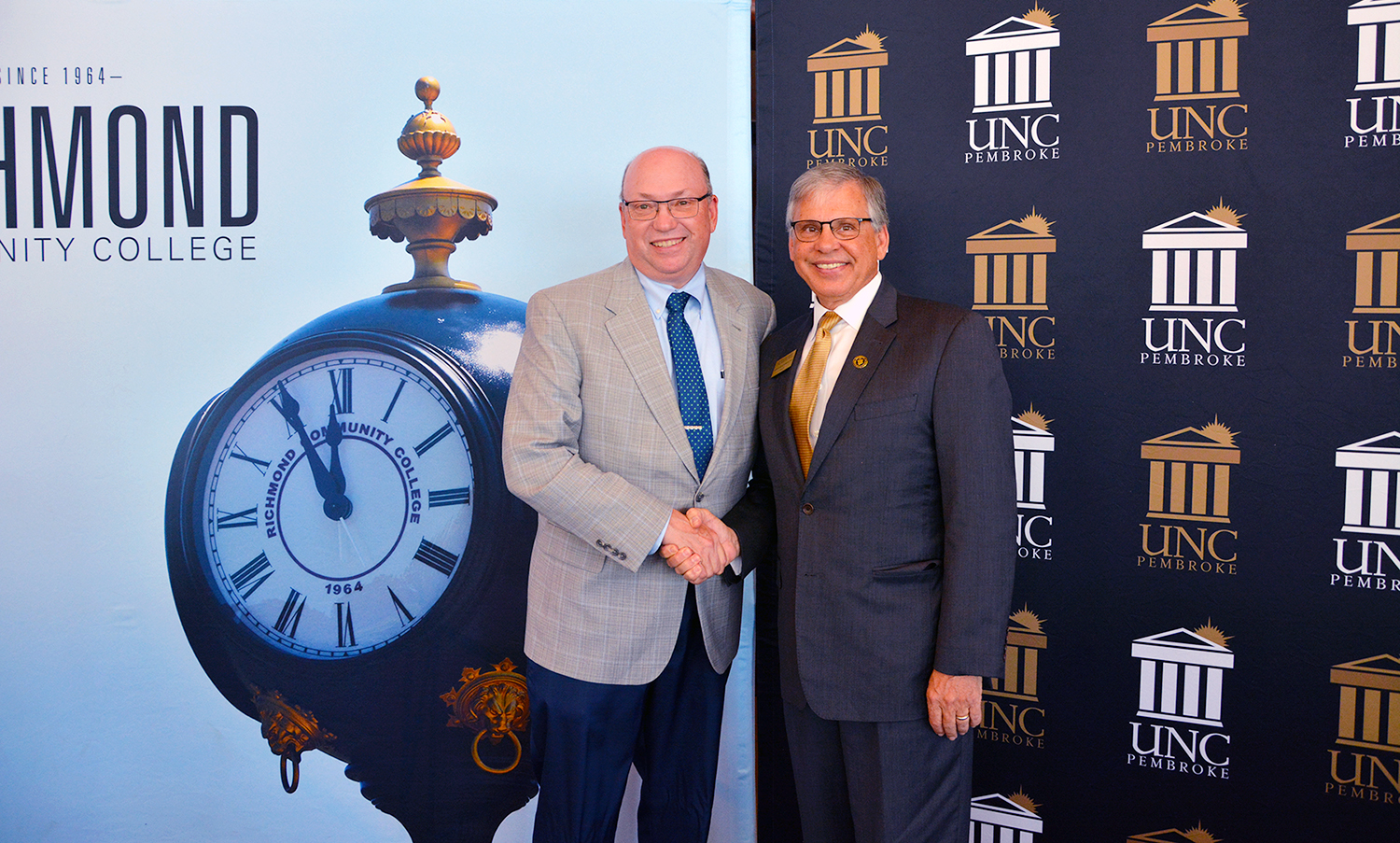 UNCP Chancellor, Dr. Robin Gary Cummings, and Dr. Dale McInnis, president of RichmondCC, signed the agreement during a ceremony on Wednesday at the Cole Auditorium.
"This agreement is just the most recent in UNCP's collaboration with Richmond Community College to provide pathways to success for students in whatever field of study they desire to pursue," said Chancellor Cummings. "Our two institutions will work seamlessly to ensure co-admitted students are prepared for an eventual transition to UNCP. And with NC Promise and the RichmondCC Guarantee, graduating with a four-year degree and little-to-no debt is a reality for participating students."
The RichmondCC Guarantee assures free college tuition and fees to RichmondCC for two years for Richmond and Scotland County residents who graduate from high school with a grade-point average of 3.0 or higher after successfully completing two or more dual enrollment courses. After earning a transferable associate degree for free from RichmondCC, a student can transfer to UNCP and pay only $500 per semester for tuition under the NC Promise Tuition Plan. For students who follow this pathway, they have the potential to receive an associate degree and bachelor's degree and pay only $2,000 in tuition, plus other fees.
UNCP is the number one transfer destination for RichmondCC students who continue on to a four-year university. Over the past three years, 96 RichmondCC graduates transferred to UNCP with a university transfer degree. Currently, there are 72 RichmondCC students who have applied to UNCP for the 2019 Fall Semester.
"The value of this partnership with UNCP, in terms of saving money and avoiding debt, is matched by the quality of instruction you're going to get at both institutions," Dr. McInnis said. "We prepare our students at RichmondCC to succeed in the rigorous programs of a challenging university like UNCP. If it were easy, it would not be worth it, and that is where quality meets value. Because of this, we're happy to be linked with a partner that is willing to make life-changing moves like co-admission for our students."
About BraveStep
Qualified applicants who are selected for the BraveStep program will be co-admitted to UNCP and RichmondCC. RichmondCC students will be able to transfer to UNCP after completing 30 credit hours.
As BraveStep students, they will enjoy the privileges of a UNCP student while attending RichmondCC. They will have a UNCP student ID, access to all UNCP campus resources and programming, as well as admission to athletic events and Givens Performing Arts Center events.
BraveStep students will also receive academic advising from both institutions through a collaborative model designed to provide support and guidance every step of the way.
To learn more about the BraveStep program and how to qualify, RichmondCC students should visit the Career & Transfer Center located in the Lee Building on Main Campus in Hamlet. Director of Career & Transfer Services Patsy Stanley and her staff are ready to help students become BraveStep members. Call (910) 410-1730 or email pjstanley@richmondcc.edu.