RichmondCC NCCER HVAC Grads Earn Certification and Launch New Small Business Serving Surrounding Counties
Hamlet, N.C. (July 28, 2020) – As education continues through an individual's life, many students who come through Richmond Community College return to receive additional training or retraining for a new position or earn certifications to enhance their current position. Part of RichmondCC's mission is to provide educational opportunities for people no matter what stage of life they are in.
Kevin Tuttle and Mitchell Watson, both of Rockingham, have attended RichmondCC and found success in law enforcement, emergency medical services and most recently,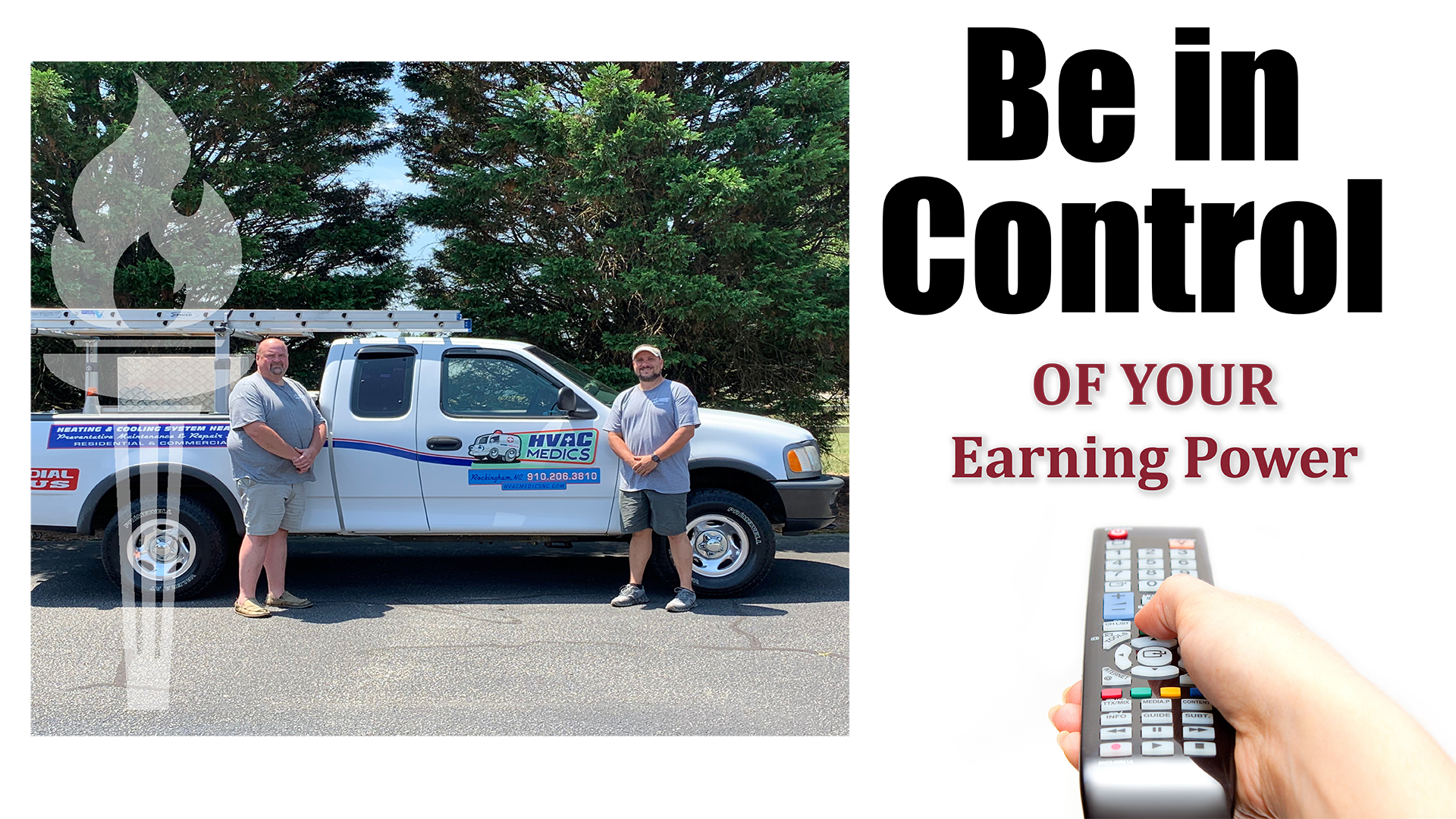 HVAC. Tuttle and Watson are two individuals who have taken advantage of and successfully completed many credentials offered through RichmondCC.
Tuttle and Watson completed Basic Law Enforcement Training and have taken many of the courses for first responders to maintain certifications or advance their training. In 2019, while continuing to work in law enforcement and emergency services, they completed the NCCER HVAC Level One and NCCER HVAC Level Two courses. Tuttle and Watson have since launched their own heating and air conditioning business called HVAC Medics.
They took an interest in gaining new skills and made it a reality that gives them more control over their earning power.
Mitchell Watson
Watson is currently employed with Richmond County Sheriff's Office as the Criminal Investigations Division Detective Sergeant. In addition to his career in law enforcement, he also served as a paramedic, Fire Chief for East Rockingham Fire Department and an independent investigator for the North Carolina Office of the Medical Examiner in Raleigh. While continuing to serve in these roles, he was planning for the future.
"I have always believed in having a back-up plan and having additional education experiences, knowledge and credentials to revert back to in case my career path changes. RichmondCC was able to help with that plan," Watson said.
Watson has attended many trainings and earned several certifications with RichmondCC for his extensive background in law enforcement and Emergency Medical Services (EMS). Some of the certifications Watson has earned include North Carolina Emergency Medical Technician (NCEMT), NCEMT – Intermediate, NCEMT – Paramedic, Emergency Vehicle Operation Course (EVOC), North Carolina Firefighter I, II, and III certifications, Fire Chief 101, American Heart Association CRP Instructor Training, all levels of EMT continuing education, Crisis Intervention Training (CIT), Police Law Institute and several small business seminars.
"RichmondCC and the staff are dedicated to providing a positive and stress free learning environment. The instructors have a wealth of knowledge and the desire to make each student successful. This college is a local resource that is right here in our hometown whether you are in Richmond or Scotland County," said Watson.
Kevin Tuttle
In addition to being co-owner of HVAC Medics, Tuttle is employed with Richmond County Sheriff's Office as a Detective and the Task Force Officer with the Bureau of Alcohol, Tobacco, Firearms and Explosives. Tuttle is also an Emergency Medical Technician (EMT).
In his 20-plus years in law enforcement, Tuttle has attended several training and certification classes at RichmondCC. These certifications include North Carolina Emergency Medical Technician (NCEMT), NCEMT- Defibrillator, Emergency Vehicle Operation Course (EVOC), Man Tracking Level I, North Carolina Firefighter I Certification, American Heart Association CPR Training, all levels of EMT continuing education training, and Executive Management Certificate Program Level I.
To help get HVAC Medics started, Tuttle and Watson attended several of the free seminars offered by RichmondCC's Small Business Center. These seminars helped with planning and marketing for their new enterprise.
"With just a few years away from my retirement in law enforcement, I wanted something that could keep me active and engaged with the community after retirement," said Tuttle.
To learn a new trade, Tuttle sought out RichmondCC and began looking into the NCCER HVAC Program Level One & Level Two.
"I really liked the fact that it goes straight into the nuts and bolts of learning how to fix and repair HVAC units. During the first class, we were in the lab with our hands on machines. There's no extracurricular class subjects or wasted time taking non-career class courses," he said.
Watson and Tuttle both have the National Center for Construction Education and Research (NCCER) Core Curriculum, NCCER HVAC Level One and Level Two, and Environmental Protection Agency (EPA) Section 608 certifications.
About the Program
NCCER HVAC Level One prepares students to get hands-on training and industry recognized stackable credentials. Upon completion students will have earned an NCCER Core Certification, an NCCER HVAC Level One Certification and an EPA 608 Certification. Students will also build a resume, develop interview skills and explore careers.
The NCCER HVAC Level Two certification allows students to continue advancing their NCCER credentials. Topics include hardware and wiring terminations, control circuit and motor troubleshooting, troubleshooting cooling, troubleshooting heat pumps, troubleshooting gas heating, troubleshooting oil heating, troubleshooting accessories, zoning, ductless, and variable refrigerant flow systems, commercial hydronic systems, steam systems, retail refrigeration systems, and customer relations.
Although, Tuttle and Watson enrolled in the short-term training track at RichmondCC, the college offers options for those wanting to earn a degree or diploma. The Air Conditioning, Heating and Refrigeration Technology (HVAC-R) program provides the basic knowledge to develop skills necessary to work with residential and light commercial systems. It pays to know a good air conditioning technician, but pays even more to become one.
For more information about NCCER HVAC Level One and Level Two courses, contact Angineek Gillenwater at (910) 410-1848 or email ajgillenwater@richmondcc.edu. For those interested in the degree or diploma program and to register for fall semester classes, contact Bill Frye at (910) 410-1938 or email wdfrye@richmondcc.edu. To learn more about other trainings and programs contact Student Services at (910) 410-1700 or visit the College's website at www.richmondcc.edu.