RichmondCC Graduate Begins His Teaching Career in Virtual Classroom
September 22, 2020 - Stephen McQueen had been looking forward to the start of this school year for a long time. He was going to be an elementary school teacher with his very own classroom where he would meet parents and welcome wide-eyed students to a new grade level.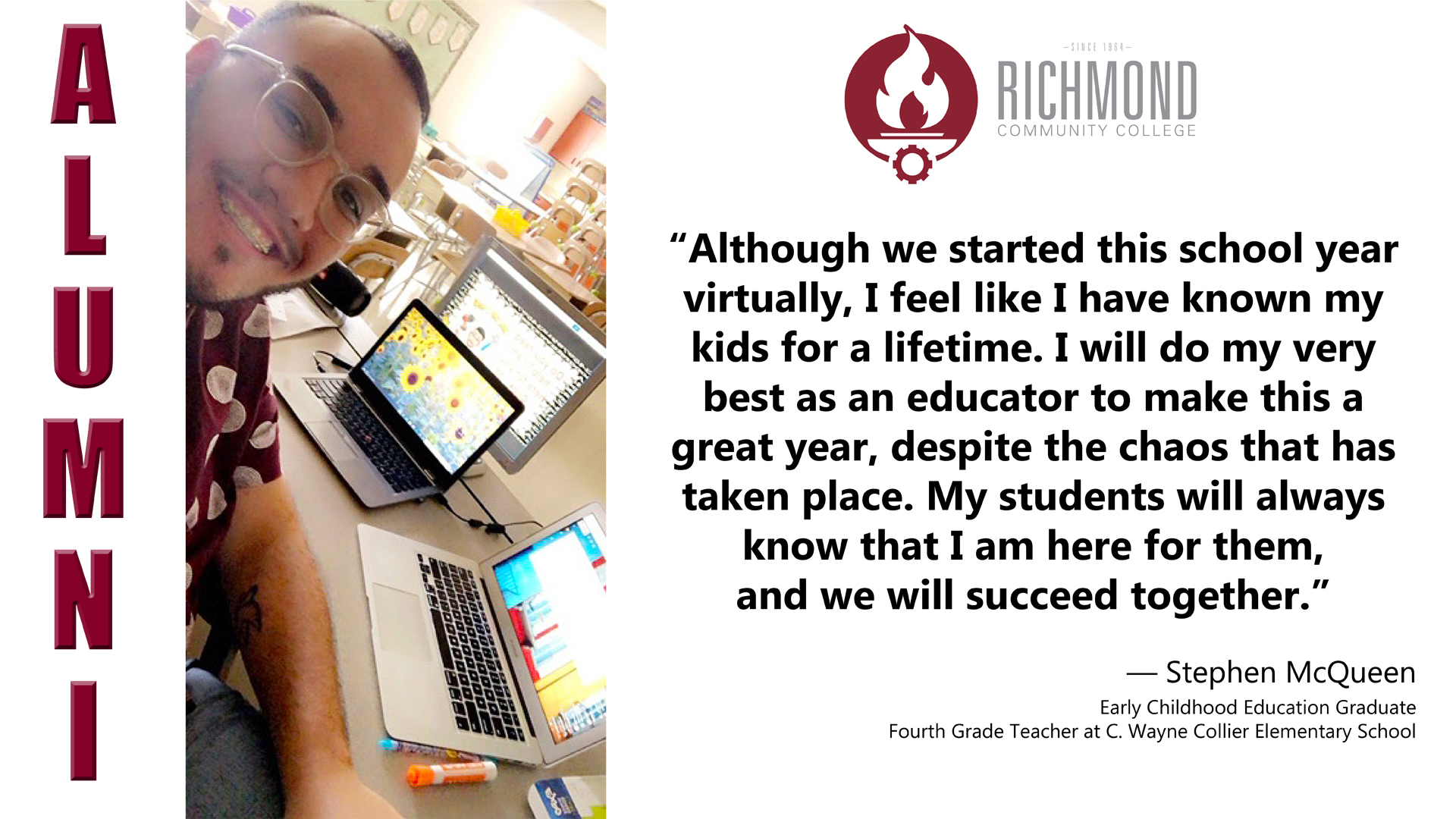 However, COVID-19 changed all that.
"Every beginning teacher knows the excitement that it brings at the beginning of the school year," said McQueen of Fayetteville. "Decorating your classroom, having open house to meet your students, taking your picture for your school ID badge, or even being able to put your last name outside of your classroom door. All these are things that I was not able to experience due to COVID-19. But I do hope within time I will be able to experience all these great things that come with being a school teacher."
McQueen is a fourth-grade teacher at C. Wayne Collier Elementary School in Hope Mills. He teaches English language arts, math, science and social studies. Because of restrictions brought on by the pandemic, he holds class online with his 15 students, but he has worked hard to interact with them and get to know each and every one of them.
"I normally give them virtual high fives, and sometimes if they're really good we even have the chance to 'exercise' together behind screen! They love this," McQueen said. "This always seems to keep them engaged, which I love. I do hope in time, I will be able to meet them very soon. I'm thankful for online, but nothing beats being in class with your students."
While new to the "virtual classroom," McQueen is not new to the educational scene. A 2016 graduate of Richmond Community College's Early Childhood Education program, he began his teaching career at Gallberry Farm Elementary School in Hope Mills where he was a kindergarten and first grade teacher's assistant for two years.
Encouraged by his instructors at RichmondCC to continue his education, McQueen earned a bachelor's degree in Interdisciplinary Studies with a minor in education from Fayetteville State University. During the final two years of his undergraduate program, he was a computer lab assistant at East Rockingham Elementary School.
"Without the help of instructors Jennifer Murray, Sheila Regan, Sheri Dunn-Ramsay and April Chavis-Johnson, I had no intentions of going any further once I obtained my two-year degree from RichmondCC. But I would never have heard the end of it from these ladies had I decided to 'settle,'" McQueen said.
He is now working on a master's degree in teaching from the University of North Carolina-Wilmington. This is a major feat for someone who had never even planned to attend college beyond high school.
McQueen grew up in Laurinburg and graduated high school in 2013. No one in his family had ever attended college, and he didn't intend to either. He got a certification to work as a pharmacy technician, but he knew that his heart wasn't in this type of career. Over the next year, he started to rethink his feelings about college.
"I was familiar with RichmondCC because I attended the Early College program and already knew my way around campus. I figured this would be a great place to start my educational career, and it was still very close for me to commute from Laurinburg," he said.
McQueen was surprised by how much he enjoyed college.
"One thing that I found unique was the relationships that I built with everyone at RichmondCC. I built great relationships with many different classmates and even better relationships with my instructors. Still to this day, I stay in contact with each one of them, keeping them updated with my studies and my job as an elementary school teacher," he said.
For someone who was not the best student in high school, McQueen was also surprised when he received two scholarships … not just once, but twice!
"This was a very big stepping stone for me considering my educational background. I was one who struggled all throughout my years in high school. I always had the mindset of not being smart enough. I came from a family who had never gone to college and never received any sort of degree. I had obviously cut myself short," McQueen said.
Because of financial assistance available at RichmondCC, McQueen completed his two-year degree with zero college debt. He also came away with a huge appreciation for the College and the truth behind its slogan "start here, go anywhere."
"Leaving the Early Childhood Education program was a very emotional time for me. I loved (love) everyone here and really wanted to stay. If I could have received my bachelor's degree from RichmondCC, I definitely would have stayed," he said.
McQueen hopes to return to the school that greatly impacted his life and be an instructor in RichmondCC's Early Childhood Education Department.
"This has always been a big goal of mine. I think it would be amazing to go back and teach where I first started – at RichmondCC," McQueen said.
A faithful man of God, McQueen knows that He is paving this road for him and he looks forward to the journey no matter how many twists and turns it may take. For now, he hopes to give his students at C. Wayne Collier the best experience they can have despite all the challenges that COVID-19 has brought to the school year.
"Although we started this school year virtually, I feel like I have known my kids for a lifetime," McQueen said. "I will do my very best as an educator to make this a great year, despite the chaos that has taken place. My students will always know that I am here for them, and we will succeed together."
For More Information
Learn more about the Early Childhood Education program that offers several pathways to a career in early childhood development, whether it's owning a child care business, working in a Head Start setting, or becoming a preschool, kindergarten or elementary school teacher. Call (910) 410-1700 to speak to a counselor and discuss options for enrolling in Spring 2021.
Apply Now
Complete a free application today!