Law Officer Pursues College Degree to Further His Career
December 2, 2020 - Richmond County Sheriff's Office detective James Hamby, who also served in the Marines, is about to graduate with his first, and certainly not his last, college degree. Hamby is among the "Rising Star" December graduates of Richmond Community College.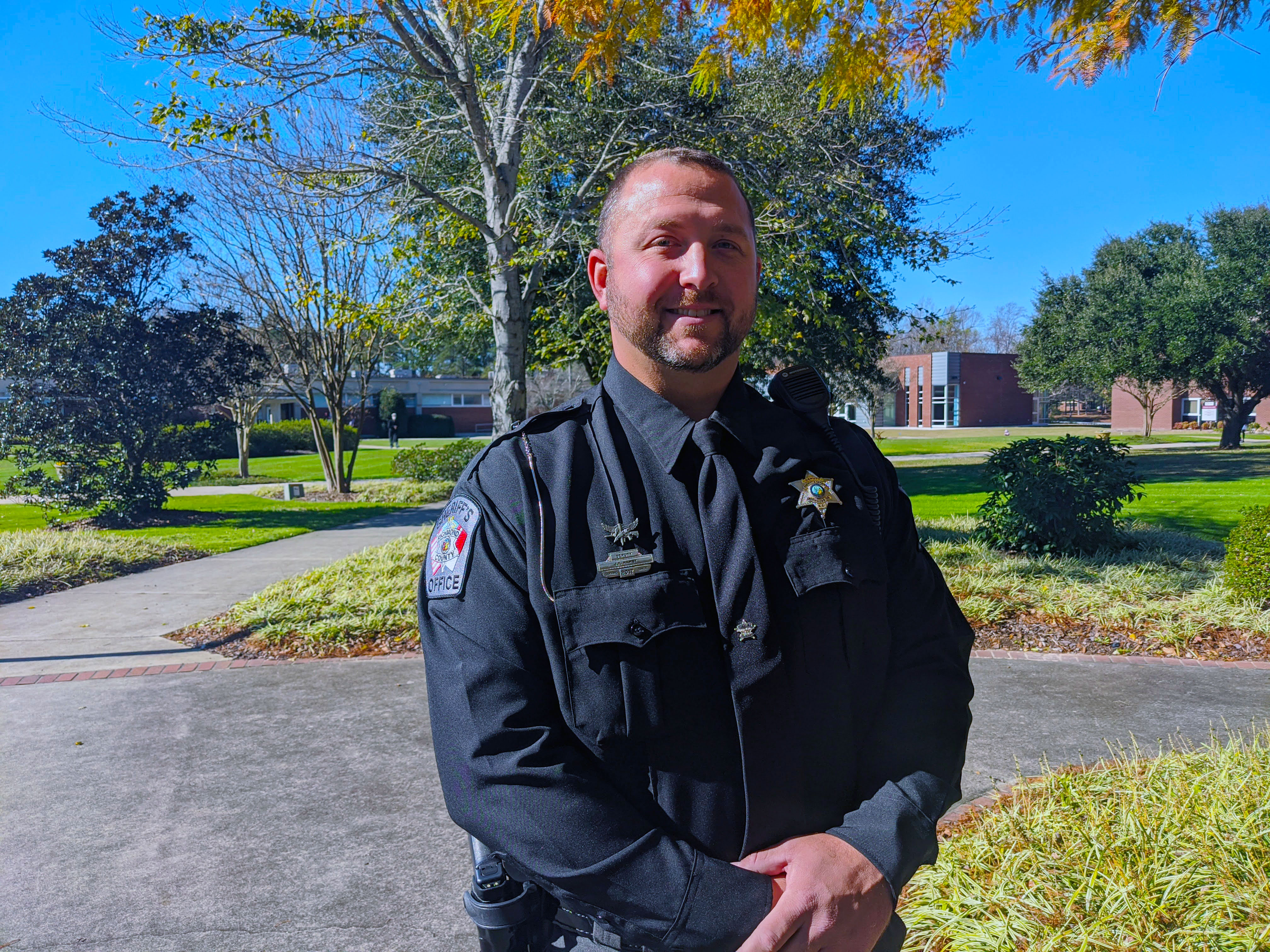 December graduates are students who complete their degree after the fall semester, rather than the spring semester.
Hamby started working on his Associate in Arts degree in the summer of 2018. It has taken him an extra semester to complete his degree because of his full-time work at the Sheriff's Office. In January 2021, he will begin working on a Bachelor of Science in Criminal Justice and Police Management through an online program with Southern New Hampshire University (SNHU).
"I wanted to further my education because I know that's what I need to make myself competitive for potential job opportunities and promotions in the future," Hamby said.
However, college wasn't always on the mind of this Houston, Texas, native. Neither was living in a small rural North Carolina town like Hamlet.
Military Minded
Hamby enlisted in the U.S. Marine Corps right after high school in 2005. At the height of the Global War on Terrorism, Hamby was deployed twice to Iraq and once to Afghanistan. While it was hard to be away from his family and friends, he was proud to be able to serve his country and become a part of history.
"When my kids are old enough to understand, I hope they can say that they are proud of me and that I can be their hero no matter what," Hamby said. "The thought of dying in war is nothing … but the thought of what I would be leaving behind is what kills me."
Hamby's military career was unfortunately cut short. After serving 12 years, the Marine sergeant was issued a medical retirement from the military. The many different units and operations he had been a part of had taken a toll on his body, limiting his ability to serve in the infantry.
"I moved to Richmond County after I was discharged, and it was a complete culture shock," Hamby said. "I had never lived the small town life. But once I had accepted the fact this is where me and my family were going to live, I began to embrace the community. I have grown to love it and raising my girls in a small town."
A New Life
Hamby also knew he wanted to help his community, which is why he chose law enforcement for his civilian career. He was hired by the Richmond County Sheriff's Office in 2017.
"Leaving the U.S. Marine Corps was one of the hardest experiences of my life, but I knew that law enforcement was the career path I wanted to take. Attending RichmondCC was a great way to start my educational journey," he said. "It has kept me busy and focused on a bigger picture for my career and family."
It was also important for Hamby that his two young daughters, Kallie and Kendall, see him doing homework and studying for tests.
"I wanted to show my girls that even as an adult a college education is important. I also saw how my wife worked on her master's degree while I was still in the military. She was taking care of the girls, working full-time and going to school. She never stopped. She is now working on her second master's," he said.
His wife, Kacie, is the Assistant Director of Marketing at RichmondCC and a native of Richmond County.
"I wouldn't be getting ready to graduate and transfer to SNHU if it wasn't for her pushing me to be better," he added.
The Bigger Picture
Not only does Hamby try to be an example for his children, he also looks for ways to help other veterans who are living with the damaging effects of combat. He has connected with national initiatives through Veterans Affairs, the Lone Survivor Foundation and No Barriers Warriors. He organized a Walk for Warriors in Richmond County a year ago, and he also uses his social media presence to provide motivational messages to people who may be struggling with PTSD. He encourages them to find an outlet for handling stress and negative feelings. For Hamby, it's exercise.
"Working out has helped me work through some issues I had coming out of the Marines. Now I try to be an example for them, to let them know you can find things that make you happy and put you on a better path," Hamby said.
It's that bigger picture that Hamby stays focused on.
"RichmondCC has given me the work that my mind has needed and helped me show my girls that school is important — that it is never too late to go to school and keep getting the education," Hamby said. "My wife and girls are my happiness, and they are the reason I am here!"
Register for Spring Classes
RichmondCC is now registering students for the spring semester. Registration and FAFSA Days will be held Monday, Dec. 7, at the Hamlet Campus and Tuesday, Dec. 8, at the Scotland County Campus. Come speak to a counselor and get help completing the 2021-2022 FAFSA. Spring semester begins Jan. 28. Call (910) 410-1700 or visit Admissions.