35 Nursing Students Ready to Enter the Workforce
May 13, 2022 - Richmond Community College held its 45th annual Associate Degree Nursing Pinning Ceremony on May 11 with 35 nursing students being recognized for completing the program.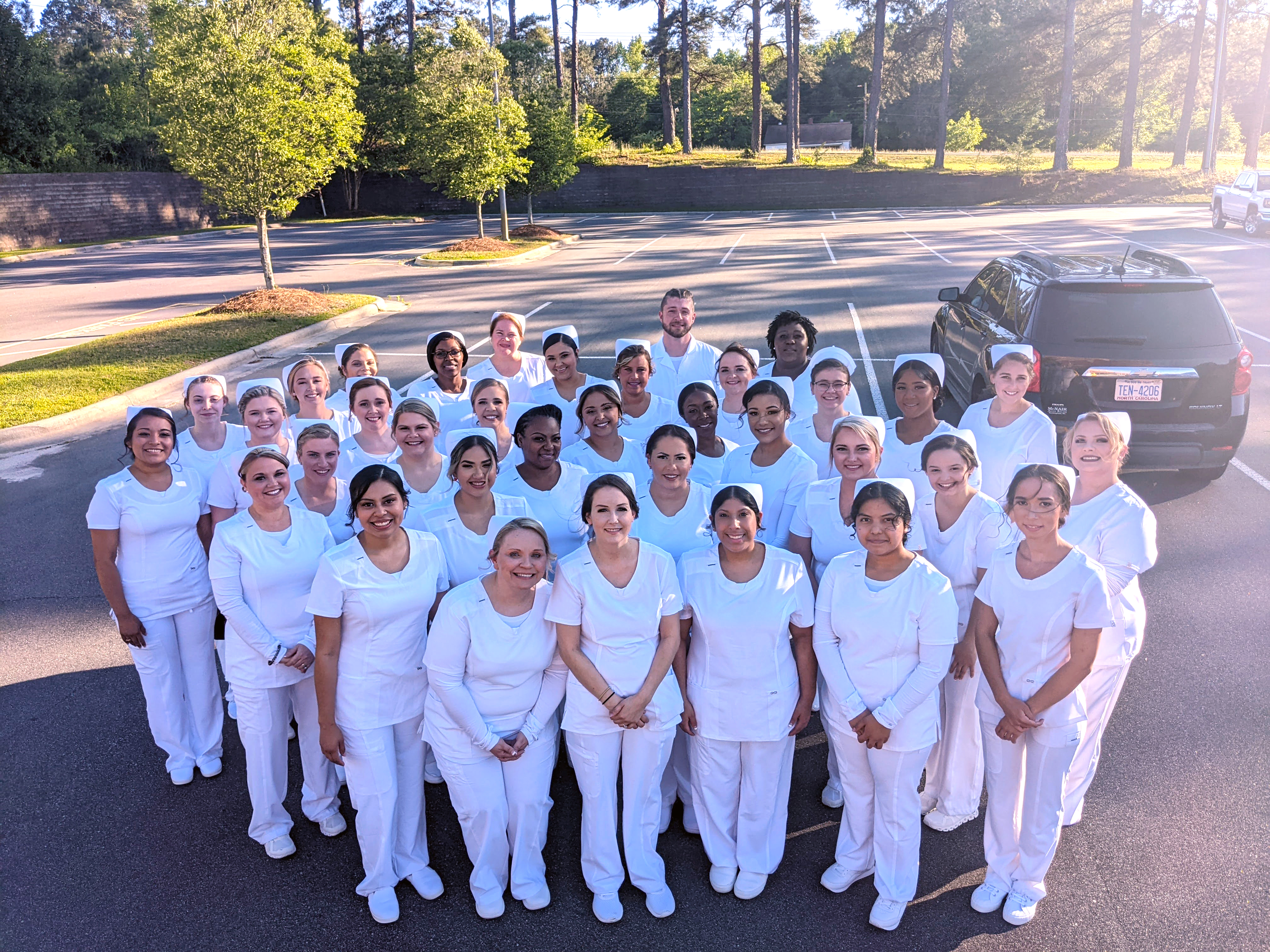 Dr. Dale McInnis, president of the College, addressed the students to open the ceremony.
"Who knew when you started on this journey two years ago how different our world would become. Yet, today, after facing trials, tribulations and challenges that were unimaginable, here you are, entering your new profession, prepared to begin a new career and a new life," McInnis said. "The class of 2022 defines in their success, in their presence here tonight, strength, courage, and teamwork."
He applauded them for choosing a career where others are the primary concern.
"Each of you is a hero, and this pin is the medal of valor each of you has earned," he said.
Nursing instructor Cindy Gilmore was the keynote speaker for the ceremony. She spoke about the symbolic meaning of the pinning ceremony that dates back to the 12th century and the pins that each nursing student receives.
"This ceremony is a rite of passion into our nursing profession. The pin you will be wearing is representative of the many hours spent studying and the dedication you gave to coursework, clinicals and preceptorships," she said. "Remember the faculty and staff who believed in you and had faith in the power within yourselves to achieve success."
Nursing Awards
Nine students were also selected to receive honorary awards for their achievements during the course of the program.
Makayla Carter received the Harold E. Morrison Compassion and Professionalism Award, which is presented to the graduate who demonstrates the highest degree of professionalism while providing compassionate family-centered care.
Grace Jodeit received two awards: the Dora Hildreth Sellers Memorial Award, which is presented to the graduate who demonstrates care and compassion in proving patient-family centered care across the lifespan; and the Scholastic Achievement Award, which is presented to graduate who has maintained the highest grade-point average in the nursing curriculum.
Allison Bailey received the Pediatric Award, which is presented to the graduate who has maintained and demonstrated a superior ability in nursing of children.
Chantara Chavis received the Scotland Health Care System Nursing Service Award, which is presented to the graduate who best meets the criteria of scholastic ability, professionalism, interpersonal relationships and caring attitude.
Dakota Locklear received the Scotland Health Care System Administration Award, which is presented to the graduate who is most dedicated to caring.
Varlisha Monroe received the Joseph W. Grimsley Humanitarian Award, which is presented to graduate who has consistently demonstrated warmth, caring and love for mankind in all his/her relationships and associations.
Danielle Purcell received the Linda Taylor and Barbara Knight Memorial Award, which is presented to the graduate who has transitioned from LPN to RN and shows great passion for the profession.
Mary Anne Meacham and Makaylan Nichols both received the FirstHealth Richmond Memorial Hospital Professional Nursing Award, which is presented to two graduates who best demonstrate the following:
1) Patient-centered/family-centered approach to care
2) Patient advocate
3) Evidence-based practice
4) Collaboration with other health care team members and disciplines