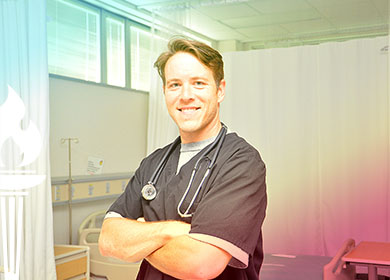 Wingate Graduate Returns to College at RCC to Become Nurse
Vic Barberousse's name has been preceded by a number of different job titles in the past 13 years: personal trainer, construction worker, train conductor, land surveyor and middle school science teacher.
The recent graduate of Richmond Community College (RCC) has a new title that he hopes will guarantee him a good salary and job security for many years to come: registered nurse.
"Nursing is something that I can do and be proud of, too," Vic, of Rockingham, said. "It is a job that is meaningful and important, where people are relying on you to know what you are doing."
In July, Vic began working in the coronary care unit in the Reid Heart Center at Moore Regional Hospital in Pinehurst. In the coronary care unit, nurses tend to patients facing critical cardiac conditions. In other words, keeping people's hearts pumping is a daily mission for Vic.
Living and Learning
Vic took an unconventional route to becoming a registered nurse. The 1996 Richmond Senior High School graduate went to Wingate University on a four-year baseball scholarship and graduated with a Bachelor of Science in sports management. He lived in Charlotte for several years working as a personal trainer and doing other side jobs. From there, he moved to Wilmington and worked construction while picking up a couple college credits taking environmental science classes at the University of North Carolina's coastal campus.
"I was 22 years old, fresh out of college. I was just living," Vic said.
An illness in his family, however, brought him back to Rockingham. Vic helped out at home, but he also completed train conductor school and drove trains for CSX for a short period of time. Vic eventually moved back to the coast for several years and supervised a survey crew for a residential developer.
Following An Interest
In 2008, he returned to Rockingham and focused on his new family, a wife and son. He enrolled in RCC's Lateral Entry program in order to become certified to teach in the public school system.
"I taught sixth grade science at Hamlet Middle School for two years. It was a great profession, but teaching just wasn't for me," Vic said. "I've always had a love for science. I figured the best opportunity I had for using that interest was to go into healthcare."
Vic was already taking classes at RCC and was aware of the nursing program's reputation for graduating competent, employable nurses. In the past four years, 94 to 100 percent of RCC graduates of the Associate Degree Nursing (ADN) program who have passed the licensure exam have found jobs in healthcare or have returned to college to pursue a Bachelor of Science in Nursing.
Vic quit his teaching job and enrolled in the College's Nursing Assistant program. At RCC, students are required to complete this certificate program before applying for either the licensed practical nursing or registered nursing programs.
In order to better his chances for landing a spot in the highly competitive nursing program at RCC, Vic took as many classes as he could to build up "points," or required credits, and also continued working as a certified nursing assistant (CNA) at an extended living facility where he gained hands-on experience in the healthcare field.
Becoming a Registered Nurse
"I had already been to college, so I knew what to expect," Vic said about the demands of the two-year registered nursing program. "Besides the advantage of already having a bachelor's degree and many of the class requirements, I was an older, more mature student. I'd had those life experiences that prepares you for challenges."
Vic was able to maintain his CNA job and even completed a work scholarship under RCC biology instructor David Clayton.
"I first recognized Vic's academic potential in my Anatomy and Physiology II class, where he proved to be a standout student," Clayton said. "We very happy to have him as a work scholarship student for the Science Department. This was a mutually beneficial situation, where Vic gained experience in the microbiology lab, while making money to apply toward his education."
Vic found a good support system at RCC. College counselors helped keep him on track with what courses to take to complete his degree, and his instructors were supportive and helpful.
"RCC's nursing instructors are approachable," Vic said. "They expect you to do your work and be prepared for class, but if you are having an issue or a problem, you could approach them and they were always willing to help you out or point you in the right direction for help."
"Vic was a very good student, a smart student," said Ronnie Tunstall, a second-year ADN instructor. "During clinical rounds, he proved to be caring and attentive toward his patients, as well as his classmates, helping them when they needed assistance."
Vic completed his internship, another requirement of the nursing program, at Moore Regional Hospital in the cardiac care unit.
"It was intense. It was hard," Vic said. "I felt like I learned more in one 12-hour shift than I had learned all semester in the classroom."
For him, it was also a defining moment. After experiencing 120 hours of work in a cardiac care unit, Vic knew he wanted to go into a critical care setting.
"When you are dealing with cardiac patients, you are giving people potent medications, you're operating multiple types of equipment – heart pumps and ventilators, you are nursing people back to health," Vic said. "It's an eye opening experience."
Endless Opportunities
Vic is hesitant to say just where he expects his nursing career to take him. He plans to pursue a bachelor's in nursing for added job security, but in the meantime, he will continue to become the best nurse possible by experiencing as much in the healthcare field as he can.
"As a nurse, there are endless opportunities. There are different areas that you can work. You can travel if you want to," Vic said. "In nursing, there are so many opportunities to do something you can be proud of."