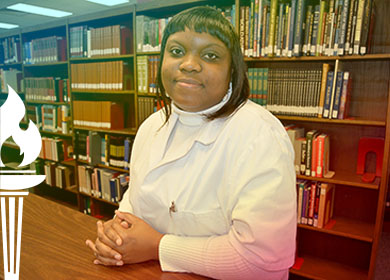 Begin a Career in Pharmacy with 6-Month Course at RCC
Leanna Reddick went from student to instructor at Richmond Community College in about eight months because of her passion and drive for building a career as a pharmacy technician.
Reddick, of Rockingham, completed in July 2013 the six-month pharmacy technician course offered through RCC's Workforce Economic Development division. She will be the instructor for the next pharmacy technician class that begins Feb. 5.
About the Course
The course introduces students to the pharmacy practice and the technician's role in a variety of pharmacy settings. Topics include medical terminology and abbreviations, drug delivery systems, law and ethics, prescription and medication orders, and the health care system. Upon completion of the course, students will be prepared to sit for the pharmacy technician certification board exam.
"It is important to me that the people who take my class be adequately prepared to take the certification exam and be prepared to enter the workforce," Reddick said. "They will also be able to present themselves well and write a proper resume."
Reddick said a strong emphasis would be placed on writing and communication skills.
"As a pharmacy technician, we don't just count pills. It is very important that you be knowledgeable and confident in your craft to speak with someone as high up in the medical field as a doctor, while on the other hand, you need to be able to relay information in simplistic terms to a customer," she said.
A Career in Pharmacy
"The pharmacy technicians at our pharmacies play a key role in our day-to-day operations," said Greg Marks, pharmacist at Medical Center and Medical Park pharmacies. "Our techs help to process new and refill prescriptions, do most of the physical preparation of the prescriptions, reconstitute antibiotic suspensions, help mix simple compounds under the supervision of a pharmacist, help the pharmacists keep up with inventory counts and alert us to overstock or under stock issues."
Reddick was hired by Kerr Drug in Hamlet the week before she graduated the course. The local drug store has since closed, but she has two other job prospects, in addition to serving as an instructor for RCC.
"There is a great demand for certified pharmacy technicians," Reddick said. "We take on many different forms in the medical field. We're not just limited to working in hospitals and pharmacies."
Pharmacy technicians can service long-term care facilities, dialysis centers and cancer treatment centers, or they can go into clinical research. Pharmacy technicians can also serve as quality assurance technicians. These technicians travel around to pharmacies and hospitals to make sure the facility is ‪providing safe and appropriate ‪services to patients in accordance with government rules and regulations.
"Pharmacists today have so much work to do other than just filling prescriptions it is essential that they employ good techs who are trustworthy, efficient and dependable to assist them," Marks said. "Good techs free the pharmacist up to concentrate on consulting with patients and those other duties that can only be performed by a pharmacist."
Working in the pharmacy field can be a lucrative career, depending on education, experience and area of employment.
"Pharmacy technicians in this area can make between $32,000 to $37,000 a year, but in the Raleigh-Durham area, they can make up to $47,000 a year," Reddick said. "A pharmacist can make $105,000 a year, and one with a doctoral degree can make over $300,000 a year."
Pathway to Success
Finding employment was the driving force behind Reddick's decision to take the pharmacy technician course. She was caring for an ill family member and going to college at RCC for an Associate in Science degree when she came across information about the pharmacy technician course.
"I was struggling to find a job, but I realized if I earned a credential of some type it would help me gain employment and have financial stability while going to school," Reddick said. "I read what a pharmacy technician does, and I thought this may be something I want to try because my intent was already to go into the medical research field. The thing about me is when I set my mind to do something, I follow through with it."
Despite some financial hurdles, Reddick was able to find the resources she needed to enroll in the class. Completing the course and earning her certification, however, was just the beginning for Reddick. She plans to utilize the transfer program created by Wingate University School of Pharmacy and RCC to get into pharmacy school.
Last summer, Wingate and RCC created an articulation agreement that outlines a specific pathway for RCC students to attain an Associate in Science degree that also meets the prerequisite coursework requirements for application to the Wingate University School of Pharmacy.
"By this time next year, I'm hoping to have all the courses and complete all the requirements to apply to the Wingate's School of Pharmacy," Reddick said. "I have found my passion. The pharmacy technician class opened my eyes to what I really love, which is clinical research, and I plan to go as far as it will take me."