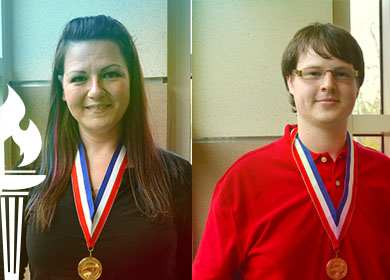 First-generation College Students Earn Top Honors
Two Richmond Community College students were recognized for their academic achievements by the state with Academic Excellence Awards, but both students have achieved way more than just good grades. They have achieved in life.
Christi Miles and George Yandle are each first-generation college students. Miles is also the first person in her family to graduate from high school.
"I never thought I'd be able to get into college, let alone get a degree," said Miles, who relocated to Rockingham from northern Virginia. "I never got any A's in high school, and my family would celebrate when I received C's. But I'm very proud to say that I've worked hard at RCC and have been able to maintain a 4.0 grade-point average."
Yandle also overcame a multitude of doubts on his pathway to success.
"Ever since third grade when I struggled to learn to read, I've been told that I couldn't make it," Yandle said. "I went to vocational rehab, and was told even that wasn't going to be able to help me make it through college. But I'm here to tell you that you're capable of doing whatever you set your mind to."
Christi Miles
A mother of two, Miles said she chose to attend RCC primarily because of its location, reasonable tuition costs and financial aid. What she didn't factor in was the tremendous support she would receive from her instructors in helping her complete college and earn an associate degree in accounting.
"It's the faculty and staff that make RCC what it is," Miles said. "RCC has so many programs with the most incredible teachers leading them."
Miles specifically credited instructors Matilda Davis, Michael Fairley, SheVonne Lockhart, Kim Parsons and Doug Carter for being instrumental in her success.
"Not only are they amazing teachers, but I also consider them friends," Miles said.
One of RCC's former instructors, Oz Queen, has played an important role in Miles' career by hiring her to work at his accounting firm.
"I have always wanted to own my own firm since I discovered a love for accounting, but after gaining some experience working in public accounting has made me rethink that decision," said Miles. "I think I would like to be a controller of a successful company and possibly teach part time. I was a tutor for RCC, and I enjoyed helping fellow students."
Whatever her professional future holds, Miles said she will be continuing her education by obtaining a second associate degree from RCC, this one in Business Management, as well as a earning a bachelor's degree in accounting.
"RCC has jumpstarted my career. It has given me the knowledge and the degree and allowed me to develop important relationships for success," Miles said. "Being a student here has opened many doors for me."
Miles said going to college is not easy, but she encourages others to consider RCC.
"It will take a lot of hard work, but it will be most rewarding. Do not procrastinate! And good luck! It will all be worth your while," she said.
George Yandle
A graduate of Richmond Senior High School, Yandle overcame learning disabilities and financial hardships to earn his Associate in Arts degree.
"I realized that the further I got along in my education, it got more challenging," he said. "But I never gave up and managed to keep on going, despite the fact that I was almost homeless three times."
Yandle said his educational goal has always been to get a bachelor's degree, but he knew starting at RCC was the wisest route for him to take.
"The Associate in Arts degree I'll receive from RCC will allow me to transfer to the University of North Carolina at Pembroke," he said. "Starting at a community college was a lot more affordable for me than going straight to a university."
Yandle was also able to benefit from financial aid offered through RCC, along with working at the College library. He will graduate in May debt free.
Yandle has been working closely with Kathy McCoin, campus administrative coordinator for UNC-P at RCC, to make sure all his college credits transfer when he enrolls in the university this fall.
"I want to thank her for all she does, and I am glad that UNC-P chose her to represent the school at RCC," he said.
Yandle plans to get a job working in radio or television after earning his bachelor's degree in communications from UNC-P. However, he also plans to seek a master's degree in library science.
"From there, I will combine both degrees and work in a library," he said. "Eventually, I would like to get my doctorate in education. My end goal is to one day come back to RCC and teach communications. I have a lot of career plans that will take time, but in the end it will be worth it."
Yandle encourages other students to also set their mind on success and refuse to let it go.
"Do not let anyone tell you that you can't make it," he said. "Never give up and enjoy your time at RCC. If you need help with any classes, use the Academic Success Center where tutoring is located or simply schedule an appointment to meet with your instructor. Everyone at RCC wants to see you succeed and do well."
Yandle specifically mentioned instructors Jamie Sadler and Angie Adams who were instrumental in his development at RCC. He also thanked Carolyn Bittle, SheVonne Lockhart and Sarah Anderson, whom he worked closely with in the RCC library.
"They were always there for me when I needed help, and at times when I felt like giving up, they always told me I could make it," Yandle said.