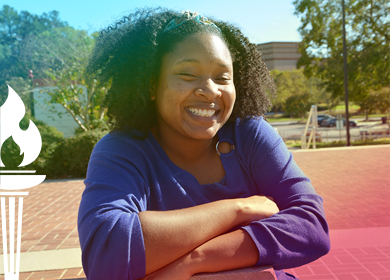 RCC Graduate Pursuing Fulfilling Career in Education
When Shavier Leak of Hamlet graduated from Richmond Community College in May, she stepped off the stage and stepped right into two jobs in early childhood education.
A graduate of RCC's Early Childhood Education (ECE) program, Leak is a teacher assistant with Anson County's Head Start and also the literacy and volunteer coordinator with Communities in Schools of Richmond County.
"As a teacher assistant at Head Start, I do everything the teacher does. I work with the teacher to facilitate activities for the children. At my other job, I do everything from creating lesson plans for students to recruiting and training volunteers to tutor the students," Leak said. "It has given me peace of mind to be asked to take anecdotal notes on a child and be able to think of the notes I submitted for class assignments at RCC. Other things of this nature have helped me feel well equipped for my job due to the outstanding ECE program and its instructors at RCC."
Looking for the Right Career
After graduating Richmond Senior High School in 2006, Leak worked a number of jobs in retail. Her hard work and dedication always led her into management positions, but Leak was searching for more fulfillment in her career.
In 2012, Leak made a bold move to quit her job as a shift manager at a local food store and go to college.
"I chose to go to RCC because it was local and affordable," she said. "I chose early childhood education because I believe it is my calling to work with children at this moldable age. Watching my own child's progress in preschool really changed my perspective on the way children learn. He learned how to read at age 4, so I saw how children can learn a lot at a very early age."
Full-Time Honor Student
Leak knew she didn't want to waste any time getting her education. She took as many classes as possible each semester. She even had to get written permission from the president one semester when she took on 21 credit hours.
"I made all A's that semester," Leak said. "If I wasn't on the President's List, then I was on the Dean's List. I am thankful for the support and assistance of my family, especially my father."
Leak and her husband have a 6-year-old son, and they also care for Leak's 16-year-old brother.
While at RCC, she also received financial assistance to help her pay for her college education.
Early Childhood Education
The Early Childhood Education program prepares students to work with children from birth through 8 years old in diverse learning environments. Students learn about child growth and development, the physical and nutritional needs of children, and the care and guidance of children.
Graduates of the program are prepared to plan and implement developmentally appropriate programs in early childhood settings such as childcare programs, preschools, public and private schools, recreational centers, Head Start programs, and school-age programs.
Leak completed two internships, one with an area pre-kindergarten facility and the other with Communities in Schools. Students in the program are required to complete one internship and have the option to complete a second one.
Teacher Bound
The associate degree Leak earned at RCC was a starting point. She was able to transfer all her college credits to the University of North Carolina-Greensboro (UNC-G) in order to pursue a bachelor's degree to become a certified pre-K teacher in North Carolina. She is able to take her classes online with UNC-G and plans to graduate in 2016.
'Doing What I Love'
"RCC helped me to become a higher educated African-American woman and to have a career doing what I love. In my other jobs, I felt like I had to fight to get to the top, but by going to RCC, I am able to fight using my brain to get ahead," Leak said. "If you're considering going to college, start as soon as possible and stick to it. Also, know that at RCC your instructors are there to help you when you are in a rut, but please note they aren't going to baby you either!"