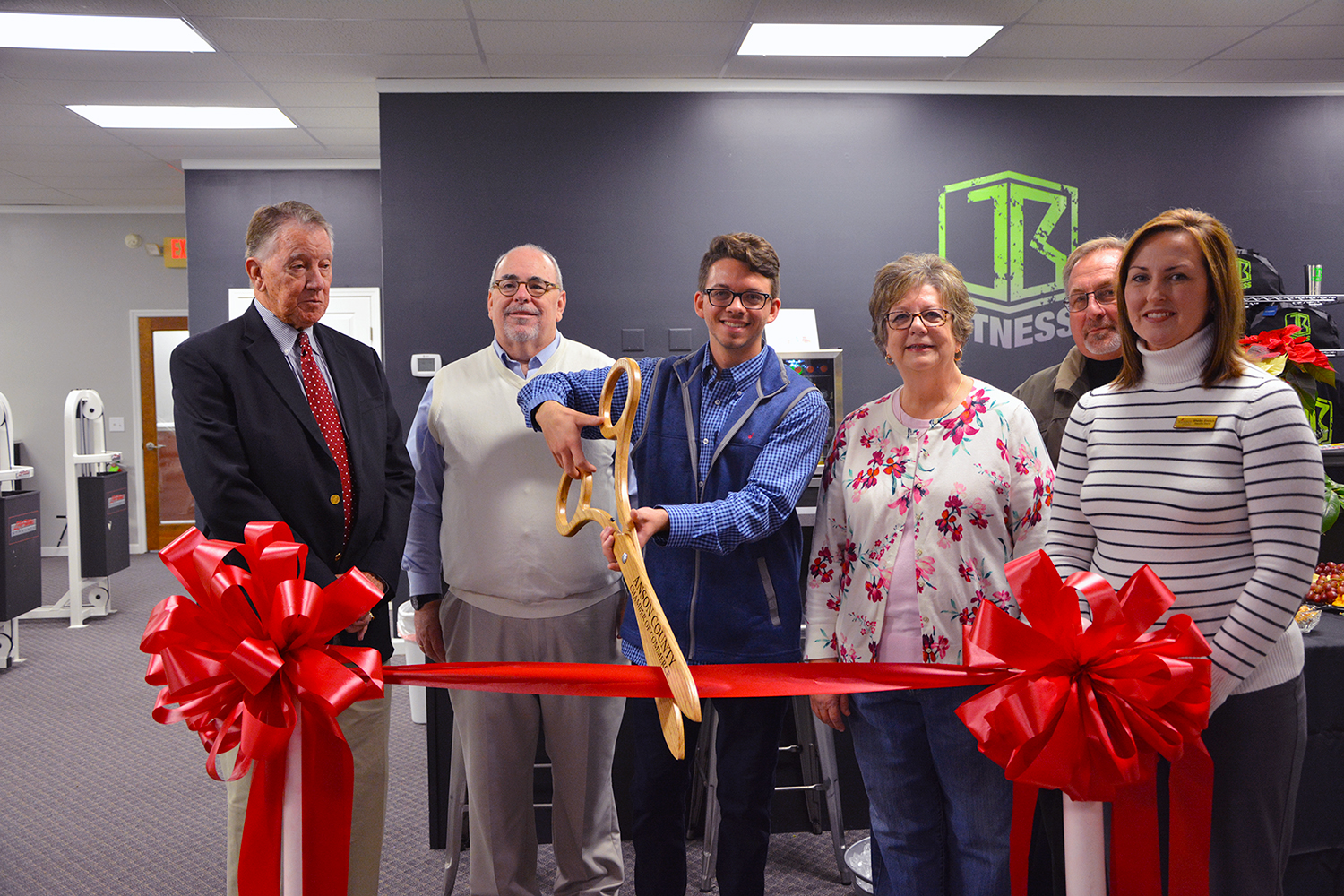 Dec. 20, 2017 – A graduate of Richmond Community College is making his mark in his hometown of Wadesboro, by transforming the town's only gym under new ownership. John Irvin Ballard III celebrated the grand opening of his business with family, friends, community leaders and customers as he ceremoniously cut the ribbon on JB Fitness in downtown Wadesboro.
"This community has given so much to me, and I am glad that I can give back by bringing a business that is focused on welfare and health," 23-year-old Ballard said.
Ballard graduated RichmondCC in May 2016 with an Associate in Arts degree. He changed his major three times while in college as he struggled to define his career plans, but Ballard said all his instructors were very supportive and caring in his educational pursuit.
One RichmondCC instructor, Dr. Angie Adams, came to the gym's grand opening celebration so she could personally congratulate Ballard on his success.
"John Irvin is a very determined young man. He has faced a lot of obstacles in his life, but he's never let anyone or anything discourage him from reaching the goals that he has set," Adams said.
Ballard has a learning disability, but he did not let that stop him from graduating high school and going to college. While at RichmondCC, he considered a career in architecture, and he also took some business classes. The Associate in Arts he earned is a university transfer degree, so when he's ready for his next educational step, his degree will transfer to a four-year college or university.
"At this point, I think I'd really like to get my personal training certification and certification in nutrition as well," Ballard said.
Ballard bought the gym in May from his cousin, Brook Ainsworth, and has remodeled it, changing the name of it from Buff Monkey Fitness to JB Fitness.
Right after he bought it, his father went into the hospital to have surgery. He ended up being in the hospital for nearly six months.
"Thankfully, my father is out of the hospital and doing much better," Ballard said. "But with him in the hospital, I had to do all the financing and money managing myself, and I completely repainted the whole place by myself. I don't ever plan to paint again!"
Ballard is quick to attribute his success, however, not to himself, but to God.
"If it weren't for God, I don't know where I'd be," Ballard said. "I'm also thankful for the friends and the family who have supported me in this journey."
Ballard is the son of Camille and John Irvin Ballard Jr. of Wadesboro.