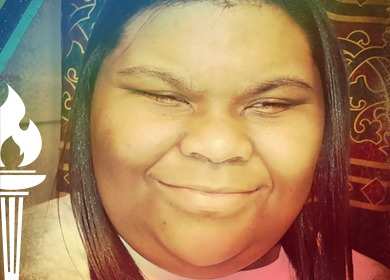 Celeste McCain is a machinist for GE Power Services in Greenville, S.C., the largest gas turbine manufacturing plant with the most powerful off-grid gas turbine validation facility in the world. She's only been there for three months, but she knows that she'll be working for this company until she retires.
McCain graduated from Richmond Community College's Computer Integrated Machining program in 2015. She decided to go into that particular program because her father worked as a machinist for many years at the GE plant in Wilmington and she knew she would gain the skills to find a good job.
The median salary for a machinist is $39,000, according to Career Coach, an online tool that provides the most current local data on wages, employment, job postings, and associated education and training. Machining has grown by 3 percent over the last two years and is expected to grow by 29 percent over the next 10 years. Currently 157 computer-controlled machine tool operators, metal and plastic are employed just within a 20-mile radius of RichmondCC.
About the Program
Clayton Dial is the instructor for the Computer Integrated Machining program at RichmondCC.
"This program gives students the analytical, creative and innovative skills needed to take a product from the initial concept through design, development and production stages to a finished product," Dial said.
Coursework includes manual machining, computer applications, engineering design, computer-aided drafting (CAD), computer-aided machining (CAM), blueprint interpretation, advanced computerized numeric control (CNC) equipment, basic and advanced machining operations, precision measurement and high-speed multi-axis machining.
"Machinists are needed everywhere you go. They can be found in high-tech manufacturing, rapid-manufacturing industries, specialty machine shops, fabrication industries, and emerging industries such as aerospace, aviation, medical, and renewable energy," Dial said. "Celeste is a great example that women can be just as successful in these jobs traditionally held by men."
McCain said Dial really cares for his students, and it shows in his teaching style.
"Mr. Clayton is going to make sure you know exactly everything you need to know. He isn't going to let you down," McCain said. "He has a lot of experience and knowledge and having him as a teacher made a difference."
McCain was able to get a job during her second year in the program. Ingersoll Rand, a diversified industrial manufacturer, invited Dial to bring some of his students to the Southern Pines plant for an employee day event. Dial and McCain went, and that led to her getting a job with them. McCain worked there for two years before landing the job this past October at GE in South Carolina.
New Job, New Start
The move came with a significant increase in pay and opens up more opportunities for McCain in the industrial setting.
"If you want to go into maintenance or become a programmer, they (GE) will teach you whatever you want to be, and they're going to help you get there," McCain said about her new employer.
Right now, McCain is considering her options for advancement. If she were to go into programming, she would develop the programs to control the machining or processing of the parts. If she were to go into quality control, she would be tasked with checking the final product and making sure it's what the customer wants.
"They're at opposite ends of the manufacturing process, but both would be good moves for me," she said.
McCain works second shift, so she goes in at 3 p.m. and gets off at 11 p.m.
"I like working second shift. I don't have to wake up early. I don't ever have to set any alarm clocks. It's easier for me to maintain life working on this schedule," she said.