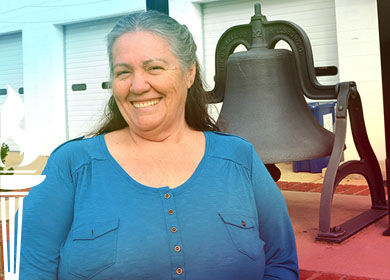 Myra Tyndall was uncertain about what it would be like to go back to school and be so much older than her fellow college students. Tyndall, who was 48 at the time, soon found herself enjoying classes at Richmond Community College and making many friends among her younger classmates.
Tyndall of Gibson graduated from RCC in 1999 with an Associate in Accounting degree. Today, she is the town clerk of Gibson and works part time as a financial officer for Maxton. In a small town such as Gibson that has three full-time employees, she handles much of day-to-day operation and financial business for the town. In Maxton, she helps manage the finances and prepare the year-end closings on accounts.
While Tyndall has always enjoyed math and working with numbers, that hasn't always been a priority in her life. First she became a wife and a mother. School was secondary.
Married At A Young Age
Tyndall was married at age 14 and dropped out of school after ninth grade to raise a family. She held various jobs over the years in textile mills. She had been working at Anvil Knitwear in Gibson for 10 years when the mill closed and she got laid off. Through a state program to retrain displaced workers, Tyndall was offered the option to go back to school. She chose to enroll in the accounting program at RCC.
While she did not graduate high school, Tyndall had earned her GED, so she was able to begin taking college level classes immediately when she enrolled at RCC.
"It was intimidating being around much younger folks, but I enjoyed RCC and was really comfortable there," she said. "I became friends with a lot of the younger people and I really enjoyed all my instructors."
Tyndall devoted herself to getting her college degree, taking as many as 20 credit hours per semester. She excelled in her studies and was soon tutoring her classmates in accounting.
Returning to Work
After graduating from RCC, Tyndall went back to work in the textile industry, but this time she was in the offices up front. She was hired by Burlington Mills in Raeford and gained experience in purchasing, cost accounting, payroll and accounts payable. From Burlington Mills, she went to work for Toastmaster in Laurinburg, where she also performed duties in inventory and human resources.
The textile industry, however, was struggling and Tyndall was laid off for the third time. The accounting skills she gained at RCC did not leave her looking for employment very long. She was soon working for the City of Maxton and helping handle its finances.
Education First
Tyndall appreciates the second chance she got to finish her education and to attend RCC. She would not hold the position of town clerk if she did not have an accounting degree.
With one full-time job and one part-time job, Tyndall spends a lot of her time working, but she also spends time with her ever-growing family: three children, nine grandchildren, eight great-grandchildren and two step-great-grandchildren.
Three of her grandchildren, Courtney Ward, Jennifer Caulder and Sabrina Caulder Locklear, followed in her footsteps and have attended RCC. Courtney and Jennifer are both currently enrolled and pursuing degrees in accounting, while Sabrina has earned a nursing degree and works for Scotland Memorial Hospital.
"I'm glad to see they're not waiting like I did to get their education," Tyndall said. "It's not easy to go back to school after more than 30 years."