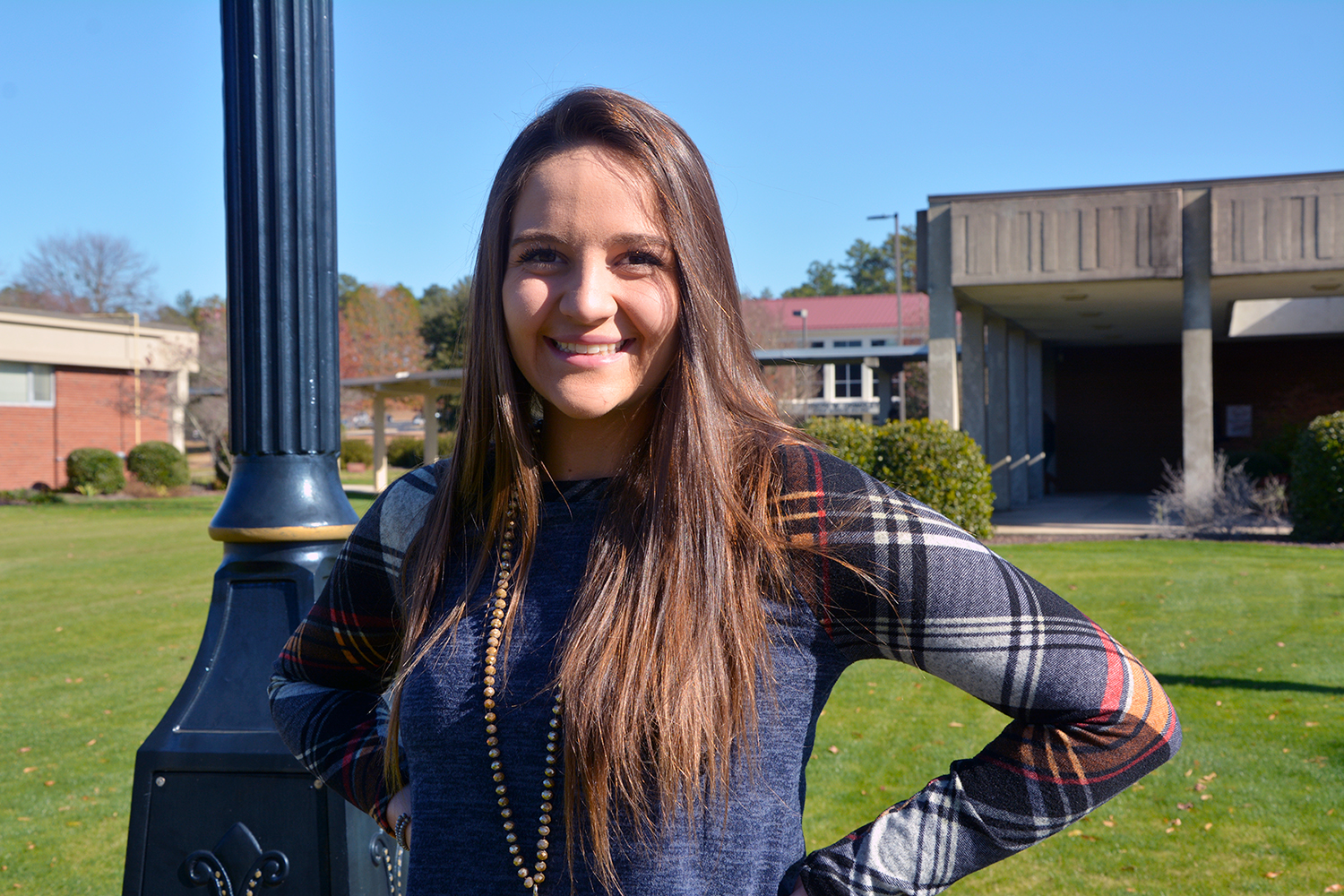 Peyton Tucker is a graduate of the Nursing Assistant program at Richmond Community College. She was the student speaker for the Nursing Assistant Pinning Ceremony on Dec. 12 at the Cole Auditorium. Here is her speech.
My name is Peyton Tucker. I graduated high school in 2016 with a cluster in health science courses. While taking these courses, it became evident to me that nursing was my passion and what I wanted to pursue a career in. During high school, I also took part in the dual-enrollment program at Richmond Community College, which allowed me to gain credit for college courses that would transfer to other colleges and universities. Taking these courses here at RCC made me fall in love with the atmosphere that this college had to offer. Upon graduating high school, I went off to the University of North Carolina at Wilmington because of its highly ranked nursing program. For the year that I was at UNCW, I was in very large classes. My smallest course contained 75 people, while my largest was 267. That's a lot of people for one professor! Although I was successful at this school, I found myself missing the small, kind and comfortable atmosphere of RCC. With my best interests in mind, I made the decision to come back to RCC to pursue nursing.
This fall was my first semester back at RCC. When I came in the summer to register for my classes, my advisor told me that I had to first complete the CNA (Certified Nursing Assistant) course. I had not taken this course because Wilmington didn't have this requirement for entrance into its nursing program. I remember sitting in her office and saying, "Are you serious, I really have to take that?" What I didn't know was this course would change my life forever.
On the first day of class, our instructor, Mrs. Sheila Adams, asked all of us to write down our reason for taking this course. As you could guess, I wrote, "To get into the nursing program." In all honesty, I had no interest in being a CNA. As the course began, I remember telling myself, "Peyton, you just have to make it through a couple of months and you'll be fine."
As the time went on, I became more and more thankful for my decision to come back home and for RCC's nursing program requirement that put me in this class. I only had one teacher during the "Theory" section of the class, but when we got in to the lab portion, I was able to get to know and interact with all of the instructors in the CNA program. These ladies were made for this job! They were always willing to help no matter what the circumstance was. On top of that, they knew the material like the back of their hand, and it was their guidance that made our success in this course seem so easy.
After the lab portion came the start of clinical. I remember on the last day of lab looking around at everyone as we expressed our worries and nervousness to embark on this journey into the life of a CNA. I was not looking forward to going to clinical (and boy did that change by the last day!). I was able to take part in the clinical experience at Ambassador in Wadesboro. It was during clinical that my entire outlook on the nurse aide profession changed. CNAs truly care about the well being of their patients. The nurse aide is the one who performs basic nursing tasks on the patient-level of care. This means they interact with the patients, getting to know them personally and all of their needs. This is the main reason that I fell in LOVE with this career! I became so close to my patients during clinical, and I am forever grateful for the circumstances that led me into this class. It changed my life.
One day during clinical, my supervising CNA at the facility telling me she had been a CNA for 19 years. (I am only 19 years old, so that means that she has been doing this job the entire time that I have been alive!) She has taken care of a lot of residents! I asked her why she never went on to pursue a career as a nurse. She said, "I know that this is what I was meant to do. I love my patients, and I like being on this level of care." It is "this level of care" that is the structure for healthcare. The care that involves getting to know the patients like they are your own family. During the short time of being at this facility, I became attached to the patients like they were my own family. I respect the nurse aide profession so much more now that I have seen what they go through each and every day and how this career truly is rewarding on a level much higher than what is written on a paycheck. I remember waking up on the days of clinical so excited to go see my patients.
I want to thank the instructors at RCC on behalf of all of my classmates for the time and effort that they put in to making this program what it is. I know from experience the importance of having professors who you can get to know; it really does make a difference! I also would like to congratulate each and every one of my classmates for their success in this course. Whether our future takes us into the nurse aide profession, the nursing program, or anywhere else in the healthcare field, this class was the best starting point that we all could have asked for. This experience really has changed our lives! Furthermore, I would like to thank the family and friends who support a student while in college. I remember sitting on my floor as my mom listened to me recite every single step for the skills in the candidate handbook.
In closing, here is a quote my dad has told my brother and me since I was about 7 years old: "You can either soar like an eagle or you can sink like a buzzard." To my classmates, we have soared our way through the CNA program and have been greatly rewarded!