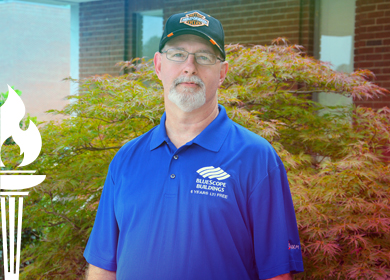 Jimmy Jones of Maxton is employed as a maintenance technician with Blue Scoop Buildings North America. He is a graduate of Richmond Community College and attended from 2002-2015. During that time, he was able to graduate with four diplomas in Electrical Systems Technology, Industrial Systems Technology, Welding, and Computer Integrated Machining.
Jones chose RichmondCC because of the location and curriculum, and he knew that the training RichmondCC provided would advance his career at his current employer, Blue Scoop Building. "I had been working with the same company before attending RichmondCC and found out they had a tuition assistance program. They would pay for me to attend school, and depending on what grade I made, they would pay a percentage."
Jones said his whole experience at RichmondCC was great and instilled a confidence in himself to accept the new position at Blue Scoop Buildings and do the job well. While attending RichmondCC, Jones took advantage of the tutoring services offered through the Academic Success Center.
"It helped me make it through Psych 101," he said.
"Working full time and going to school was a balancing act. It always seemed that my company would start having us work overtime right around exam time, and I had to really hustle to get my studies done and what was required of me at work," Jones said.
Jones really enjoyed attending RichmondCC and said many instructors had an impact on his education, but two stuck out: James Medlin and Jay Wagers.
"James Medlin is the bomb, full of information and knew electrical backwards and forwards. He always knew the question I would ask before I asked and made everything easy to understand," Jones said. "Jay Wagers would talk to you in a way he wanted you to write, it made it easy to understand."
Jones said he feels well equipped with the four diplomas he received from RichmondCC and is now positioned for advancement in his job.
"It's a great school, great instructors and a down to earth staff," Jones said.