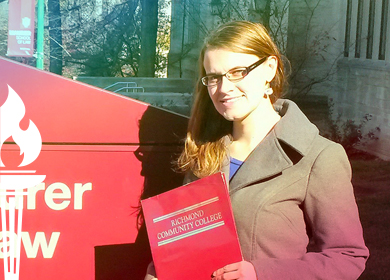 Sarah Doty looks forward to the day when she can stand in a courtroom presenting evidence and arguing for justice. Once a shy homeschooled girl, Doty is a second-year law student at Indiana University's Maurer School of Law who is ready to become a litigator.
Doty credits Richmond Community College for the confident woman she has become with a law degree in her near future.
"Richmond Community College is the reason I was able to follow my dreams of becoming the first in my entire family to graduate from college," Doty said. "The education and encouragement I received from RichmondCC opened a whole new world of opportunities for me, and I am eternally grateful."
Doty grew up in a military family so they moved around a lot. Born in Alaska, she and her family eventually settled in Laurinburg in 2002, and they made the decision to homeschool their children. When Doty was of the high school age, she heard about one of her friends taking dual enrollment classes at RichmondCC.
"No one in my family had gone to college, and I had no real intention of obtaining a higher education," Doty said, adding that college was not even on her radar. "After one semester at RichmondCC, however, I was hooked!"
Doty's world changed in her college public speaking class. Coming from a home-school environment, Doty was intimidated by the idea of getting up in front of a whole class of students and speaking. RichmondCC English instructor Michael Fairley helped her get over this fear and come out of her shell.
"Michael Fairley's encouragement and support forced me to take myself out of my bubble," she said. "I owe so much to all of RichmondCC's faculty and staff. Their enthusiasm, encouragement, and sincerity caused me to fall in love with learning and helped me welcome the challenges of higher education instead of avoiding them."
Doty graduated with an Associate in Arts degree from RichmondCC in 2009, giving her all the basic college courses to give her a jumpstart in a baccalaureate program. She transferred to the University of North Carolina at Chapel Hill, where she earned a bachelor's degree in political science with a minor in history in 2011.
"Without the help and encouragement of my RichmondCC family, I never would have considered transferring to UNC, nor would I have been confident enough to take on the challenges of being a first generation college student," she said.
Doty has become somewhat of a trailblazer for her family in education. Her two younger brothers, Daniel and Jordan Richards, are now enrolled in college at RichmondCC.
"I am thrilled that Daniel and Jordan chose RichmondCC, and I am excited to see where it leads them," she said.
This past summer Doty completed an internship working for the Department of Justice in Washington, D.C. One of her former RichmondCC instructors, Fran Driggers, served as a reference for her to get into the program.
Doty plans to become a prosecutor of the law and is currently working as a law clerk with the local prosecutor's office. Next summer, she has a job lined up with the U.S. Attorney's Office in Indianapolis.
"When I first began at RichmondCC, I never imagined I would graduate, let alone be a law student someday," she said. "I consider it an honor to be an alumni of Richmond Community College, and I owe so much to the faculty, staff, and the overall RichmondCC community. I encourage other community college students to value their education and use an associate degree as a starting point for reaching their goals as I am doing."