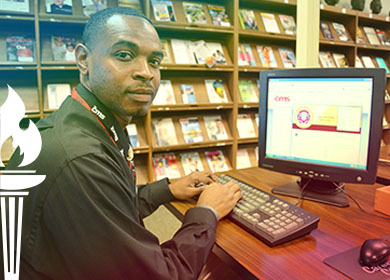 RCC Graduate Helps Keep Charlotte High School Network Operating Smoothly
Jerrette McCrimmon of Wadesboro has been repairing computers and network problems for years, but now he is getting paid for his expertise and knowledge. A graduate of Richmond Community College's Computer Information Technology program, McCrimmon is a technology associate for West Charlotte High School.
Working for the school's information technology department, McCrimmon helps solve computer, printer, hardware and software issues and assists in keeping the network system up and running.
"I've always had a niche for fixing things," McCrimmon said. "I got my first computer in 1998, and I would call tech support when I had problems. I eventually learned to fix my own computer problems. From there, I started working on computers for family and friends. I was doing a lot of work for people for free, but the more equipment I worked on the more skills I was developing that I could add to my resume."
Also on McCrimmon's resume are the two associate degrees he earned from RCC in Web Technology in 2012 and Computer Information Technology in 2013. McCrimmon is a few classes shy of having an associate degree in Healthcare Business Informatics, but he is focusing on earning a Bachelor of Interdisciplinary Studies in Applied Information Technology with a track in Operations Management from the University of North Carolina-Pembroke. He also passed his CompTIA A+ Certification Exam in August 2013 and is recognized as a certified computer technician.
Before deciding to go back to school and get a college degree, McCrimmon did graphic design work for local newspapers. After high school he was accepted into the School of Communication Arts in Raleigh, where he studied graphic design and opened the avenue for website development.
"From 1997 to 2009, I had been out of school, so I struggled with some subjects when I started at RCC, but counselors in Student Services and tutors in the Academic Success Center really helped me to stay on track and complete those classes," McCrimmon said. "At RCC, the instructors and all the staff give you one-on-one assistance, and they really care about helping you get where you are trying to go in your career or education. Mr. James Chambers, Mr. Thomas Tyson, Dr. Carlotta Knotts, Mr. Chris Gardner and Mr. June Wright, these are all people at RCC who provided me with guidance and leadership."
Dr. Carlotta Knotts is director of the Career Center at RCC and was as a key mentor for McCrimmon.
"Jerrette possessed the natural ability, aptitude and interest in computers. I helped him pair those talents with job opportunities that were available in the area," Knotts said."Juggling family, job and school responsibilities is a balancing act. Jerrette had all these to balance, so he asked and received the help he needed to make it all work."
McCrimmon and his wife, Tawana, have a 15-year-old daughter, Ty-Liyiah, and an 11-year-old son, Jerrette. McCrimmon is a son of Myrtle McCrimmon of Dillon, S.C.
McCrimmon has chosen to go into a good career field. According to the U.S. Bureau of Labor Statistics, a greater reliance on computer systems in organizations throughout the economy has led to an increased demand for information technology personnel.
"IT personnel are paid well for their knowledge and expertise because technology has become a part of our lives and how we do business," RCC business associate professor Lance Barber said. "There is a growing need for skilled computer professionals in many employment sectors including healthcare and education. Local employers have indicated we are teaching students the skills they need. Additionally, we are teaching students skills that are in demand in other markets, such as Charlotte and Raleigh."
For McCrimmon, RCC was the college of choice because it was affordable and close to home, and it offered the information technology programs that he needed to get a job.
"RCC gives you a lot of opportunities, from getting a college education to preparing for a four-year degree to learning the skills for a new trade," McCrimmon said. "RCC and the knowledgeable instructors in the Computer Information Technology department definitely helped me to get to where I am today."