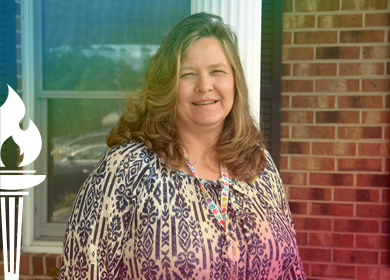 Eight years ago, Faye Quick of Hamlet found herself in a position that no one wants to be in. Laid off.
Quick was working in the textile industry when her job moved overseas. Her education had stopped with high school, and the idea of going to college was very scary for someone who had been out of school for 28 years.
Life-changing Decision
Despite her fears, Quick enrolled at Richmond Community College in 2009 and began working on her associate degree in Early Childhood Education.
"Going to Richmond Community College was very scary to begin with because I had been out of school for so long, but I totally enjoyed it," she said. "The professors were very helpful and patient with me, and they enabled me to calm down and know that I could do this college thing."
Graduating in 2011 armed with an associate degree, Quick is now the assistant director of Sandhills Children's Center.
Some of those RichmondCC instructors who had a positive impact on her education included Sheila Regan, April Chavis-Johnson, Jay Wagers, Chris Auman, Mary Wright, the late Ken Black, Kim Parsons, and Mrs. Lackey. Quick said she also was thankful for the financial aid she received, the tutoring she got at the Academic Success Center, and the career counseling she received through the Career and Transfer Center.
Quick said these resources helped her overcome challenges she faced such as balancing college and family responsibilities, and the advances in technology that had been made since she was in a classroom nearly three decades ago.
"I always wanted to work with children, so getting laid off had a way of working out for me," Quick said. "Richmond Community College definitely helped me build a better life."
"Whether you are looking for a career in healthcare, engineering, business or education, our programs will provide you with the knowledge and skills to be successful and to position you for a lifelong career," said Vice President for Instruction Kevin Parsons. "While Faye Quick faced many challenges and fears about college, she didn't let them stop her from making the life-changing decision to go back to school and get her college education. Her degree has obviously taken her far, and we are proud that RichmondCC played a role in her success."