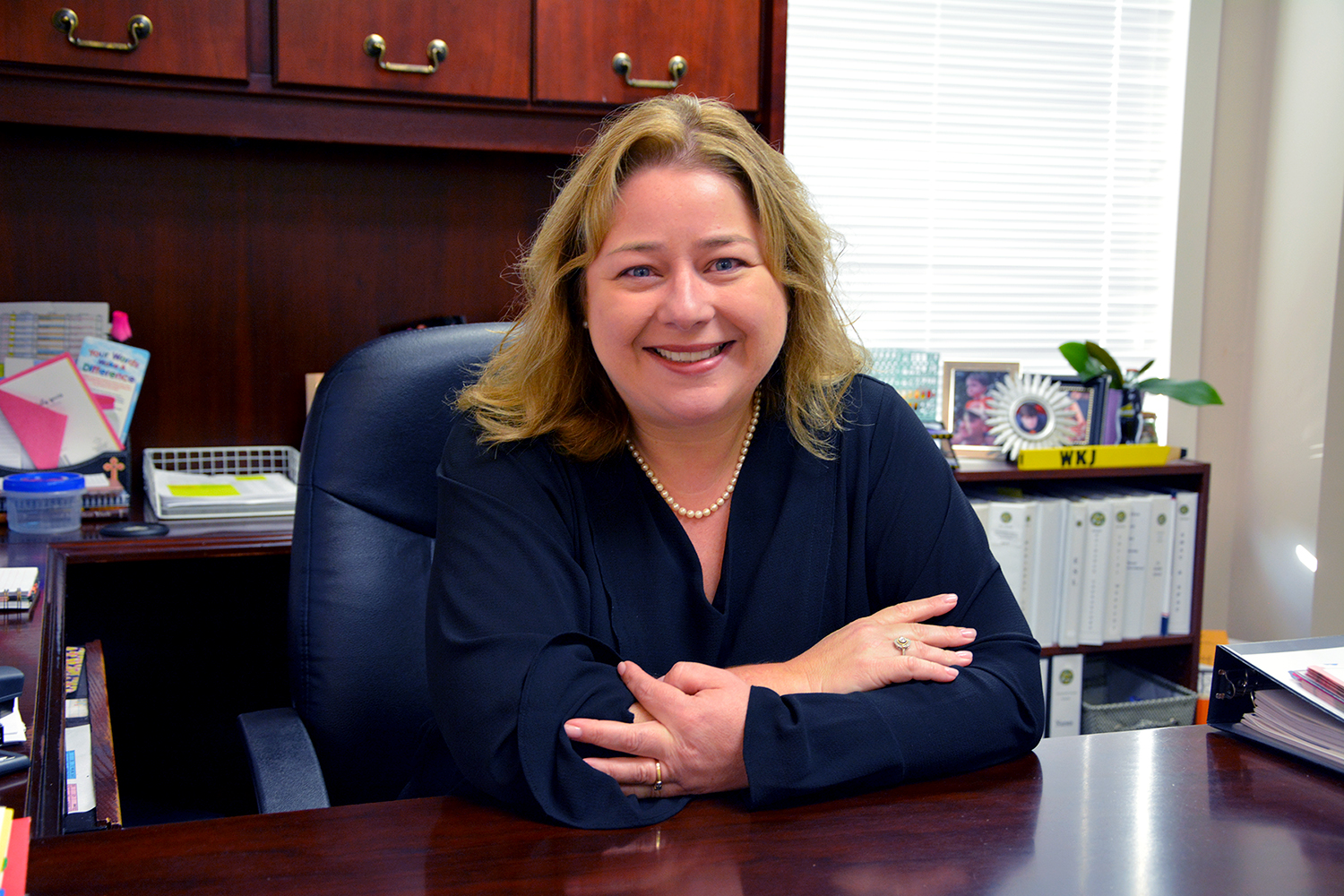 Oct. 25, 2018 – Director of Student Services for Richmond County Schools Wendy Kelly Jordan has been named Richmond Community College's Outstanding Alumni Award winner for 2018. The 1990 graduate of RichmondCC has been a teacher and principal in Richmond County for most of her career and has earned many awards and honors for her leadership in education.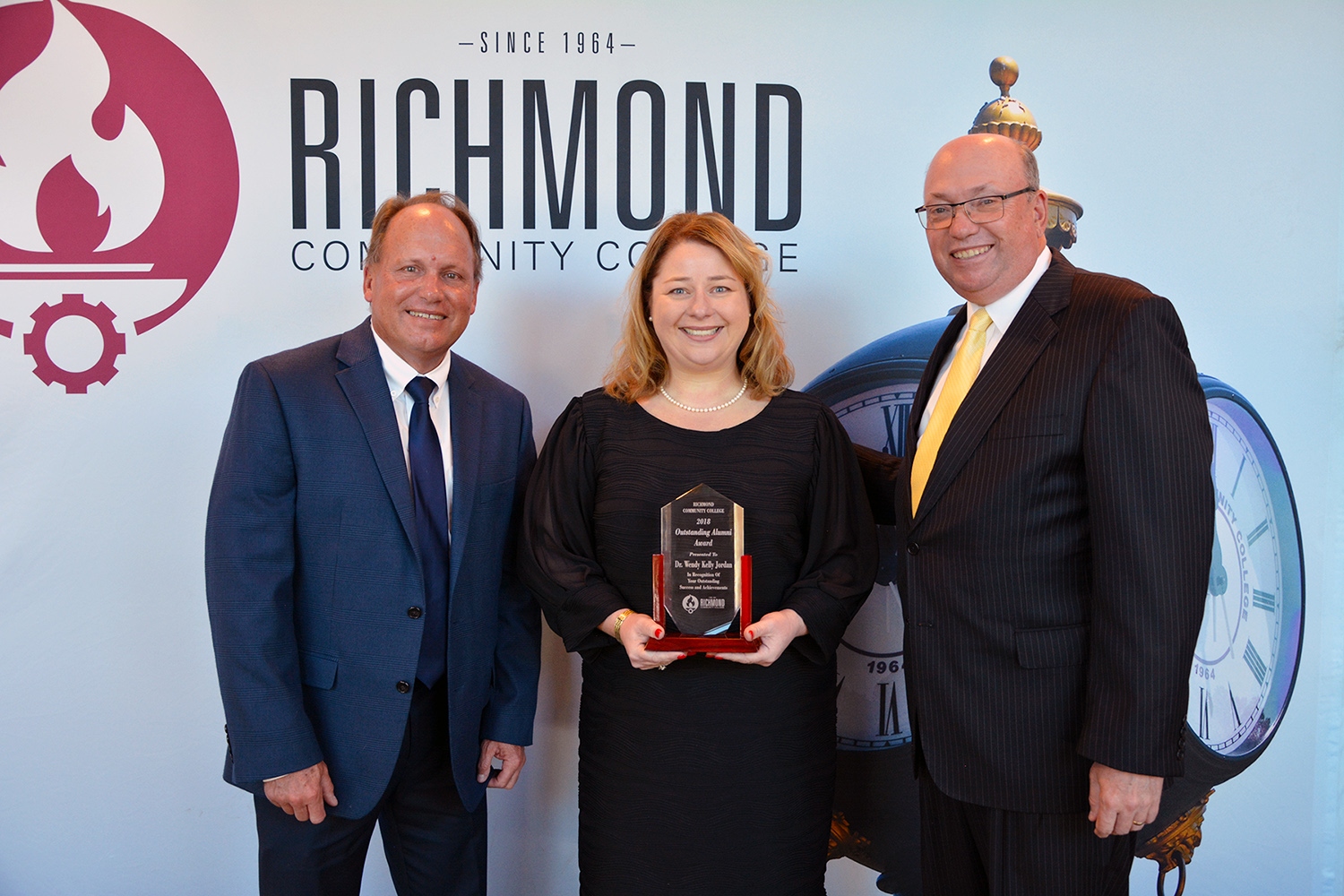 Jordan, of Rockingham, earned an Associate in Arts from RichmondCC and transferred to Appalachian State University to earn a bachelor's degree in Elementary Education. She went on to receive a master's degree in School Administration and a doctorate in Educational Leadership from East Carolina University.
Jordan started her career in education as a fifth-grade teacher. She also taught pre-K and kindergarten before moving into an administrative role as an assistant principal at Monroe Avenue School for five years. From there, she became principal of Rohanen Primary School for five years, principal of Mineral Springs School for four and a half years and principal of Rockingham Middle School for two and a half years. In 2017, she began working in the administrative office for the school district.
She was named Assistant Principal of the Year in 2004, Richmond County Schools Principal of the Year in 2009 and 2013, and Wells Fargo Regional Principal of the Year for the Sandhills/South Central Region in 2013. She was also named North Carolina's 2013 National Distinguished Principal. Also in 2013, Jordan was appointed to serve on the Governor's Task Force for Safer Schools. She still serves on that task force today.
She is a member of Freedom Baptist Church, where she teaches Sunday school, serves on many committees and is Vacation Bible School co-director. She has also supported the local Humane Society and other local animal rescue groups for many years.
She and her husband, Franklin "Butch" Jordan Jr., have one son, Noah, who is a junior at Richmond Senior High School.
Setting the Stage for Success
Jordan said receiving the Outstanding Alumni Award from RichmondCC holds special meaning for her.
"I have always treasured my RCC experience, and I used my position as a principal many times to share with students and parents how RCC truly set the stage for any success I had in my career. To be honored by the institution that started my academic journey so many years ago is special beyond words," Jordan said. "Moreover, all modern-day statistics and research show that I was not supposed to accomplish much based on my zip code, family structure and demographics. Thanks to my RCC experience, I did."
While college was always a conversation in her home growing up, Jordan's grandparents, who were extremely influential on her life, were not financially equipped to send her to a four-year college or university. Jordan also admits that she was not the best student academically in high school.
"RCC gave me a level of success that I had not experienced in high school. Some of that was my own fault because my light didn't really turn on until I started classes at RCC," Jordan said. "Once I began to grow academically and was noticed by the staff for my accomplishments, I just kept trying harder and achieving more. That level of responsibility and ownership I accepted for my own learning solidly prepared me for all future academic endeavors!"
A Love for Learning
Jordan's love for learning was sparked in her very first class at RichmondCC. The instructors were supportive and encouraging and helped her develop good study and research skills and collaborative work habits.
"RCC is the perfect place to learn how to study, how to attend classes on time and regularly and how to write absent of slang or colloquialisms. It's the place to develop your academic self, experience success and prepare for the next chapter," Jordan said.
Lasting Relationships
For Jordan, it was the people she encountered at RichmondCC that made her experience so great, from Beth Gibson who helped her through the financial aid process to her English instructor, June Lucas, whom she describes as "the most poised and articulate lady I've ever met."
"I loved learning how to write with her, and she made me a better writer," Jordan said. "The more descriptive feedback she would provide, the better my writing would get — and the better I wanted it to get. I couldn't wait to have my papers returned so I could read what she liked or how my writing could have been better. I wanted to please her more than anything. She was a powerful influence on me, and I owe much of my writing ability to her."
Jordan fondly remembers her history instructor, Dr. Raymond "Gene" Burrell, who became a dear friend of hers.
"Dr. Burrell taught all of the history courses at RCC when I was there. It's no secret to him or anyone else who knows me that history is not an interest for me. I found it hard to learn, and the timelines were difficult to follow," Jordan said. "However, Dr. Burrell could weave a history lesson together and tell a story like no other. I would 'drink his Kool-Aid' everyday!"
While she enjoyed Burrell's lessons and she had a strong desire to perform well in his class, this did not always translate into good grades for her.
"Despite all of that, Dr. Burrell always encouraged me, and he did the one thing that all great educators should do. He took an interest in me and he worked to establish and cultivate a relationship with me, a relationship that has spanned 30 years now. He has celebrated many milestones with me, including graduation from ASU, marriage to my high school sweetheart and fellow RCC student, graduation from ECU with a master's degree, the birth of my son, graduation from ECU with a doctorate and every employment advancement along the way," Jordan said. "I have more respect, love and admiration for Dr. Burrell than he will ever know. He made a profound difference in my life like no other."
Jordan was presented the Outstanding Alumni Award at the College's Convocation ceremony held Wednesday at the Cole Auditorium.
"It is our honor to present such a deserving graduate of Richmond Community College with this award," said Dr. Hal Shuler, Associate Vice President of Development for RichmondCC. "She has received many awards over the years for her success as a principal, so it is appropriate that she be honored by the place where her love for learning started. She is truly an outstanding example of what can be accomplished when you are given a great foundation in education."