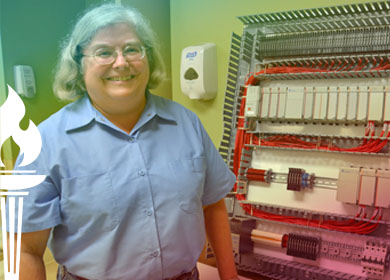 Sixty-year-old Shirley Koch of Laurinburg is working on her retirement plan, which includes learning to wire a house.
Koch is one of 22 students enrolled in the NCCER Electrical Apprenticeship program being offered through Richmond Community College's Workforce and Economic Development division. The only woman in the Level Two program at RichmondCC, Koch is not intimidated by what traditionally would be considered "man's work." She said the standardized training she's receiving through the NCCER (National Center for Construction Education and Research) will ensure she can continue to find work well into her retirement years.
Koch also knows that trade jobs pay very well because her husband is a highly skilled technician for Carrier, a leading company in installing and maintenance of heating, air-conditioning and refrigeration units. He has never had trouble finding work and is the reason they were able to move with ease from their former residence in Pennsylvania to the milder climate of North Carolina.
"He told the company that he wanted to relocate to the Carolinas, and they put him in a job down here very quickly," she said.
Koch is halfway through the four-year electrical apprenticeship program that will provide her with portable credentials that are recognized and highly valued by industries throughout the country. NCCER credentials are tracked through NCCER's National Registry, allowing companies to verify training and qualifications.
Koch said the program is part of her retirement plan because it will allow her to travel around the country doing maintenance work on HVAC units together with her husband.
"The NCCER course is challenging, but not overwhelming," Koch said. "I find the material very interesting and was surprised by the high level of math skills required. While most of my classmates have more hands-on experience than I do, I have the 'book smarts' and have helped them with the math portions of the course."
Need for Trade Workers
Charlie Pittman, instructor for the NCCER electrical class and owner of Pittman Electric Inc., said there's a growing concern for the shortage of skilled tradesmen as many public schools have moved away from teaching vocational classes and are putting more emphasis on college preparation.
"The average age of electrical contractor in North Carolina is almost 55 years old. When this generation of electrician retires, there is going to be a big void that we need to address now and draw younger people into the trades," said Pittman, who is president of the N.C. Association of Electrical Contractors.
The term tradesmen, which includes electricians, mechanics, carpenters, brick and stone masons, plumbers and welders, however, is misleading. Man or woman can become skilled in any type of trade, and Pittman encourages young women to enter the trades and become professionals of their craft.
RichmondCC offers NCCER courses in electrical, plumbing and HVAC.
High Paying Jobs
"Electrician is a broad term," Pittman said. "There are 18 to 20 career pathways that someone with electrical training can go into."
Pittman emphasized the earning potential and mobility of someone in the electrical trade.
"A young person who goes right into a four-year apprenticeship program after high school can be making anywhere from $30 to $45,000 a year by the time they're 22," said Pittman, adding that a young person starting a career in the trades will not be carrying college debt.
Pittman said another advantage of the NCCER program is the flexibility and transferability of the credentials earned.
"You are earning national credentials that go with you anywhere," Pittman said. "If you complete a level two course here and decide to move to Texas, you can find and enroll in an NCCER program out there and pick up where you left off because everything is tracked in a national registry. You don't have to start all over."
Universal Skills
Koch wanted to learn a mobile skill so that she and her husband could travel and continue to work in their "golden years." Because electrical skills training is universal, they can find contracting jobs overseas, which Koch said they would ultimately like to do.
"There are many jobs out there begging for skilled people to fill them, so I don't think we'll have trouble finding work," Koch said.
For More Information
To learn more about the NCCER programs offered at RichmondCC, call (910) 410-1831.