Single Mom Finishing for Herself at RichmondCC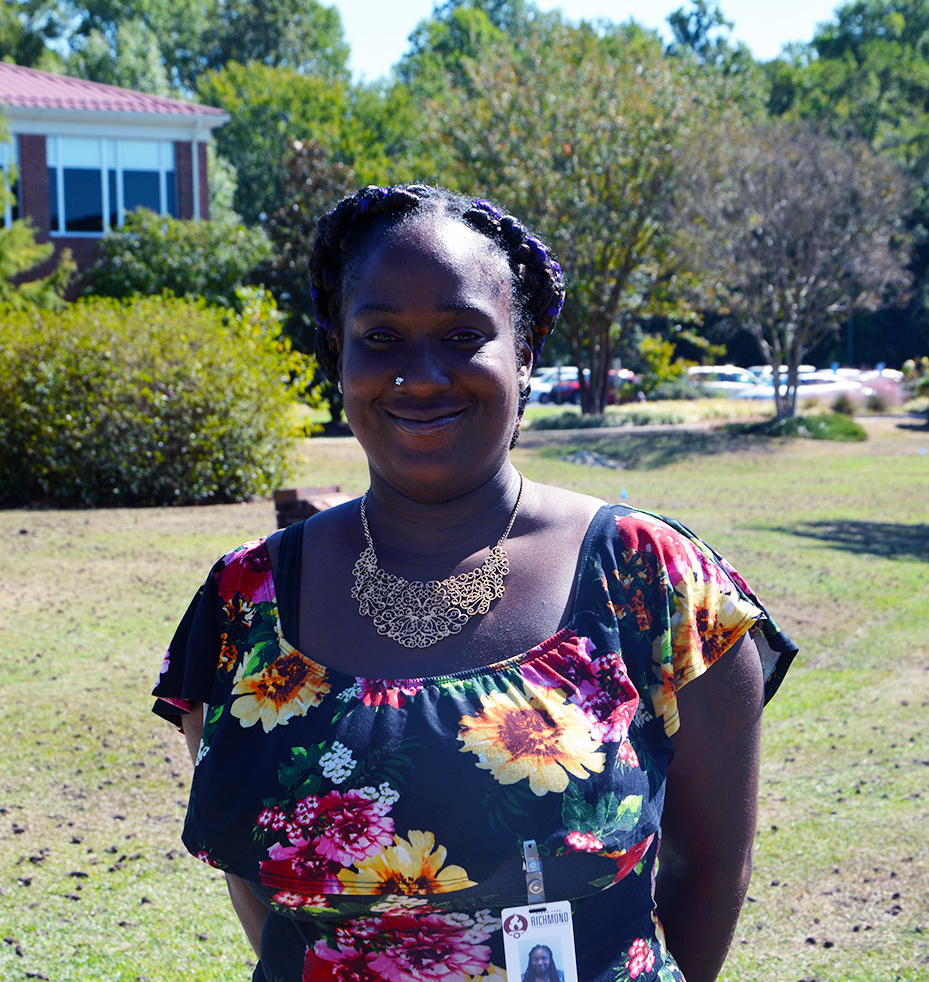 Nov. 7, 2019 – Alisa Cherry of Rockingham is finishing for her future and currently enrolled at Richmond Community College, where she is working toward her degree in Information Technology. She started her journey at RichmondCC in 2013 by taking classes in the Adult Education program where she earned her high school diploma.
Alisa wanted to earn her high school diploma for herself.
"I wanted to feel a sense of completion," she said.
When she came to RichmondCC, she was a struggling single mom with two teenagers and a car that was barely working. Learning to balance school and many doctors' appointments was a challenge for Alisa because she is hearing impaired. Trying to find the solutions for each situation was a bit overwhelming at times.

"Through all the long drives, obstacles and tears and the worrying if my car would make it to and from school, I pushed myself forward and earned my high school diploma," she said.
Now she is in her first year of college at RichmondCC. She has stressed that perseverance is a must and nothing should stop anyone from being successful for yourself and your family.
"The education I am receiving at RichmondCC has helped drastically change my life and my family's life. For once I know I am on the right track to becoming successful because the College helped put me on that path."
Cherry knew right away that RichmondCC was the school for her because of the positive things she would hear when she asked about going to college.
"The people who attended RichmondCC never had one bad word to say about the college, staff or the instructors. Always good remarks and comments were made," she said. "I'm glad I did my research and chose this wonderful school."
Alisa's journey and experience at RichmondCC has been nothing short of rewarding.
"It has been a wonderful educational journey of dedication, progress and success and with much more travel to go," she said.
She will graduate with her associate degree in Information Technology in 2021 and plans on pursuing a career in cyber security.
"RichmondCC is great place. There are colleges out there that just don't fit your needs, but this school goes the extra step and will find what meets your needs as a student and build classes around what is best for you," she said. "Richmond Community College is so different and the best for any student no matter the circumstances and takes care of you so you can focus on learning and build a brighter future."
For more information about Adult High School Education programs available at RichmondCC or the Finish for Your Future campaign, call John Kester, Dean of Adult Education and Immured Programs, at (910) 410-1771 or email jikester@richmondcc.edu.