New Partnership with FTCC Opens More Pathways to High-Demand Careers
March 16, 2023 - Richmond Community College announced a new collaboration with Fayetteville Technical Community College that will open new pathways for students at both colleges to pursue training in high-demand, high-wage occupations.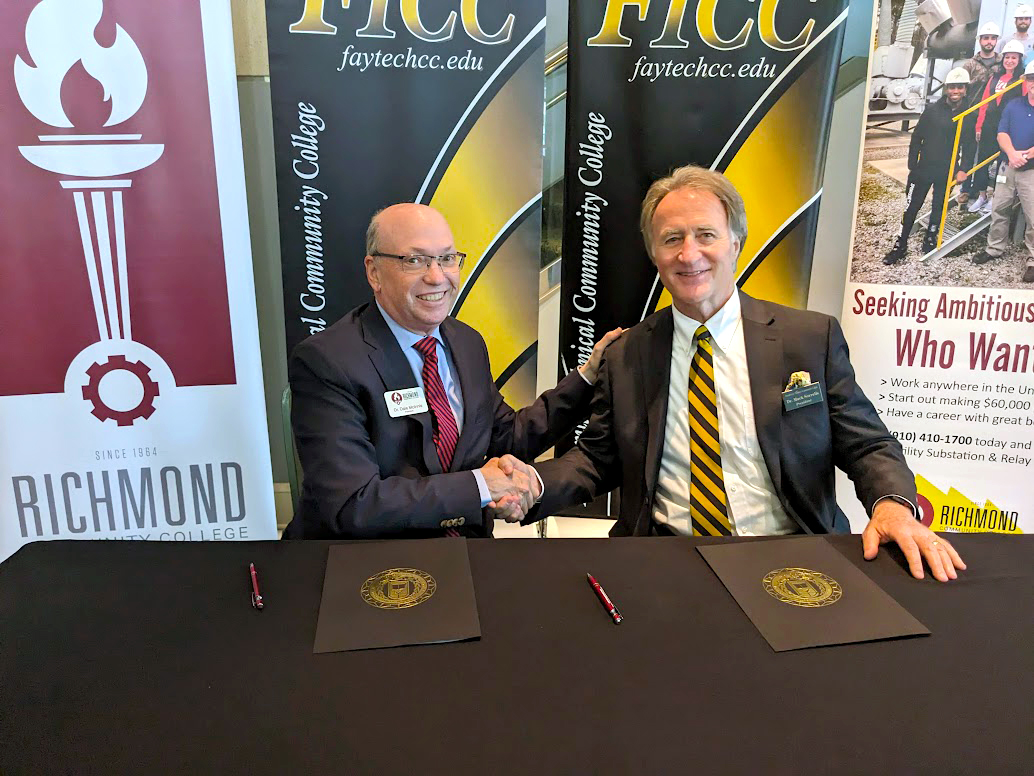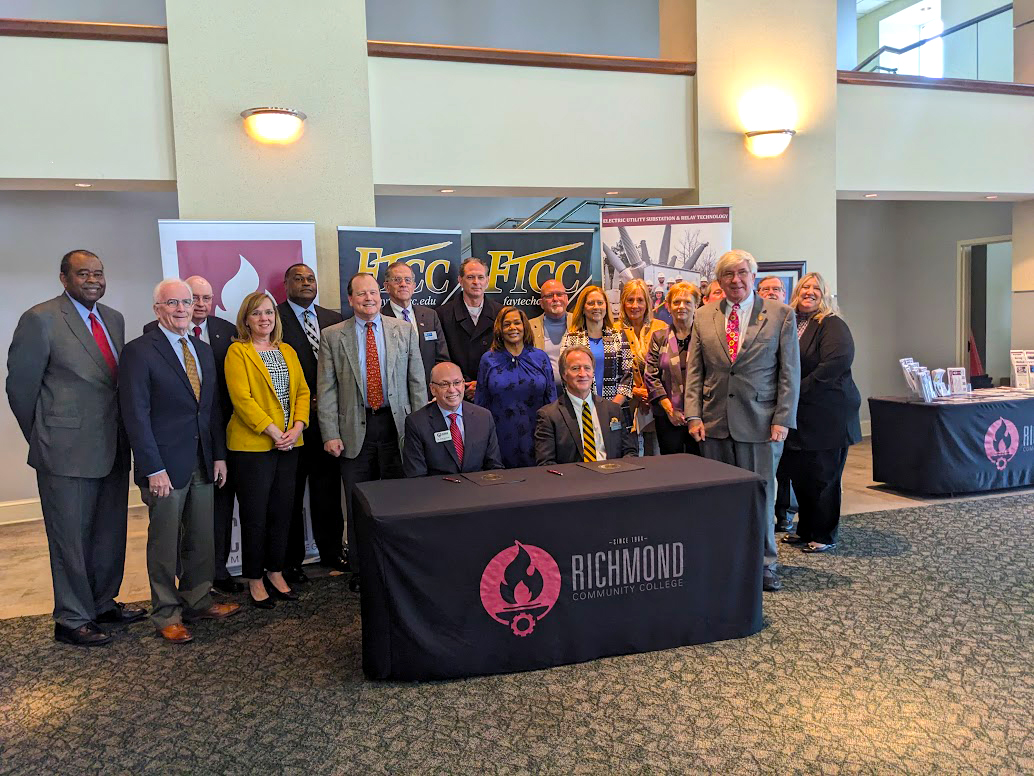 A special ceremony was held on Monday, March 13, where Dr. Dale McInnis, president of RichmondCC, and Dr. Mark Sorrells, president of FTCC, officially signed the transfer agreement. RichmondCC students will have opportunities to transfer seamlessly into the following FTCC programs once their first year of study is complete: Funeral Service Education, Paralegal Technology, Speech Language Pathology Assistant, and Respiratory Therapist. Similarly, FTCC students will have the option to transfer to RichmondCC to complete the Electric Utility Substation and Relay Technology program after their first year.
McInnis described this special agreement between the two community colleges as "collaboration replacing competition."
"The common focus of this partnership has been on the students and employers and meeting their needs," McInnis said.
McInnis applauded Sorrells and his team at FTCC for the modifications they made to their programs in a short period of time in order to make these transfer pathways available to students this coming fall semester.
"There was a lot of work that went into making this a seamless experience for the students," McInnis said. "We wanted to open doors for students without having to replicate these great programs that already exist right up the road."
Sorrells said the partnership will help both colleges meet the evolving needs of the economy.
"The economy is changing rapidly. We need to be more responsive to that, and we can do that together," Sorrells said. "We're very excited about the partnership. We look forward to growing this opportunity with Richmond Community College in other program areas where it makes sense. And I can assure you from Fayetteville Tech's standpoint, that this will be a win-win for both colleges."
Both institutions are committed to working with students to cluster on-campus classes to minimize the number of times per week students will need to travel to either campus. The colleges will offer online and hybrid classes when appropriate and develop clinical rotations and work-based learning opportunities closer to home.
N.C. Community College System Interim President Dr. Bill Carver attended the announcement at RichmondCC.
"Collaborations between colleges work. We're going to make a better North Carolina, a better workforce, through collaborations just like this one," Carver said. "What we can agree on across the aisle is a workforce second to none in North Carolina. Where does that happen? It happens at our community colleges. It happens here with this model that is being introduced through collaboration and partnerships."
RichmondCC is currently registering students for the summer semester, which begins May 30. Applications are free and can be completed online. To learn more about transfer opportunities to FTCC programs, call (910) 410-1700 or visit the Career & Transfer Advising Center at both the Hamlet and Scotland County Campus.