HVAC Technician: Learning a Trade Key to Good Career, Good Pay
March 20, 2018 - Former Scotland High School football player Dre Rivers knew being an athlete would only take him so far in life. Learning a trade, on the other hand, was his ticket to a good career and a good life.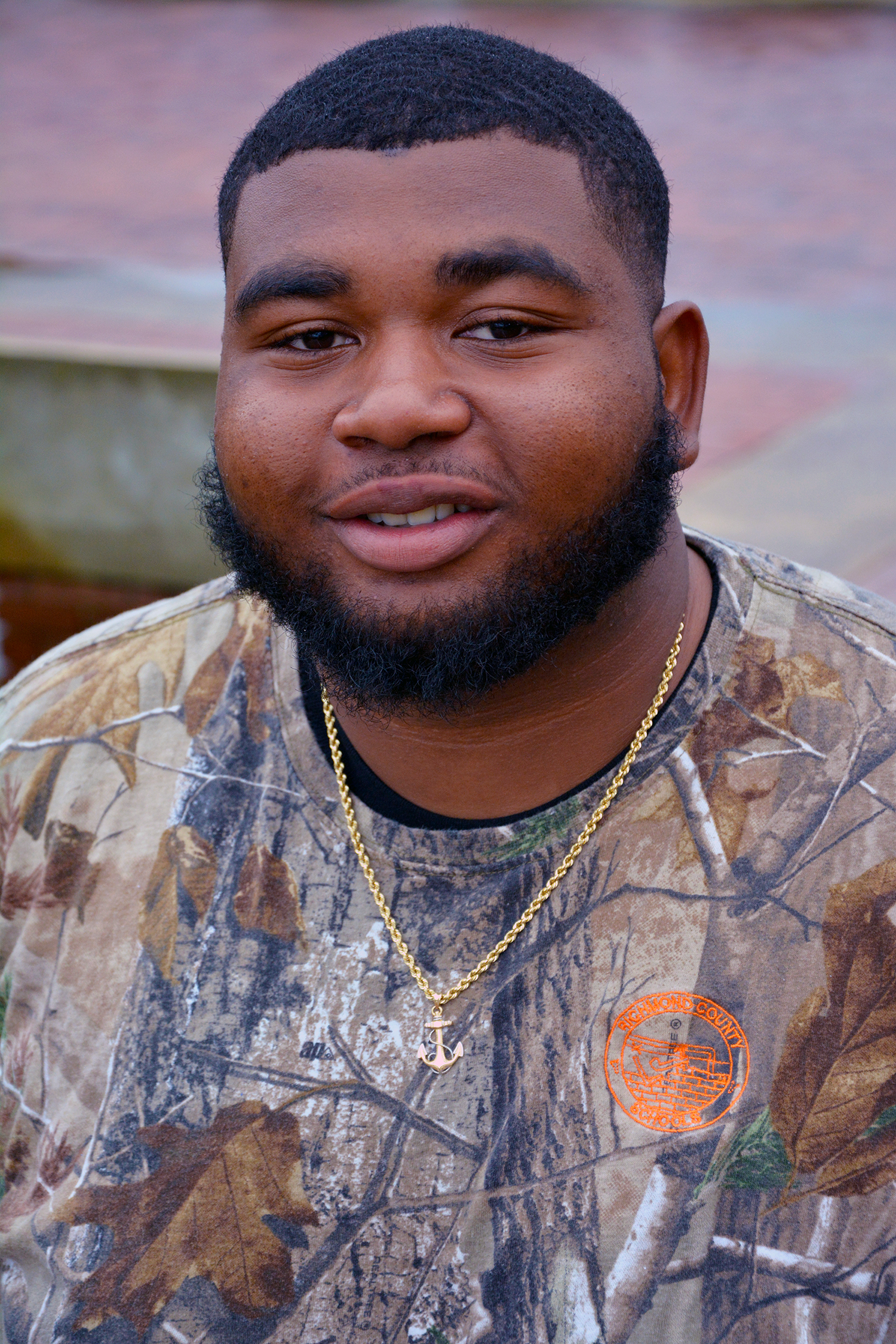 It is for this reason that Rivers of Hamlet never fully considered a football scholarship to a four-year college or university — long before he tore his ACL in a game.
"There aren't many universities that have trade programs, and I didn't want to go somewhere and earn a degree that would end up being like a mortgage payment to pay for and still not be able to find a job," Rivers said. "I chose to come to Richmond Community College because it gave me the ability to learn a trade that would benefit me in life."
Learning a Trade
At age 22, Rivers has earned multiple credentials from RichmondCC on his career path to becoming an HVACR technician. He earned two certificates in heating and air conditioning in 2016, and then he graduated in 2017 with his Associate in Applied Science in Air Conditioning, Heating and Refrigeration Technology. He also completed two levels of the NCCER Electrical program, earning nationally recognized credentials from the National Center for Construction and Education Research (NCCER). He also completed an NCCER OSHA safety class and earned his EPA-608 Certification for handling refrigerants.
"The skills I learned help me be ready for a job and to be able to perform at a high level," said Rivers, who now works for Richmond County Schools.
In fact, Rivers was hired for the HVACR technician position with the school system a month before he graduated with his associate degree. They held the position for him, and he graduated on a Saturday and started that following Monday.
Rivers also gained experience working in the field while he was in college.
"I started working for Witherspoon Heating and Cooling after my first semester, and they taught me a lot," Rivers said. "There's a big difference between what you do in the field and what you learn in the classroom, but school gave me a head start in learning the trade. It's good to have that schooling, because you'll understand everything so much better than going out there blind with no education in it."
Rivers said it was hard at times to focus on his college studies and work at the same time, but he is thankful that the Witherspoon company was willing to work around his class schedule.
"I would also like to thank my RCC instructors, Marcus X, Bill Frye and Reese Bostic. They made learning something I didn't know easy," Rivers said. "And they were there when I needed personal advice, which they didn't have to do."
HVACR instructor Bill Frye said Rivers' dedication to honing his skills after school and during summer breaks gave him valuable experience. It also has allowed him to start accumulating the required hours working under the tutelage of a licensed contractor he will need to take a state exam for licensure.
"When Dre has a plan, he sticks to it. In class, he would talk about becoming the manufacturer of the 'best unit ever known to man … 'The DreMan,'" Frye said. "Don't be surprised someday to look out your window and see a brand new DreMan Unit heating and cooling your home."
Frye said Rivers is the type of student who makes teaching a pleasure and he is proud of all that he accomplished.
Rivers is a product of both local public school systems, having attended Richmond Senior High up until 11th grade and then finishing out his final year at Scotland High School.
After high school, he started working 12-hour shifts in a plant doing general labor tasks. For Rivers, this was not enough. He wanted a career. He knew he was good with his hands, fixing things and tinkering with motors, so he decided to see what programs RichmondCC had to offer. That's how he landed in the Air Conditioning, Heating and Refrigeration program.
"RCC was close to home, convenient and affordable," said Rivers, who also qualified for financial aid. "RCC prepared me for my career. I am able to live a good life and make decent money. The best choice I made was to come to RCC and learn a trade."
Not Done Yet
Because coming to RichmondCC was such a good decision the first time, Rivers has decided to return. He is now enrolled in the Business Administration program and working on a second associate degree.
"I want to learn business in hopes that I can one day open my own business," Rivers said.
He is taking four classes this semester, three of which are online.
"Taking online classes is convenient because you can do it on your own time, but you can't procrastinate and you have to stay focused, otherwise you'll fall behind," Rivers said.
This is sound advice coming from someone who has learned that educating yourself is the difference between getting ahead in life or falling behind.
Begin Your Education This Summer
Now is the time to begin applying for summer semester and applying for financial aid, which will be available for the first time this summer. Students who were enrolled full-time, both fall and spring semesters, may be eligible for additional funds during the summer. Year-round Pell allows students to continue taking classes during summer semester and will put them on track to completing their degree faster.
If you are not currently a student, you can still enroll this summer and begin taking classes toward a college certificate, diploma or degree in a variety of studies, including HVACR.
Apply now or call (910) 410-1700 for more information.