High School Senior Lands Duke Internship through RichmondCC Substation Program
May 14, 2021 - One week after his 18th birthday, Richmond Senior High School senior Thomas Barbee will begin his summer internship with Duke Energy in his pursuit to become a relay technician.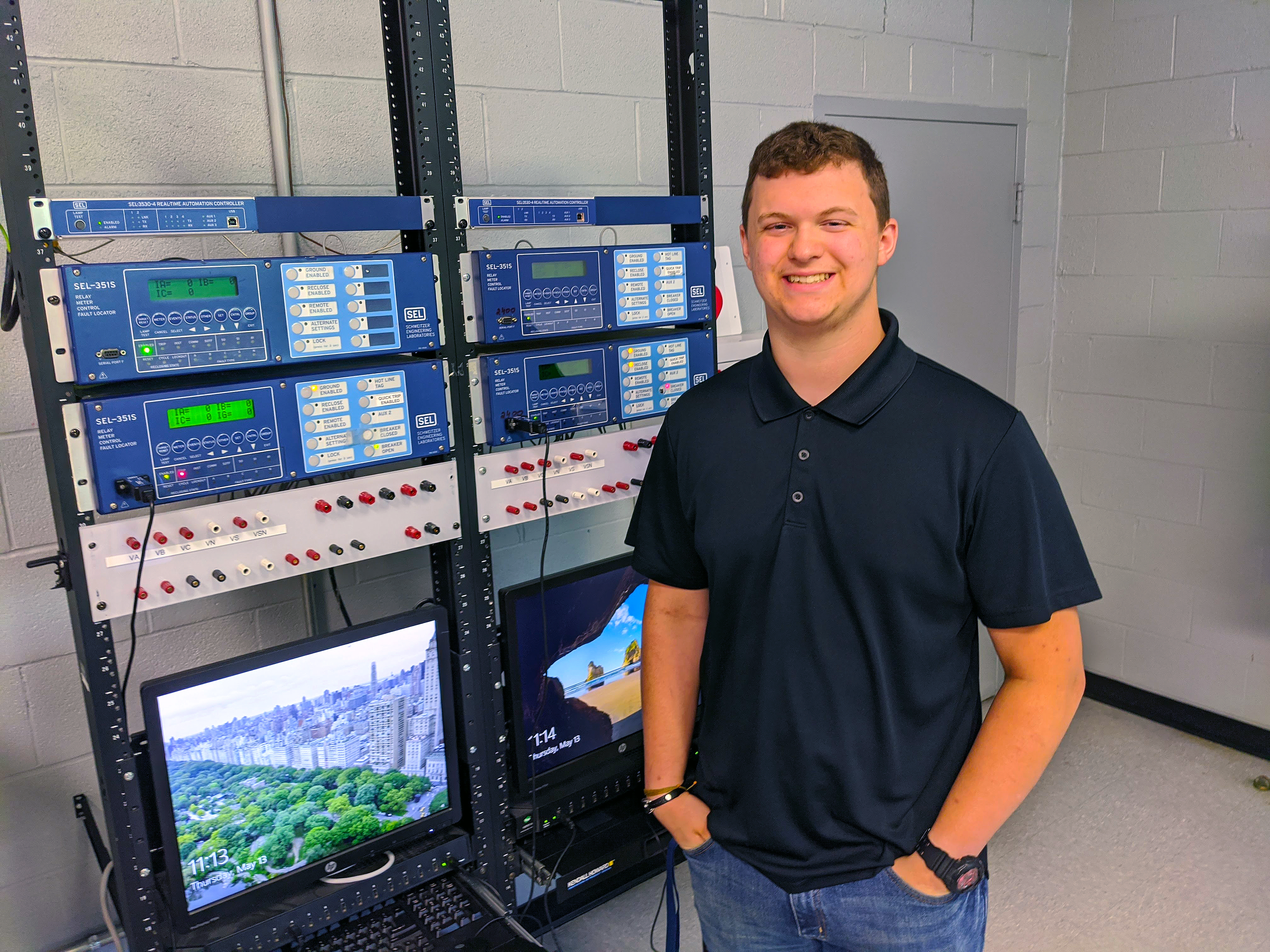 Thomas is dually enrolled in the Electric Utility Substation & Relay Technology (EUSRT) program at Richmond Community College. He is the first dual enrollment student to land the summer internship with Duke.
"I think Duke chose him because of his drive and willingness to learn," said EUSRT Program Coordinator Brian Terry. "Thomas has a determination and will to succeed. He studies hard and is always involved in the classroom. I feel he has found a career path that he is interested in, and he should go a long way in the electrical substation industry."
Thomas, however, will be the first to admit that he had no interest in the substation program when he first learned about it. As a son of RichmondCC Executive Vice President/CFO Brent Barbee, Thomas has known about the flagship EUSRT program at RichmondCC since its inception in 2011.
"I'd heard about the substation program since it was founded -- mostly because of my father being so heavily involved in it. The funny part is, I wanted nothing to do with it because of that very same reason!" Thomas said. "But one day I met with Brian Terry, and he walked me around the substation yard and into the Forte Annex Building. I was just blown away by how cool everything was, from the giant circuit breakers all the way down to the relays."
The EUSRT program prepares students for careers in the electric utility industry and other industries that rely on complex control systems. Despite his earlier reservations, Thomas' energy and excitement for the program is palpable.
"This tiny little itty-bitty blue box, about the length of your forearm, operates this thing that is the size of a building," Thomas explained when describing how the relay detects a fault in the circuit. "I'm also really enjoying the challenge of learning how to read electrical blue prints and schematics. It's really interesting to see how everything is connected in a broad point of view and then follow each connection down to a very fine point."
Thomas has been learning about electricity since he was 10 years old, thanks to the summer STEM camps at RichmondCC.
"The Electricity Camp that I took back in 2014 always stuck with me because it made science fun," Thomas said. "We got to play with electricity and solar energy, which was really cool to do at such a young age."
The summer camps helped Thomas develop his problem-solving skills and immersed him in new ways of looking at science and math.
"This constant flow of new information and challenges helped me learn how to adapt quickly and be more flexible with my thinking process," Thomas said.
At Richmond Senior High, Thomas is the captain of the swim team and has been swimming competitively for the Raiders for the past three years. With the start of his junior year, he began taking dual enrollment classes at RichmondCC. He even took college classes over the summer. He will have taken a total of 20 classes at RichmondCC for free while in high school. However, it was the one class that he didn't really want to take that solidified his career path.
"After I finally gave into my dad about taking one of the substation classes just to try it out, I've been hooked on it ever since," Thomas said.
Thomas is already one year into the two-year EUSRT program. He will graduate next summer and be ready to start his career as a relay technician. For a 17-year-old, Thomas has very mature thoughts on what a career should mean to someone.
"A lot of people do this program because they hear how much money you can make. You're really not going to do that great as a person or as a student in a field that you're just in to make some money. You're going to grow up in something that you're not interested in and you're just going to be miserable for the rest of your life, whether you make big bucks or not," he said. "People should think less about the money and more about the concept as a whole."
For Thomas, that concept is providing a valuable service to others: keeping the power on.
To learn more about the EUSRT program or other electrical programs at RichmondCC, call (910) 410-1700 or visit the Hamlet Campus or Scotland County Campus. The College is currently registering students for summer and fall classes.