Deaf Student on Track to Complete Truck Driver Training with Help from Interpreter
Oct. 31, 2016 - Cameron Wright Jr. of Rockingham will be graduating from the nine-week truck driver training program at Richmond Community College on Nov. 22.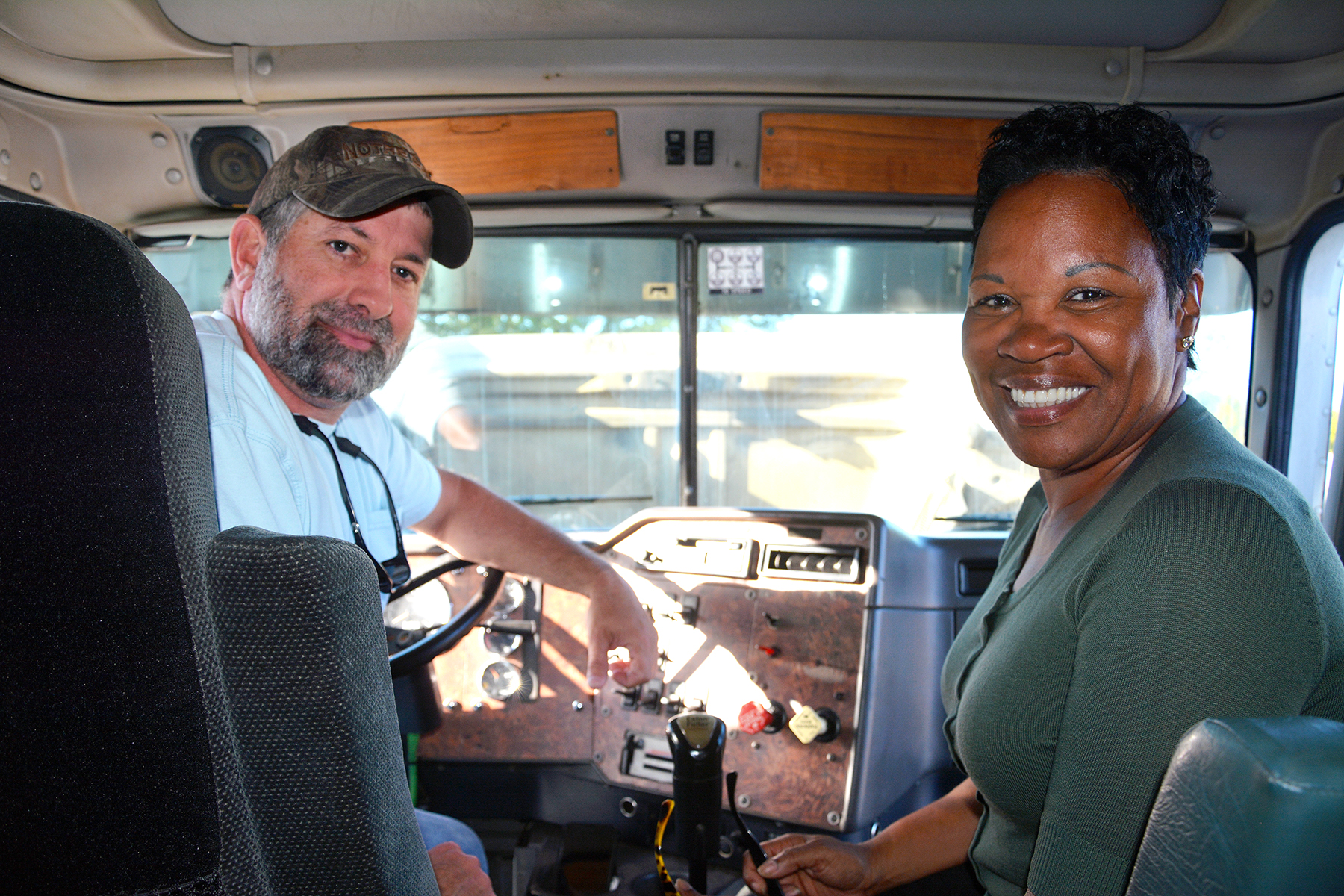 His fellow classmates joke and tell him he's going to be the valedictorian of the class because he knows so much.
But being knowledgeable about the trucking industry isn't the only thing that sets Wright apart. He also can't hear. He is completely deaf and has been since birth.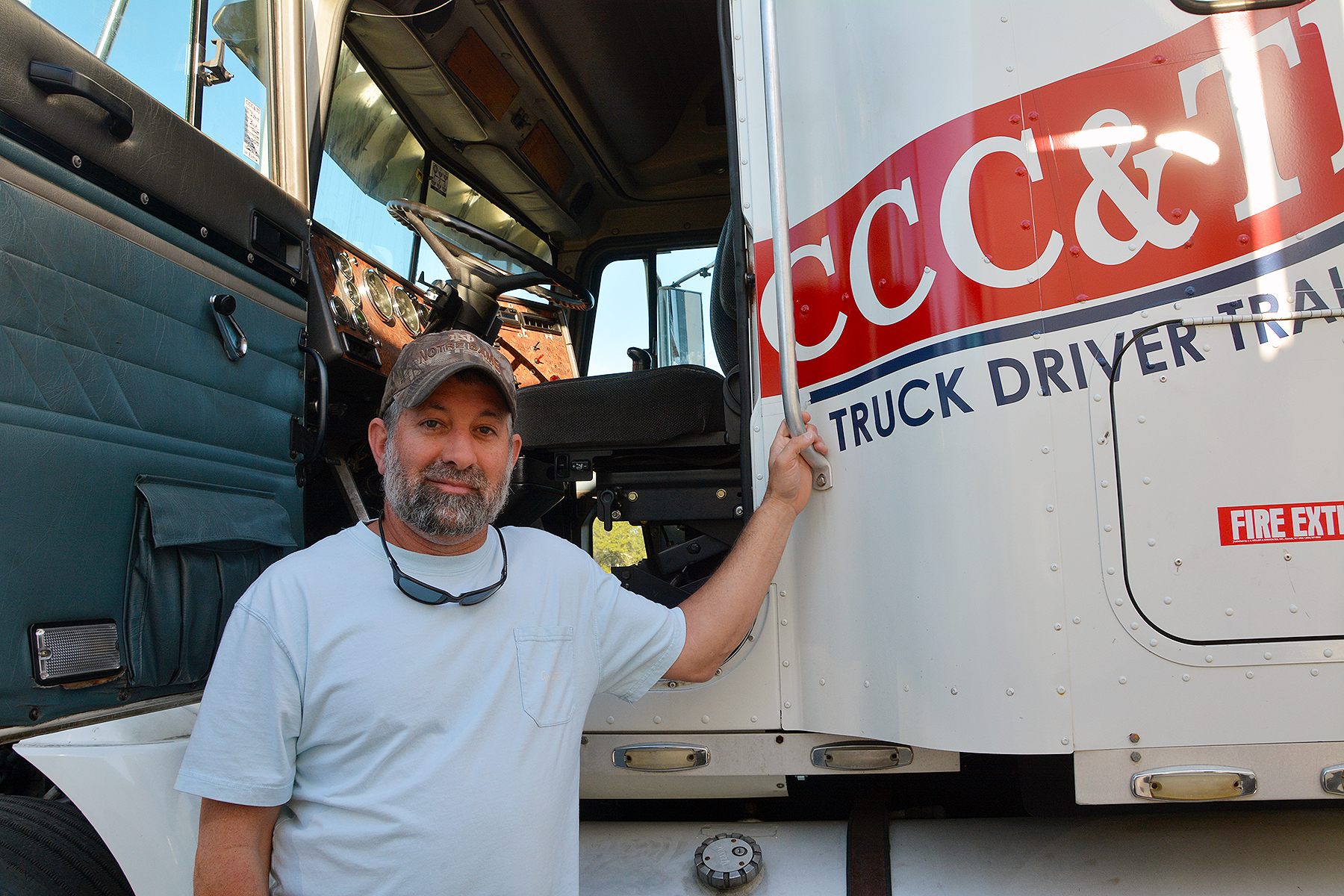 Wright is able to complete the program with the assistance of an interpreter, Carolyn Everette of Morganton, who attends the class every day with him. Caldwell Community College and Technical Institute, which partners with RichmondCC on the truck driving program, arranged for the interpreter to accompany him throughout the duration of the course.
"Basically the interpreter is your ears, so what the class is hearing I am also hearing, but through sign language," Wright said.
Two years ago, the Federal Motor Carrier Safety Administration (FMCSA) loosened longstanding English language requirements for truck drivers who are deaf as long as they could still understand traffic signs and signals. For decades, this disability has forced deaf men and women to choose other careers because of the FMCSA regulations.
In a few weeks when the class wraps up, Wright will be one of only two deaf individuals in North Carolina who has completed truck driver training.
The truck driver program consists of both classroom lecture and behind-the-wheel training sessions. Everette rides with Wright and an instructor during the driving portions of the program, and she is able sign to him anything the instructor says while he is behind the wheel.
"This has also been a learning experience for me," said Everette, who has been an interpreter since 1979. "This is the very first trucking class I've ever interpreted for. The experience has been wonderful. I've learned a lot. It's quite phenomenal."
The instructor, Jacob Rhodes, and Wright's classmates have picked up on some basic sign language or hand motions, which helps them also communicate with Wright. Rhodes has been impressed with how well Wright has performed in the class and has learned the material.
Wright comes into the program with quite a bit of experience, which is why he is often helping his classmates. Wright's father, for whom he's named, was a truck driver, and he often rode with his father when he was making his runs.
"My dad taught me how to handle a truck at a very young age," Wright said.
His family owns a trucking company, NBP Inc., so Wright has been around trucks his whole life and has driven the big rigs on the yard of the company.
"I depend on my vision a lot," he said. "It is the same as having a license for a car, only the truck is bigger. You just have to pay attention more and focus."
Wright said completing the course has been a smooth process with no real challenges because of the accommodations the College made for an interpreter. He doesn't believe his prior knowledge of the trucking industry has given him an advantage.
"I would like to encourage the deaf — male or female — who are interested in truck driving to do it if this is their desire. I am here to assist with my knowledge and to help them achieve their goals," Wright said.
Upon graduation from the program, Wright will continue to work for his family business, but he looks forward to being out on the road and traveling to other parts of the country and seeing places and things he's never seen before.
For more information, call Workforce and Economic Development Program Director Holly Russell at (910) 410-1704 or email hjrussell@richmondcc.edu.