COVID-19 Campus Store Support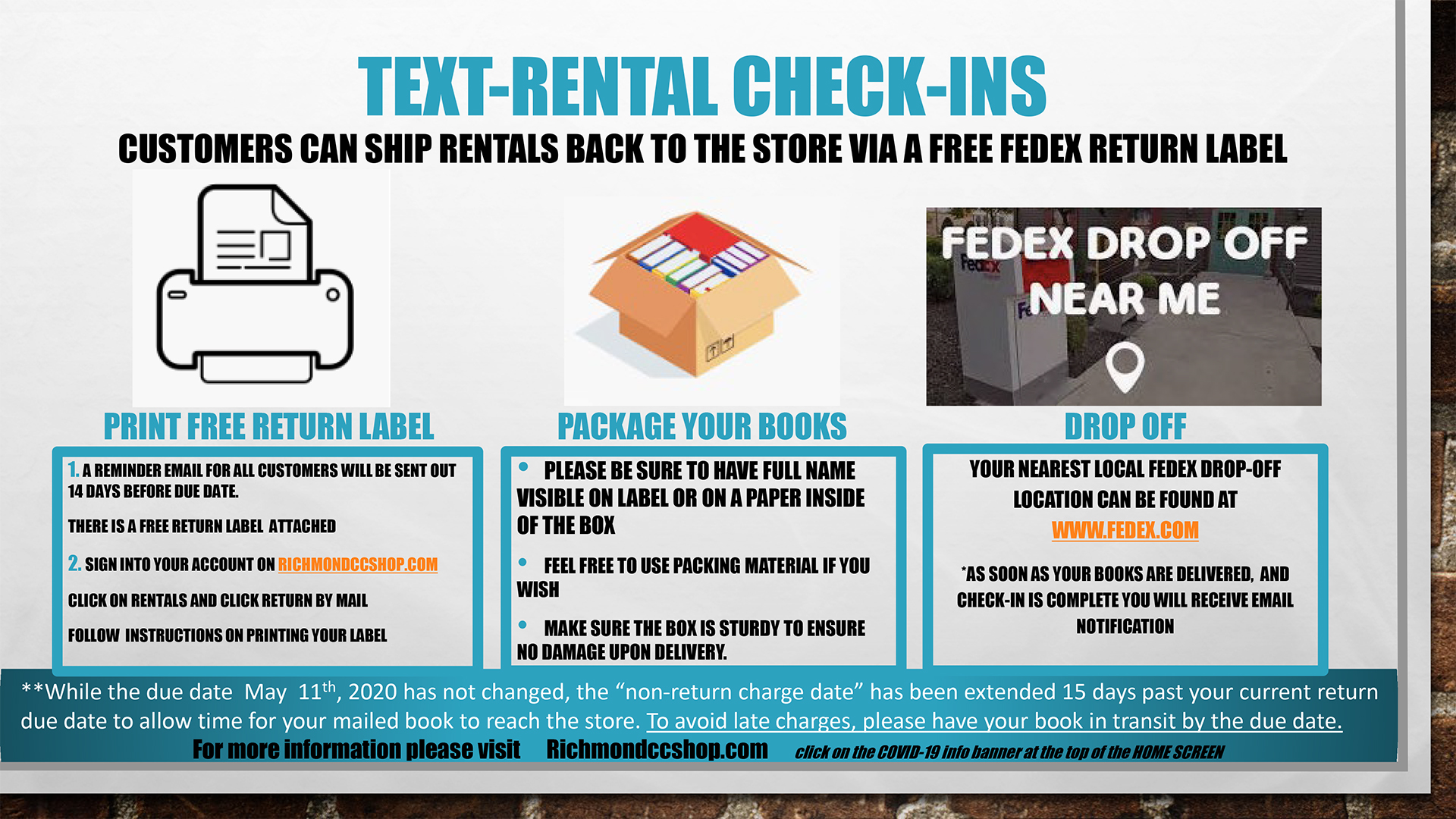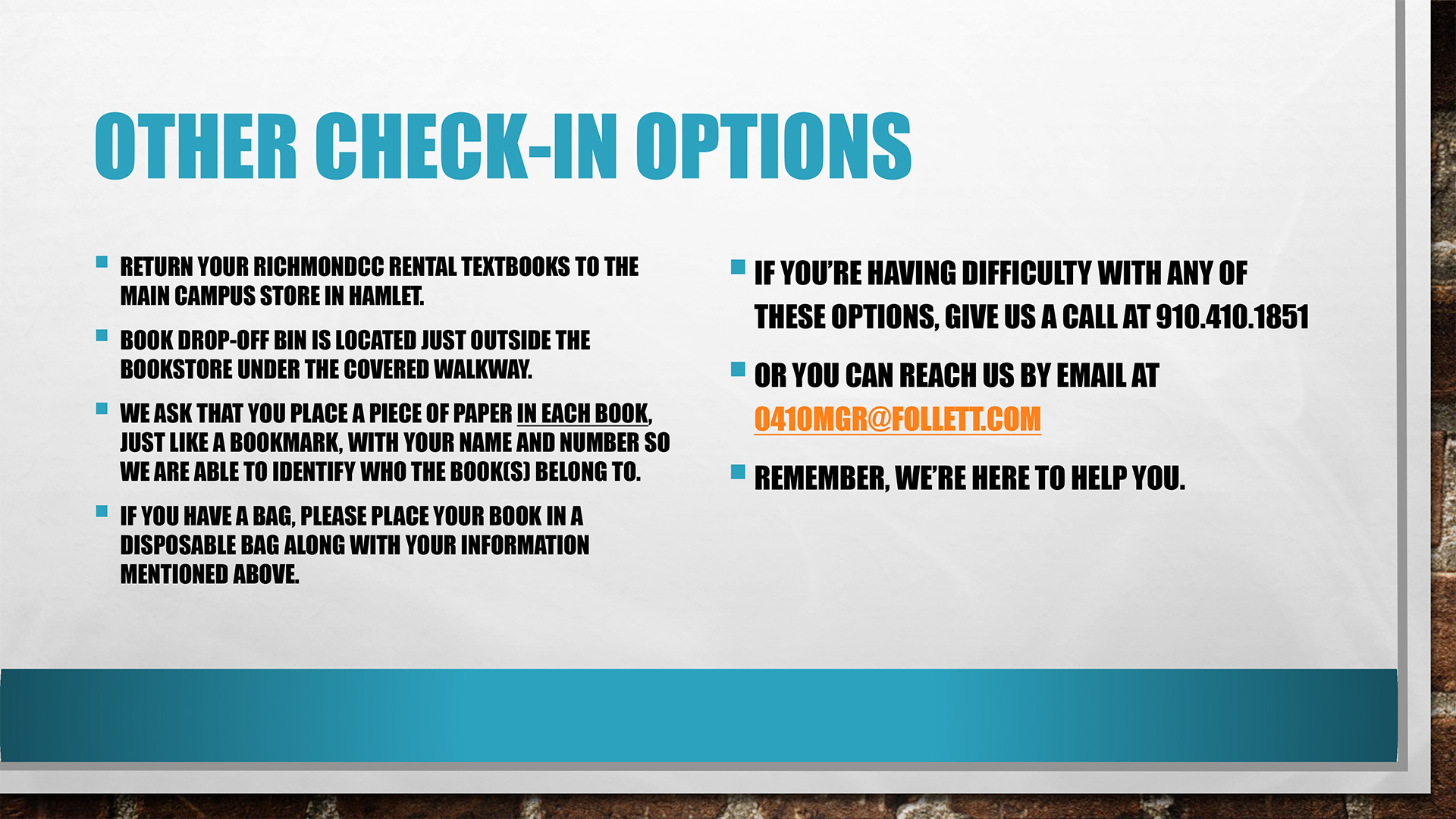 You can ship your RichmondCC rental books back to the College Bookstore via a free FedEx return label. Here's how:
Print Free Return Label
A reminder email for all customers will be sent out 14 days before due date. There is a free return label attached.
Sign into your account on www.richmondccshop.com. Click on Rentals and click Return by mail. Follow instructions on printing your label.
Package Your Books
Please be sure to have full name visible on label or on a paper inside of the box.
Feel free to use packing material if you wish.
Make sure the box is sturdy to ensure no damage upon delivery.
Drop Off Your nearest local FedEx drop-off location can be found at www.Fedex.com. As soon as your books are delivered, and check-in is complete, you will receive email notification.
Due Date While the due date May 11 has not changed, the "non-return charge date" has been extended 15 days past your current return due date to allow time for your mailed book to reach the Bookstore. To avoid late charges, please have your book in transit by the due date.
For more information please visit www.richmondccshop.com and click on the COVID-19 info banner at the top of the HOME SCREEN.
Other Check-In Options Return your RichmondCC rental textbooks to Bookstore on the main campus in Hamlet.
The book drop-off bin is located just outside the Bookstore under the covered walkway.
We ask that you place a piece of paper in each book, just like a bookmark, with your name and phone number so we are able to identify who the book(s) belong to.
If you have a bag, please place your book in a disposable bag along with your information mentioned above.
If you're having difficulty with any of these options, give us a call at the Bookstore at 910-410-1851 or email at 0410mgr@follett.com.
Remember, we're here to help you.
Richmond Community College
As the world continues to adapt to the challenges we are facing, Follett Higher Education Group is committed to supporting our campus partners, the eLearning process, students and faculty on all of our campuses. In order to facilitate the learning process and make your eLearning experience more dynamic, our campus store is offering three options to supplement and support your efforts.
1. FREE Online Shipping Offer: Visit the campus store website www.richmondccshop.com for Free Shipping on all items with no minimum purchase. This includes various formats of course materials, supplies, apparel, technology and more.
2. Access to eBooks AT NO ADDITIONAL CHARGE: Visit the campus store website www.richmondccshop.com to gain access to eBooks at no additional charge with your .edu email address. You can access up to 7 eBooks for the designated period free of charge.
3. FREE Access to Lumen Learning OER Courseware: Lumen Learning, our OER partner, is offering FREE access to courseware to help supplement content, and offer additional resources to faculty, click here for the Lumen offer.
4. Free Shipping on Rental Returns & Deadline Extensions: The campus store is offering free shipping return labels and is also extending the non-return period without penalty to assist with increased returns by mail. Click the COVID-19 message on the home page of the campus store website www.richmondccshop.com.
New & Used Textbooks & More at the College Bookstore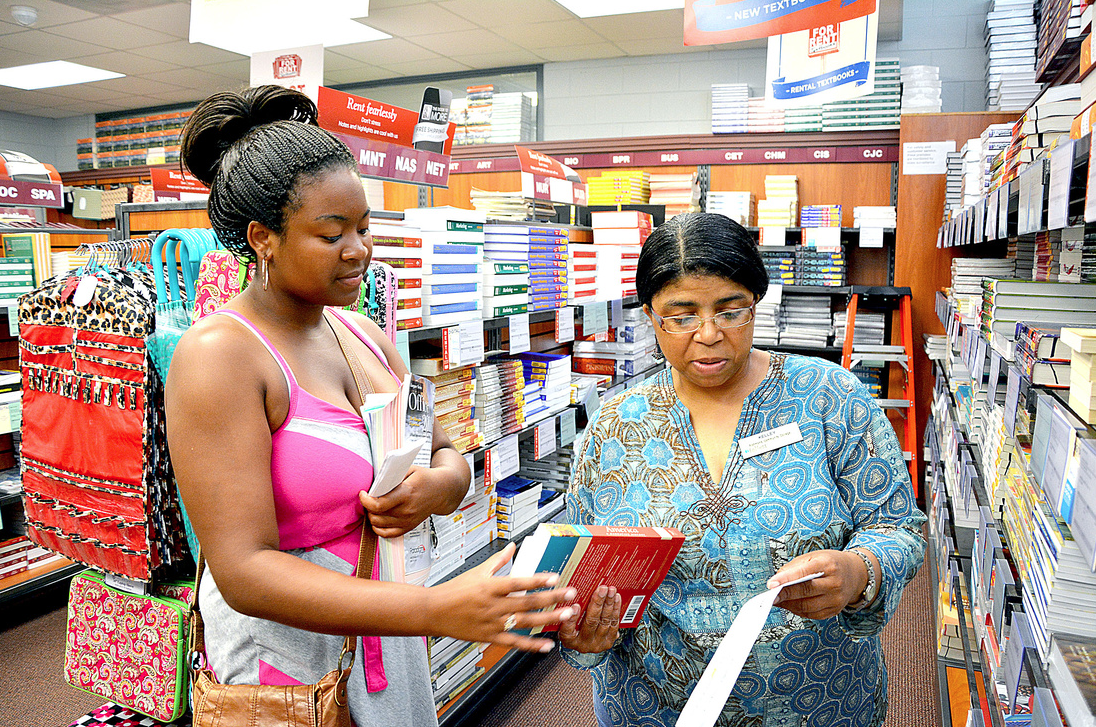 The RichmondCC Bookstore has everything you need from textbooks and technology to class supplies and snacks. Show your RichmondCC pride all year long with our authentic assortment of collegiate apparel- including t-shirts, sweatshirts, gifts, hats and more. With sizes available for men, women and kids, the whole family can wear RichmondCC gear in style!
Looking for more than clothing and gifts? Our selection of textbooks, general books, course materials and supplies will ensure every RichmondCC student is prepared for success. New and used books are available to purchase or rent, as well as codes, and digital e-book options to fit any budget. Students should check with the bookstore or the Financial Aid office regarding the dates that the charge process is available each semester.
Can't find what you're looking for? Call, email, or conveniently shop our website at www.richmondccshop.com
Hours of Operation
Monday through Thursday: 8 a.m. to 3 p.m.
Friday: 8 a.m. to 12:30 p.m.
Call Us!
(910) 410-1851
Shop Online!