RichmondCC Guarantee
While the cost of college is on the rise at a national level, Richmond Community College continues to put into place strategies that will keep college affordable for the residents of Richmond and Scotland counties.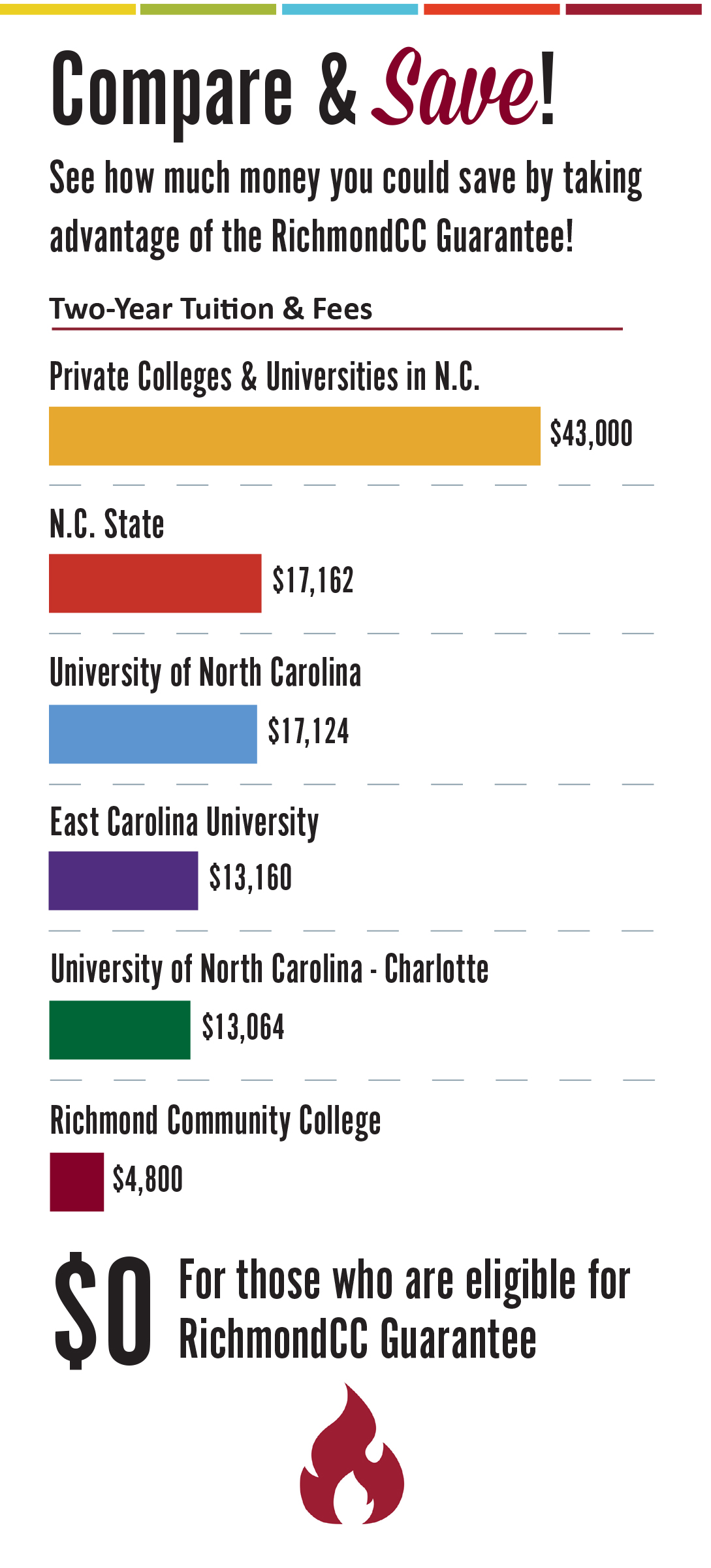 Under the plan of the RichmondCC Guarantee, the College is offering two years of free in-state tuition and fees to legal residents of Richmond and Scotland counties.
Who Is Eligible for the Guarantee?
You must be a legal resident of the United States and reside in Richmond or Scotland County. If your address is not in either of these counties, residency must be proven. If you are not a legal resident but otherwise qualify for the Guarantee, you may be eligible to receive the in-state portion of tuition.
You must have successfully completed at least two RichmondCC courses through our Career and College Promise program.
You must be currently in and remain in good academic standing with RichmondCC by having a GPA of 2.0 or higher.
You must graduate from high school with an unweighted grade point average of 3.0 or above.
You must have the Free Application for Federal Student Aid (FAFSA) application completed by May 1, 2020.
You must have the CFNC Residency Requirement completed by May 1, 2020.
You must have the CFNC Admissions Application completed by May 1, 2020.
Any additional documents requested by the Financial Aid Department must be submitted.
You must return an official high school transcript to RichmondCC.
You must meet with a college counselor to change program and register for classes.
Continued Eligibility
Students who receive the RichmondCC Guarantee must maintain good academic standing with RichmondCC to continue to be eligible.
Huge Savings to You
By guaranteeing free college tuition and fees at RichmondCC for two years, we are providing people with a savings of $4,800, depending on the program and courses.
Parents: Planning Begins Now
The FIRST STEP to putting your child on the path to the RichmondCC Guarantee begins when your child is a junior or senior in high school, which is when he or she can enroll in RichmondCC's dual enrollment program, Career and College Promise. Have your child talk to his or her high school advisor about dual enrollment at RichmondCC, or call RichmondCC at (910) 410-1730 to talk to one of our college counselors. Visit Career and College Promise.
Fall 2020-Summer 2022 Timeline
At the end of January, high school seniors who qualify for the RichmondCC Guarantee will receive a letter in the mail.
On February 27, qualified students will attend the RichmondCC Guarantee Celebration & Open House.
In August, RichmondCC Guarantee recipients will begin their first free year of college.
Funding for the RichmondCC Guarantee is contingent on all source of funds available to the student: federal and state aid, internal RichmondCC scholarships, other RichmondCC funds (if necessary). Eligible aid shall be awarded in this order.
Additional terms and conditions may apply.
You can always visit Richmond Community College at our campus in Hamlet or Laurinburg.