WGU North Carolina Partners with RichmondCC to Bridge Skills Gap
Aug. 30, 2018 - WGU North Carolina, an online, nonprofit, university, is demonstrating its continued commitment to increasing access to affordable education by establishing a partnership with with Richmond Community College.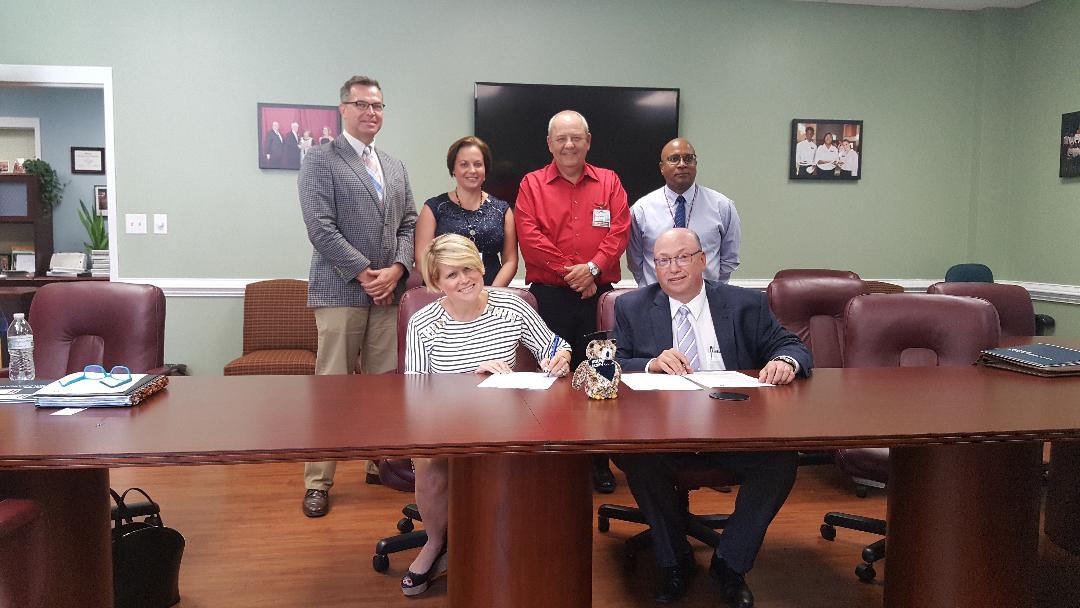 The institutions have signed an agreement that will provide RichmondCC graduates and faculty with a 5 percent discount on WGU North Carolina's already cost-effective tuition of around $3,500 per term for undergraduate programs. The partnership also includes the announcement of the Richmond Community College scholarship program, which provides up to $2,000 in scholarships to students interested in transferring to Western Governors University (WGU).
"This is a great partnership because both institutions are committed to working with students on a one-to-one basis," said Dale McInnis, president of RichmondCC. "It's a personalized approach to education that includes an education plan developed for each particular student. The WGU online platform puts dozens of degrees at students' fingertips, and this agreement will make it easier for them to take that next step and earn a bachelor's degree."
Through this agreement, RichmondCC graduates will utilize WGU's Transfer Pathways program to ensure each transfer student's associate degree aligns with WGU's baccalaureate major and degree program offerings. WGU North Carolina offers 60 undergraduate and graduate degrees in the high-demand fields of business, technology, education and healthcare, including nursing.
"Richmond Community College is committed to helping with unemployment struggles in Scotland and Richmond Counties and we are honored to be part of the solution," said WGU North Carolina Chancellor Catherine Truitt. "Because WGU offers a competency-based learning model directly related to today's industry demands, our graduates are more prepared to enter today's workforce. Our goal is to help the communities of Scotland and Richmond counties skill up and retrain so its citizens can be part of the workforce."
WGU North Carolina officially launched in October 2017 through a partnership between the State and nationally recognized Western Governors University. WGU North Carolina maintains credit transfer policies in association with community colleges across the United States. Currently, there are more than 2,100 active WGU North Carolina students that have transferred in using college credits from North Carolina-based community colleges.
About WGU North Carolina
WGU North Carolina is an online, competency-based university established to expand access to higher education for North Carolina residents. The university offers more than 60 undergraduate and graduate degree programs in the fields of business, K-12 teacher education, information technology, and health professions, including nursing.
Degrees are granted under the accreditation of WGU, which is accredited through the Northwest Commission on Colleges and Universities (NWCCU). Teachers College programs are accredited by the National Council for Accreditation of Teacher Education (NCATE), and nursing programs are accredited by the Commission on Collegiate Nursing Education (CCNE*).
More information is available at nc.wgu.edu or by calling (866) 225-5948.
---
*Western Governors University offers nursing programs that are accredited by the Commission on Collegiate Nursing Education (One Dupont Circle, NW, Suite 5380, Washington DC 20036, 202-877-6791).
---