Symphony Brings Music of Harry Potter to Cole Auditorium
January 8, 2018 - The Charlotte Symphony returns to the Cole Auditorium in Hamlet for a wizardly good show on Jan. 16 at 7 p.m.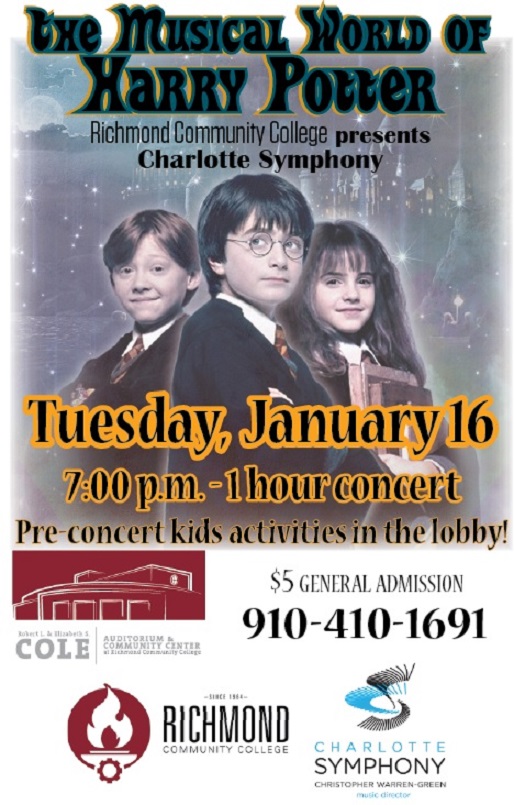 The concert, entitled "The Musical World of Harry Potter," will mark the symphony's first appearance at the Cole since 2011 and the fifth time the symphony has performed at the Cole.
The one-hour concert will be led and narrated by Christopher James Lees, conductor of the symphony, and will feature selections played by the symphony from all of the "Harry Potter" movies including "Sorcerer's Stone," the "Chamber of Secrets" and the "Prisoner of Azkaban."
Richmond Community College, the Cole Auditorium and the Charlotte Symphony are partnering on this project to bring performances to rural North Carolina communities. The show is being funded by a grant secured by the symphony.
The symphony presented the concert in the fall in Charlotte as part of the Lollipops Series, which features concerts specifically designed to introduce children to the joy of live symphonic music.
While the film scenes will not be shown during the performance, the music of the various films is sure to bring to mind the scenes for "Harry Potter" fans and will delight audiences of all ages and interests.
"There is always something magical about bringing a full symphony to the community," said Cole Auditorium Director Joey Bennett. "It is something that we haven't been able to do for a while, and we are excited to be able to have this symphony return. The highlight of the night will be famous music, but anytime the symphony plays live, it is always a delight for any music fan."
In addition to the concert, the symphony has pre-concert activities planned for the children attending. One of the activities will include an opportunity to create-your-own magical conductor's baton.
Ticket Information
The show is not a part of the Cole's DeWitt Performing Arts Series and requires additional tickets. Seating for the show is general admission: first come, first served on the night of the concert.
Tickets for the concert are $5 each. No advance reservations for tickets are necessary.
Box Office hours at the Cole Auditorium located on Richmond Community College's main campus in Hamlet are Monday through Thursday from 8:30 a.m. to 4:30 p.m. and Friday from 8:30 a.m. to 2 p.m. Tickets will be available the night of the performance. You can also call the Box Office at (910) 410-1691. Information is also available on the Cole's Facebook page.