Orientation for Electric Lineman Program at RichmondCC Is Nov. 7
Oct. 31, 2018 – Richmond Community College will hold orientation for its new Electric Lineman program on Wednesday, Nov. 7, at 10 a.m. in the Grimsley Building, room 103, on main campus in Hamlet.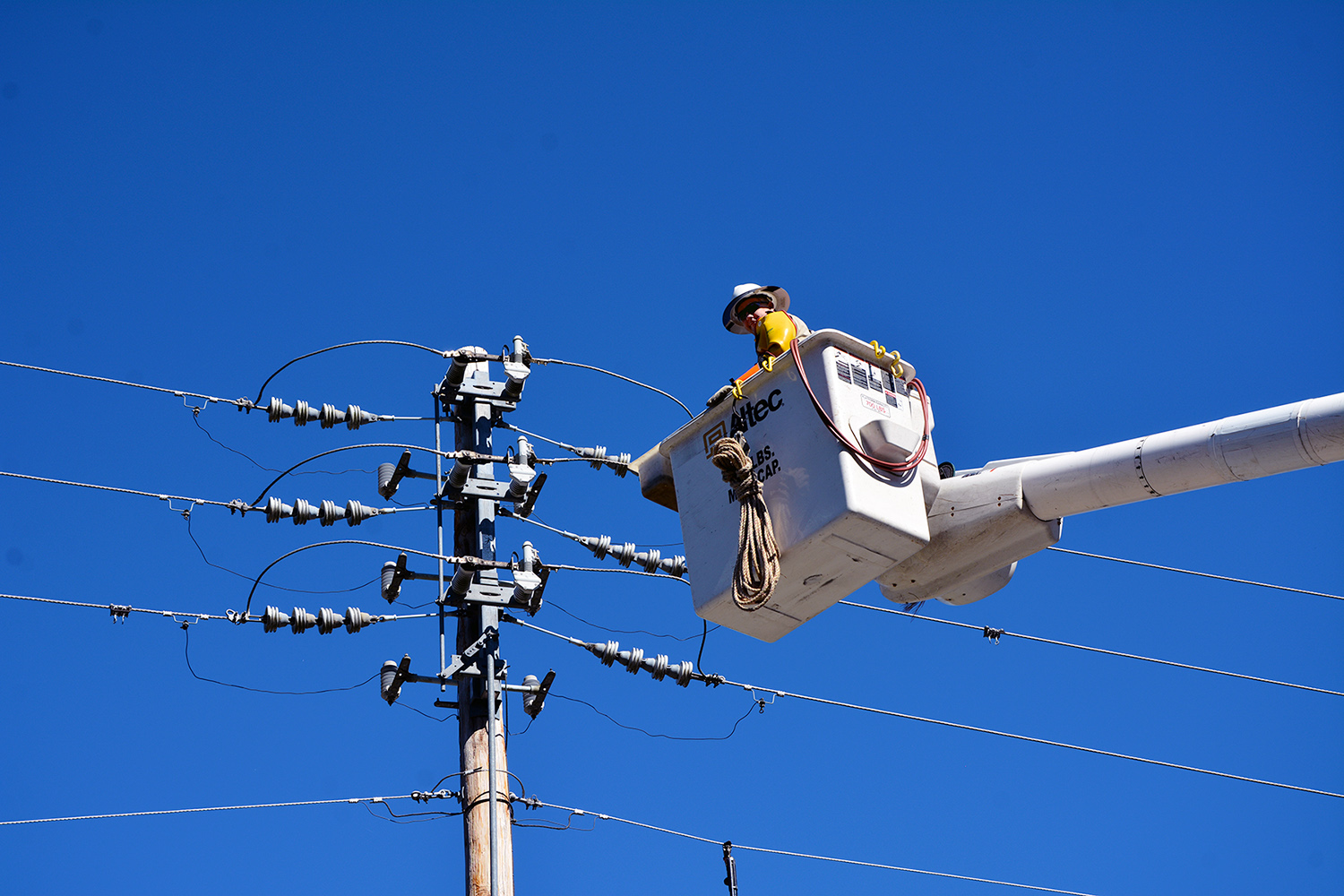 The first ever Electric Lineman class at RichmondCC will begin Nov. 26 with Scott Caulder of Rockingham preparing the next generation of linemen for a safe and successful career in the power distribution industry.
Caulder, who has 27 years of experience in the industry working for Pee Dee Electric, was hired to be the coordinator for the program. Caulder got his lineman training at Nash Community College, so he is looking forward to bringing this type of skills training to his hometown. Along with being the instructor, he will be recruiting students and networking to bring in business partners for the program who can help with supplies and equipment.
Caulder said he came into the power industry just as it was evolving into more bucket work and less "stick" work where a lineman climbs a utility pole with spikes to work on de-energized power lines.
"I learned how to do it the old way, so I did a lot of climbing. We worked off of spikes all day, but these days it's all bucket work with energized lines," Caulder said. "While I learned the old way and the new way, there really is only one way to do line work, and that's the right way — the safe way. And that's what we're going to be teaching here at Richmond Community College."
A 1986 graduate of Richmond Senior High School, Caulder began working for Pee Dee Electric in 1991 as an Apprentice Lineman. He worked his way up to a First Class Lineman after six years and became a Staking Technician II in 2006. Over the years, he has led various community safety demonstrations, designed distribution power lines, led contracted crews and staked out new construction jobs over seven counties.
"There's a lot of self-satisfaction in this line of work," Caulder said. "When you put the lights back on for people in the middle of a storm, you're like a superhero without the shield and the cape. Being a lineman gives you the chance to do some really rewarding work."
Assisting Caulder with the certificate program at RichmondCC will be retired Pee Dee Electric linemen Joey Keane and Garry Veach.
"Joey and Garry both have around 40 years of experience working in the utility industry, so between the three of us, we bring over 100 years of experience to this program," Caulder said.
About the Program
The lineman course will run nine weeks from 8 a.m. to 5 p.m. Monday through Friday with one-hour lunch breaks. Students will learn to climb poles, set and frame poles, put up and take down wire and transformers, and to operate bucket trucks. Course topics include basic elements of electricity, overhead pole and electrical line construction, safety codes and applications, electric power system, transformer and meter installations, and explorations of underground electrical distribution.
Upon completion, students will be NCCER Certified, OSHA 10 Certified and First Aid/CPR Certified, and they will hold a CDL learner permit.
About the Career
The median salary for an electrical power line installer and repairer is $54,446. Entry-level workers start around $35,124, but highly experienced workers can earn up to $76,690. In the past six months, companies within this region have posted 603 job openings, so there is a demand for new people in this career field.
Requirements for Registration
Individuals who would like to sign up for the program should plan to attend the orientation on Wednesday, Nov. 7. These are the course requirements:
Copy of high school diploma or high school equivalency
Copy of current DOT physical and drug screen
Copy of an unrestricted driver's license
Copy of official driving record
Accuplacer reading score of 60 or higher or transcript for 2-year degree or higher
Scholarship Funds Available
Funds are available through the 2nd Chance WED scholarship to help students with the costs of the course. The 2nd Chance scholarship is for students taking classes through the College's Workforce & Economic Development division.
For More Information
To sign up or for more information about the Electric Lineman class, contact WED Director Angineek Gillenwater at (910) 410-1848 or ajgillenwater@richmondcc.edu or program coordinator Scott Caulder at (910) 410-1855 or jscaulder@richmondcc.edu. A second lineman class is scheduled to start in March 2019.