22 Graduate RichmondCC's Second Electric Lineman Program
May 28, 2019 – Twenty-two students graduated from Richmond Community College's Electric Lineman program on Friday, May 17, becoming the second class of successful completers of this 10-week program. All 22 graduates of the program have received job offers, and several of the graduates received multiple offers.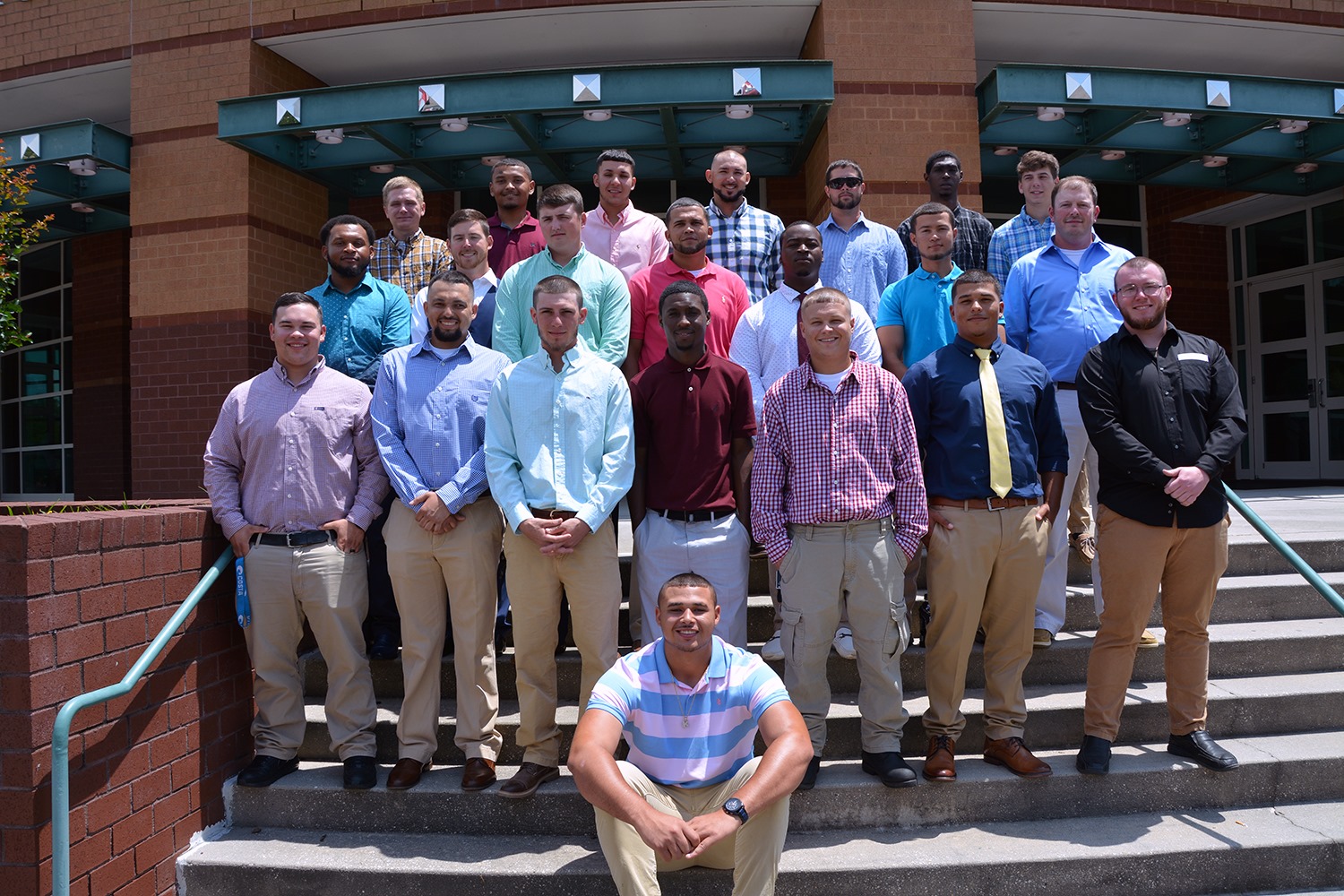 Graduates included Hunter Dawkins of Anson County; John Burgess, Thomas Deaver, Joshua Franklin, Michael Lill, William Macedo, Nakeem McKenzie, Nathan Quick, Justin Robinson, Lokendall Robinson, Carl White, all of Richmond County; Sean Deese, Samuel Freeman, Kenton Graham, Kalon Locklear, Stephen Locklear, Thorne Locklear, Horace Oxendine, Kelly Sanderson, of Robeson County; and Cody Stewart of Scotland County.
The Cole Auditorium lobby was filled with friends and family of the Electric Lineman graduates to share their loved-ones' accomplishments. Graduate Cody Stewart of Laurinburg was joined by his family to celebrate his achievement. Stewart's father, John Stewart, a graduate of RichmondCC's class of 1993 said, "Not everyone is made to attend a university or prepared to go off to college. Some people are just made for hands-on, vocational careers, and this program that RichmondCC has brought to our community will make a major impact in many lives."
"Cody has multiple job offers but has not accepted a position at this time. He prefers to stay close to home," his father said.
According to Career Coach, the median salary for an electrical power line installer and repairer is $54,446. Entry-level workers start around $35,124, but highly experienced workers can earn up to $76,690. In the past six months, companies within this region have posted several job openings.
When asked about the impact that this type of training and certification would have on his life, Thomas Deaver of Rockingham, who is also a graduate of the Electric Lineman program said, "This has made a positive impact not only on my life and career, but it will also change my family's life as well. RichmondCC has made it possible for me to gain the knowledge and training to obtain a great career in a short amount of time."
Justin Robinson was also among the 22 graduates of the Electric Lineman program. He said he always had interest in going back to school but wasn't sure what he wanted to do until he discovered the Electric Lineman program on RichmondCC's website. Since graduating, Robinson has been offered a few job positions but has not accepted one at this time. However, whatever position he chooses to take, Robinson said he would like to travel.
"RichmondCC provided me all the tools and training in this field to prepare me for my future career. I will be able to provide for family and be financially stable," he said.
About the Lineman Program
The Electric Lineman course prepares students to work as line workers in preparation and repair of rural electrical utility service. Line workers know the basic elements of electricity, overhead pole and electrical line constructions, safety codes and applications, electric power system, transformer and meter installations, and explorations of underground electrical distribution.
In less than three months, the Electric Lineman program provides students with classroom time and extensive field training. Upon completion of the course, students obtain certifications in OSHA 10, NCCER and Heartsaver CPR/AED. They also earn a CDL learner's permit.
To Sign Up
The next Electric Lineman class that begins in June is already full, but seats are still available in the class that begins Sept. 9. For more information about the program or to sign up, call Workforce and Economic Development Program Director Angineek Gillenwater at (910) 410-1848 or email ajgillenwater@richmondcc.edu.