RichmondCC Preparing for Rapid Growth of Information Technology Jobs
Information technology is everywhere in today's modern age. Computers and related technology have become the backbone for all employment sectors, from healthcare to business to education to engineering. Anywhere technology is used, a technician is needed to maintain the equipment or network system.
Because of the growth of careers in information technology, Richmond Community College has redesigne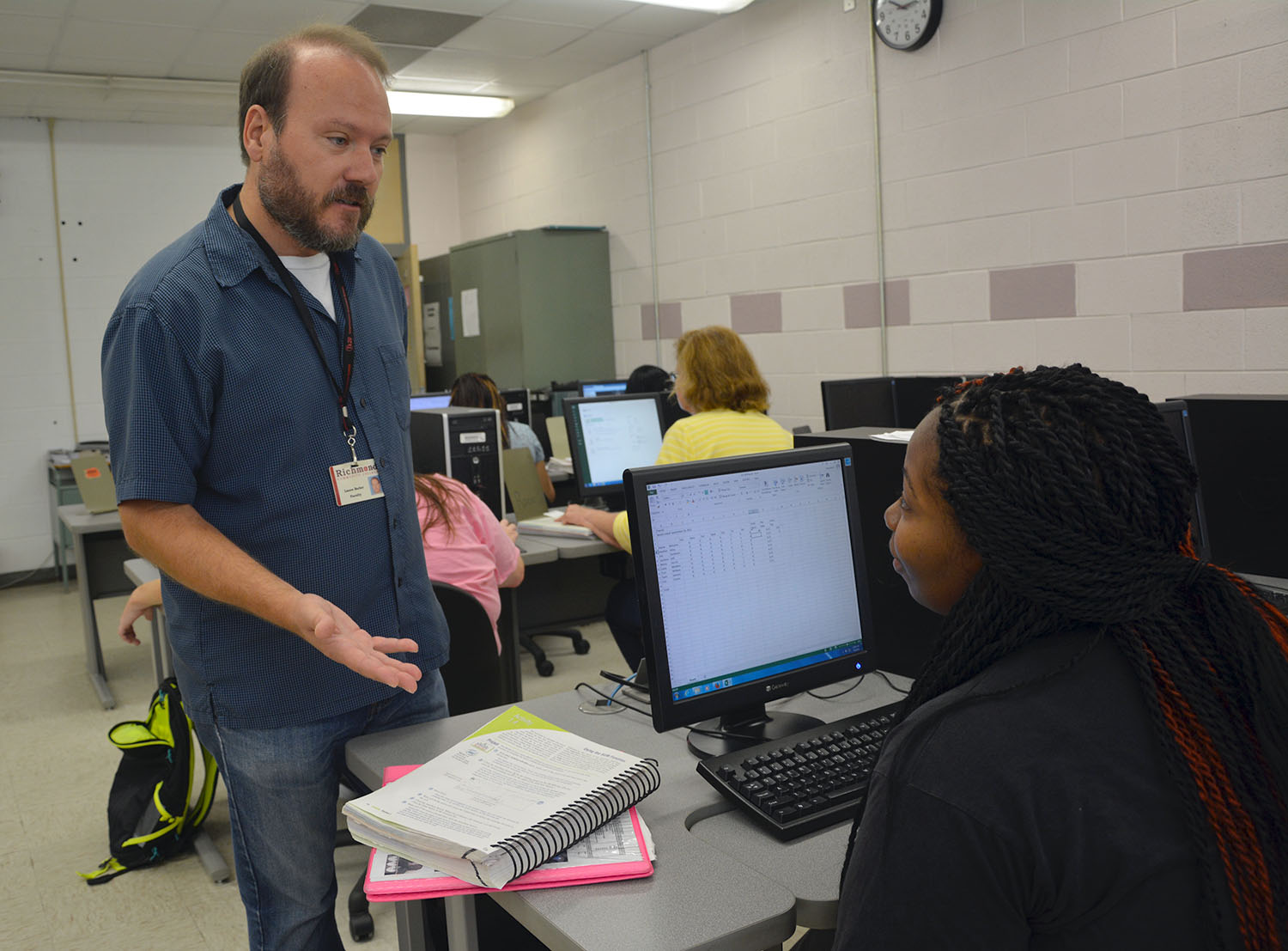 d its Information Technology (IT) program to put students on the right track to jobs that are in high demand.
There are three tracks students can choose from when they enroll in the IT program at RichmondCC: cyber security, IT support, software and web development. All three tracks offer degree, diploma and certificate opportunities.
"When I talk to students about a career in IT, I ask them the following questions: Do you want a career that pays well? Do you want a career with numerous options and possibilities and is here to stay? Do you like working with technology? Do you like learning new things all the time? Do you like solving problems? Do you enjoy helping others?" Lance Barber, lead instructor for IT at RichmondCC, said. "If they answer yes to most of these questions, I tell them IT is the the field for you."
According to the Bureau of Labor Statistics, nationwide the greatest job growth through 2024 is projected to be in IT related occupations. According to the Employment Security Commission of North Carolina's report on growing occupations, computer support specialists can look forward to more job openings and better salaries than many other occupations in North Carolina requiring only associate degrees. In fact, the number of computer support specialist job openings available to community college graduates is second only to that of registered nurses with associate degrees. The salaries are competitive as well.
The N.C. Department of Commerce produces a list of North Carolina Star Jobs, which are jobs in North Carolina with the greatest projected employment potential. In the most current list, which projects employment through 2022, computer support specialist is cited as the second most promising career track for workers with an associate degree or less, and web developers and network support technicians as the most promising for those with an associate degree. For those with bachelor's degrees, software developers, computer systems analysts, and information systems managers make the list.
"A survey conducted by the Creating IT Futures Foundation indicates that one of the common misconceptions people have about the IT field is that you need a four-year degree," Barber said. "However, as this report indicates, a two-year associate degree is sufficient for many IT jobs. "Higher degrees generally do additional opportunities and higher potential salaries, many near or above six figures. At RichmondCC, there are many transfer pathways for IT graduates," he added. Another misconception about IT is that you have to be good at math and science, Barber said, but some career paths in IT require very little talent in math and science while others rely heavily on those skills. Video game developers use advanced math and even physics, but computer support specialists only use basic math.
"Many people think working in IT means sitting at a desk in a cubicle all day. If you work in software development, that is a possibility, but other IT jobs require extensive travel," Barber said. "You just have to find what area of IT interests you."
Last spring, community colleges across North Carolina conducted a survey that resulted in hundreds of responses from employers across the state. The number one requested technology certification was CompTIA A+, which can be obtained at RichmondCC. Skills covered under this certification are what local and state employers are seeking. Job openings relating to this type of training include technical support analyst, information technician coordinator, applications support technician, and other similar titles depending upon the employer.
Other skills listed in this survey relate to areas such as software development, database administration, Web development, graphics engines — all skills that can be obtained at RichmondCC. Registration is underway for fall semester at RichmondCC.
Visit the Main Campus in Hamlet or the Honeycutt Center in Laurinburg to talk to a counselor about career paths and educational opportunities at RichmondCC. Fall classes begin Aug. 17 Visit www.RICHMONDCC.edu or call (910) 410-1700 to learn more. Applications can also be completed online.